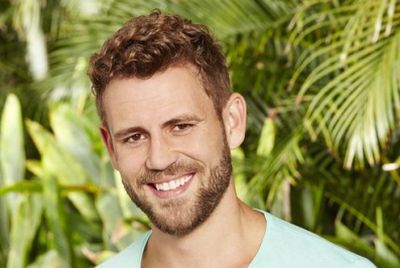 The next season of The Bachelor will feature a familiar face– a very familiar face, actually.
Nick Viall— a man who has already starred on two seasons of The Bachelorette and a season of Bachelor in Paradise— was announced on Tuesday night as the next 'Bachelor.' Nick beat out a fan favorite from JoJo's season, quiet cowboy Luke Pell, for the role.
If you haven't been watching this season of 'Bachelor in Paradise'– (you're really missing out)– you will probably best remember Nick as the man who came in "second place" on both Andi Dorfman and Kaitlyn Bristowe's seasons of 'The Bachelorette.' Neither woman chose Nick as their fiance, and he went home brokenhearted each time.
According to Chris Harrison, Nick's tendency to come in second was the main reason he was chosen for the coveted role as 'Bachelor.'
"[Nick] has just become that perennial, second place guy who wants to find love and is as sincere, if not more sincere, than anybody about finding it," Chris told People. "It's about giving him his chance to find love. Who deserves it more than him?"
Nick, who is now 35 and working in the software industry, seems thrilled that he was given a fourth opportunity to find made-for-TV love.
"Wow! Couldn't be more Excited!!" he tweeted after the announcement was made. "Still a bit nervous. It's going to be a wild ride. Thank you all for your support!!"
Many 'Bachelor' fans expressed their disappointment that Luke was not chosen as the next 'Bachelor.' Even Luke seemed surprised, later hinting that the producers may have made an "unexpected change" in regard to who was chosen.
"Thx for all the love," he tweeted on Tuesday. "Sometimes we are faced w/unexpected changes I'm happy to be back in Nash excited for the future."
While Nick may be excited to become the next 'Bachelor,' the ladies who are cast for his season may not have that same feeling, should they make it into the Fantasy Suite with Nick. According to Andi Dorfman's book (click the link at the bottom to purchase!), her bedtime romp with Nick was not exactly thrilling. She described their hump-fest as a "ladyboner-killing, awkward sexual encounter."
Ouch. Perhaps Nick can get a few lessons in fornication from ol' Juan Pablo before going into the new season?
(Photo: ABC)