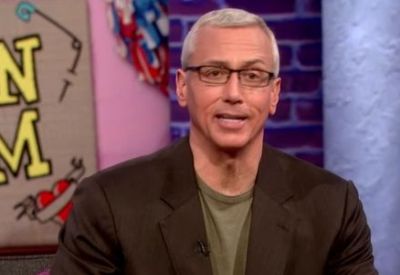 Dr. Drew Pinsky may have a lot more time to host Teen Mom reunions these days– his HLN talk show has been cancelled!
The Good Doc, who has hosted Dr. Drew On Call since 2011, saw his show cancelled in late August, and it was reported that the reason for the cancellation was due to some comments that Dr. Drew made regarding Hillary Clinton's health and healthcare. Today, a rep for Dr. Drew stated that those comments had nothing to do with the cancellation of 'Dr. Drew On Call.'
"I know the timing is suspicious, and I know it's hard to believe, but the two things had nothing to do with each other," Dr. Drew's rep Valerie Allen told Page Six, adding that the show's cancellation was already planned as part of a network revamp.
It is suspicious that the two things had nothing to do with each other, as the cancellation was announced just eight days after Dr. Drew commented that he was "gravely concerned" about Hillary's health and health care. The network has yet to really comment on the alleged controversy, but in an August 25 statement announcing the show's cancellation, CNN Executive Vice President Ken Jautz thanked Drew for his service.
"Dr. Drew and his team have delivered more than five years of creative shows, and I want to thank them for their hard work and distinctive programming," he said.
Over the years, Dr. Drew has hosted an assortment of reality TV stars on his shows, including some of the 'Teen Mom' girls (most recently Amber Portwood and her fiance Matt Baier). He regularly tackled hot-button news stories regarding celebrities.
The last episode of 'Dr. Drew On Call' will air on September 22.
Note from The Ashley: Please don't leave creepy politics comments for this story! Keep it civil– this is not the place to discuss politics!
(Photo: MTV)