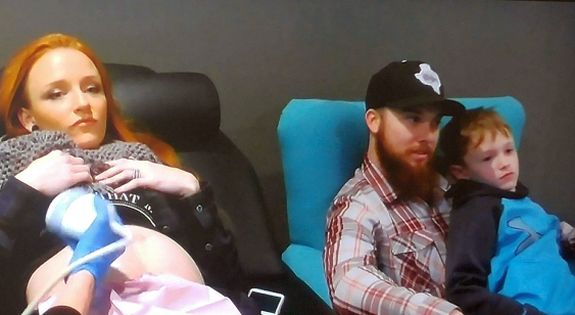 It's Teen Mom OG time! Guzzle down a few Bud Lights because, if you're anything like Maci and Taylor, you're going to need a crapload of alcohol to get through this!
On the last episode of 'Teen Mom OG,' we learned that Maci had not been visiting ItsYourSexLife.com enough because– surprise!– she's pregnant…again. In what may be the most poorly acted scene since Farrah pretended to be in a relationship with James Deen before he put it in her butt, Maci and Taylor "discover" Maci is pregnant. Apparently she thought that her five months along baby belly was just a beer gut and is "shocked" to discover that she's pregnant.
Before we can tackle the topic of Maci starring on the next season of I Didn't Know I Was Pregnant, though, we have to first check in with Catelynn and Tyler.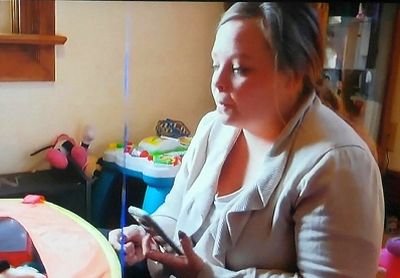 Out of the blue, Catelynn gets a phone call from BrandonandTeresa. It's kind of an odd thing for Teresa to just randomly ring up Cate, so Cate quickly calls her back.
In a voiceover, Cate tells us that, in the years since 'Teen Mom' blew up (in addition to Cate and Ty's heads, of course), BrandonandTeresa haven't been so keen on broadcasting their daughter, Carly, for MTV ratings. They no longer allow cameras to film Cate and Ty's scheduled visits with Carly, much to Cate and Ty's dismay.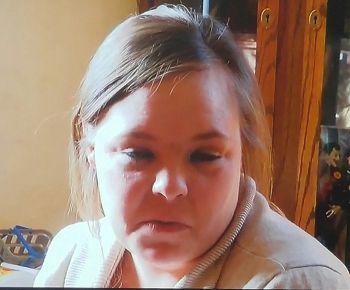 Catelynn gets off the phone with Teresa, who has just told Cate to basically stop telling the world everything that is discussed between them. Who can blame Teresa? She adopted this kid from Cate and Ty, never thinking that nearly a decade later, she'd still be the subject of many a televised conversation.
Catelynn says that Teresa doesn't want to tell Cate something and then have Cate tell the whole world on camera what Teresa just said…which is, of course, exactly what Cate is doing in this scene. Right now, Teresa is sitting there with clenched (perfectly white) teeth, and trying not to smack her TV silly.
Surprisingly, Catelynn responds well, and understands why Teresa wouldn't want her life (and the life of her family) broadcast for the world to feast on. However, Catelynn is bracing herself for Tyler's response, because she knows that he'll act like a completely entitled, self-centered jerk about this, as per usual.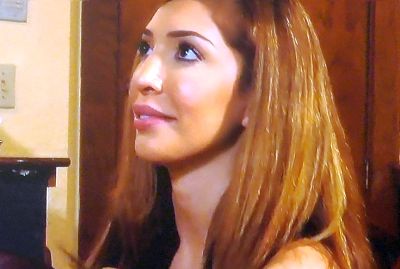 Meanwhile, Farrah is slumming it in Omaha for a few days. She's visiting her mom, Deb, who recently moved back to Nebraska. Deb arrives at Farrah's hotel room, bearing gifts and that cringe-worthy "Hello, baby!" greeting she insists on delivering to Farrah on every episode.
Debra has a cooler full of delight with her. While many fans assume that Deb's cooler contains the carved heart of Michael, that's actually not the case (this time). Apparently, it's time for Farrah to have her famous backdoor checked out via a colonoscopy. Since Debra is an ol' pro at having the procedure done, she's purchased a few beverages that will help Farrah recover.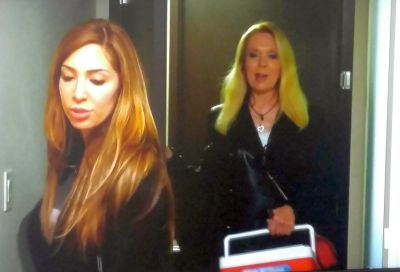 Farrah, of course, acts like a complete crabgoblin for no apparent reason. She totally blows off her mom's kind gesture and says that she doesn't need any beverages because her instructions only tell her to keep hydrated, so clearly she doesn't need anything to drink. Duh, Debra!
Deb says that if Farrah doesn't jam some Gatorade into her snotty face, she's going to faint. We are then treated to a tale as old as time: Deb regales us with the story of when she had her colonoscopy. The story she tells will haunt us all for the rest of our days…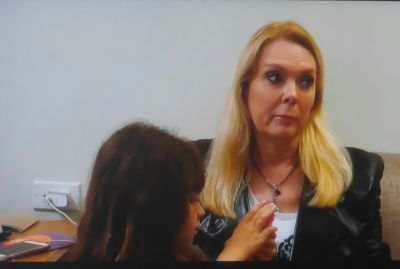 "It started out pretty good, you just have to go to the bathroom," Debra tells us. "After that, it's like…your ass explodes! You cannot control anything!"
The picture of Debra running to the toilet, while attempting to remove the one-piece glitter bodysuit she was surely wearing when this incident occurred, screaming "It's coming! It's coming!" will never, ever leave me.
Farrah says that after she gets her backdoor flushed out, and deals with the resulting exploding diarrhea, she and Sophia will be heading to Missouri to go visit "Daddy Derek" as well as Derek's father, Jerry. Deb is eager to get in on the ass-exploding, Missouri road-tripping, but of course, Farrah shuts her down and says that she can't join in on the fun…or help her control her poop chute.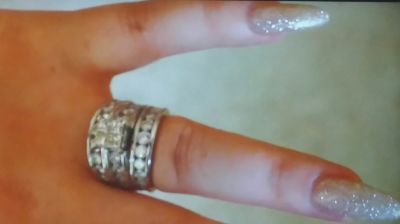 Speaking of asses, we next head to Indiana to go see what Matt is up to….oh, and Amber. She is showing everyone her giant new engagement ring, which is proudly adorning her clear-glitter-painted cat claws. (Hey, at least Amber doesn't have her hand pierced anymore! Remember that horrorfest?!)
Amber tells the producers that Matt bought her the new ring to help them get through a rough patch in their relationship. Apparently, Amber spoke to Farrah on the phone, and even Farrah– the woman who thought it would be a good idea to sell plastic molds of her vagina to the masses—thought that Amber was making a bad decision about marrying Matt.
The conversation has made Amber decide to wait on having a wedding, and has also made Matt angry. Damn that Farrah! Now Matt is one step farther from getting his sweaty paws on Amber's fortune, and to be legally entitled to half of Amber's trusty couch and Cat Kingdom once their relationship goes kaput.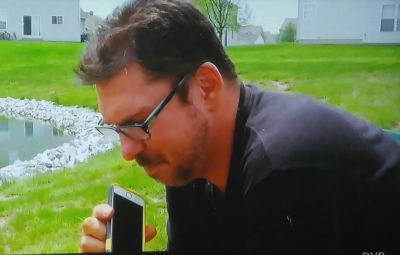 Later, Matt is out by the lake, sulking, when his "cousin" Michael calls him up. This dude apparently hasn't seen Matt in about 10 years (or, in Matt terms, six or seven kids ago), but he has been watching Matt on 'Teen Mom' and wants to meet his long-lost cousin's famous new fiance.
He invites Amber and Matt to come to Massachusetts and Matt eagerly accepts.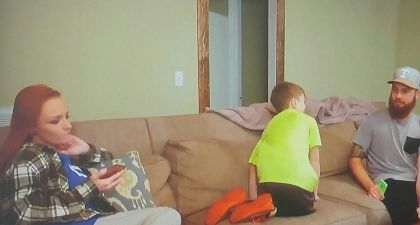 Finally, we head to Tennessee to check in with Maci and Taylor. They're sitting on the couch (Amber and Matt-style) and they call Bentley into the room. They announce that they have something to tell him, and Bentley looks confused. After all, his mom and Taylor have these formal living room meetings when they're about to tell him they made an "oopsie" baby, and they just had Oopsie Jayde, so it can't be that again…right?
Bentley is shocked to learn that his mom– a girl who was literally a spokesperson promoting the prevention of unplanned pregnancy– has done got herself knocked up again. He takes the news that he's going to be a big brother (again) surprisingly well.
"Three kids!" Bentley exclaims. "THREE KIDS?!"
Our thoughts exactly, Bentley!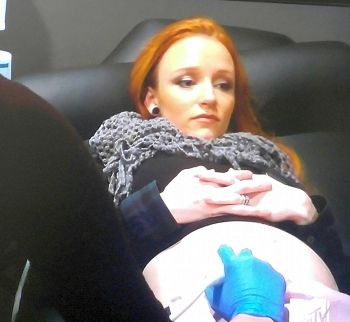 The next day, Maci and Taylor are most likely heading out on their first liquor store run of the day when they decide to stop off at an ultrasound place to see how long they have until Baby Oopsie arrives. (Because…remember guys, Maci had nooooo idea she was pregnant!)
They get Maci up on the table, and she's telling the ultrasound tech that she hasn't felt any baby movement at all. She says this, of course, while her baby belly is actually moving. Also, Maci's belly is enormous. The girl is rail-thin, but we are supposed to believe that she didn't realize that having a ballooning, moving belly meant she was pregnant!? Come ON, MTV! Even someone who goes to school near Leah Messer, where the schools "isn't well," would be smart enough to figure this ridiculousness out!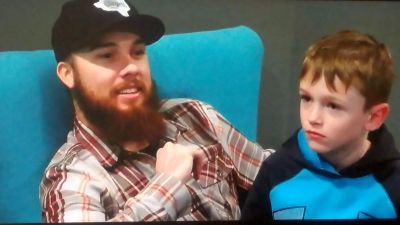 The ultrasound tech tells Maci that she's far enough along to know the sex of the baby. She is also told that she is about 21 weeks pregnant, and Taylor does his best to look surprised. Bentley isn't buying it, of course. He is just staring at Maci's tummy, wondering why these two knuckleheads are still trying to make this "surprise pregnancy" story line happen.
"I definitely wasn't expecting to plan a wedding while expecting my third child," Maci says.
Um…this is 'Teen Mom.' That's actually just par for the course, girl!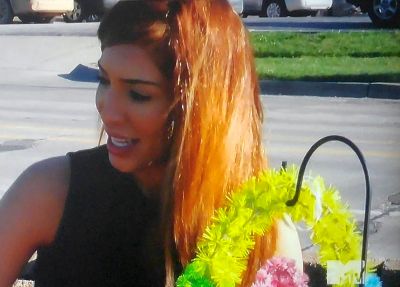 Back in Nebraska, Farrah and her colon are doing well, so it's time to go visit Daddy Derek's grave. The sad music starts playing, so we know we're in for yet another scene at the cemetery.
Normally when filming these scenes, MTV makes sure to zoom in real close on whatever face Farrah is sporting at the time to capture all of her tears. This time, though, Farrah appears to be Snapchatting her cemetery visit (as you do). I mean, if you don't film your visit to your deceased ex-boyfriend's grave…did it even happen?!
Sophia reaches Derek's grave and for some reason starts talking like a toddler (even more so than usual). It's all quite disturbing.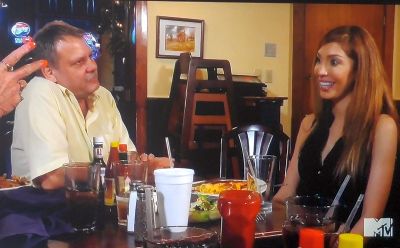 Afterward, Sophia and Farrah go out to dinner with Derek's family. They make awkward small talk. Derek's stepsister is talking about how her car no longer works but she doesn't want to replace it. Farrah nods politely, but you can tell she's having trouble understanding such a "peasant problem."
In Michigan, Catelynn is still talking on camera about not being able to talk about Teresa on-camera. She tells her friends that she's worried about pissing off BrandonandTeresa because it could lead to the end of their relationship with Carly.
Butch and Tyler are working on the new house when Cate calls to tell Tyler what Teresa said. Catelynn has barely gotten a sentence out before Tyler instantly gets a "No she did not" stank face look.
"UGH!" he sighs. "This is so annoying!"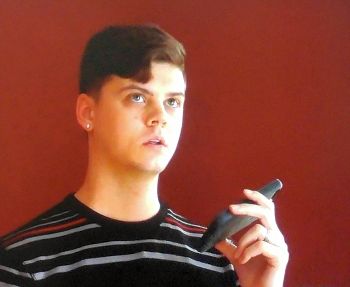 It feels like we are just a moment away from Tyler busting out the, "Don't they know who I am?" line.
Butch, meanwhile, just shakes his head.
When did Tyler become so hard to take? Was it about the time that he started trying to make that "Rider Strong" 1990s wave hairstyle a thing? I dunno…
In Tennessee, Maci and Taylor are shoving food into Baby Oopsie #1, and decide that they will "tell the world" about their latest mistake blessing. Taylor starts by telling his barber (as you do), who can't believe that this T-shirt-hawking hipster keeps knocking up his baby mama.
"Dammmmn, Taylor!" he exclaims.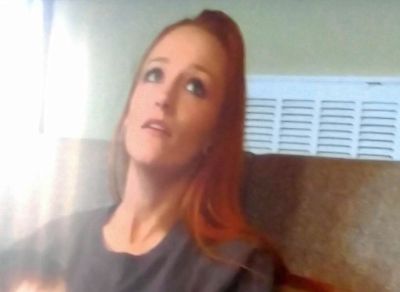 Maci also tells her friend about the pregnancy.
"I want someone else to get pregnant so maybe I'll stop getting pregnant," she says.
Here's a novel idea, Maci: Stop using condoms as Bud Light coasters for several years, and then expecting them to prevent pregnancy. Haha! Just kidding…we all know that Maci doesn't use birth control!
Here's another idea: Stop getting pregnant. It's NOT that hard!
"At least everyone will know that we have a great sex life," Maci adds.
Ew. Also….ew.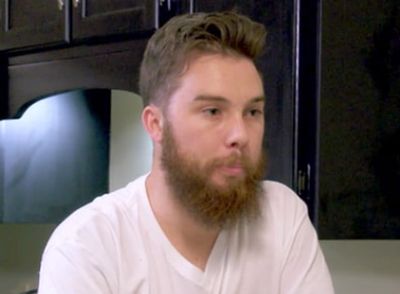 Taylor is showing Baby Oopsie's sonograms to his gang of bearded brothers. (Seriously, are they all wearing some sort of uniform? All of them are sporting a leather pocket shirt and they both have bushy beards. I won't be surprised if Baby Oopsie pops out with a full face of hair and a onesie with a leather pocket on it…hey at least Taylor will have somewhere to keep his beer while he holds the baby!)
Next, Maci has to break her big baby news to Ryan, Jen and Larry. They all gather in the living room, and there's this strange sexual tension between Maci and Ryan in this scene. (You know you felt it too!) She tells them about the baby, and they are all shocked. Ryan delivers the line of the episode.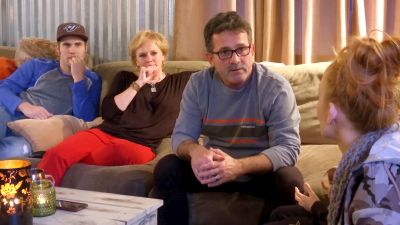 "Dang! I thought you was just gettin' fat!" he tells Maci. Oddly, his comment literally makes Maci's face light up.
WTF is happening here?
Ryan then compliments his ex.
"You'll have three kids and you'll still look good!" he exclaims.
Maci agrees, and says she's excited because this means that all of her kids will be grown and out of her house by the time she's 45. There's then an awkward silence, because everyone realizes that Ryan is in his mid-twenties and still not finished milking Jen and Larry dry. Seriously, Bentley will probably move out on his own before Ryan does.
Over in Indiana, it's time to put out the MISSING posters. No, Matt hasn't run off and left Amber broke and pregnant (well…yet). It's actually Gary's eyebrows that are missing!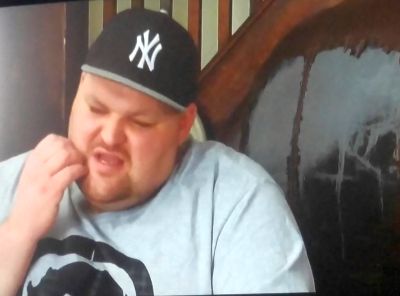 We are given no explanation and it's extremely odd, because in the last scene, Gary's eyebrows here intact (which is more than we can say about his poor recliner, unfortunately. Once Gary's prized position, the recliner is now in a state of disrepair rivaling Leah Messer's house and Jenelle Evans' life.)
Meanwhile, Matt and Amber are on their way to Boston. Once they arrive at their hotel, Matt tells Amber all about the people she'll be meeting the next day. Amber's feeling uncomfortable, because she feels like maybe bringing a ten-person 'Teen Mom' film crew along with her the first time she meets Matt's family might make things uncomfortable.
"Now I have to meet someone you haven't seen in 10 years…with cameras?!" she squeals.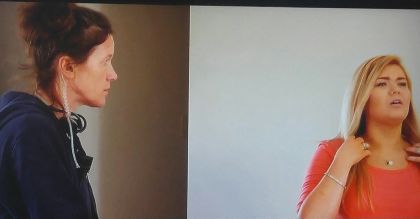 Um…did no one explain to you how this works, Amb? They filmed you in prison, for goodness sakes! Did you really think MTV was going to let you go to a family dinner without a film crew in tow?!
The next day, Matt and Amber are barreling toward Matt's cousin's house (and that promised free dinner!) They arrive, and we are surprised to find out that Matt's cousin and his wife seem relatively normal, albeit a little too obsessed with 'Teen Mom.' Amber is relieved to finally meet someone in Matt's family.
In Nebraska, Farrah is out to dinner with Deb, Sophia and some girl they allege is Farrah's cousin. Farrah is talking about how different her life has ended up than what she thought it would be.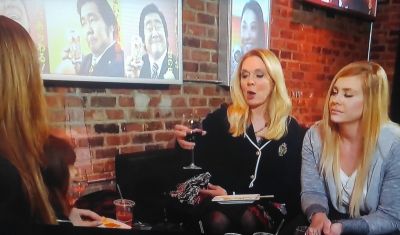 "God had bigger plans for y—-" Deb starts, before being curtly cut off by Farrah.
"I KNOW Mom! Stop interrupting," she yells, to which Deb just nods and smiles, desperate to stay in Farrah's "Cool Crew." She keeps awkwardly trying to clink glasses with Farrah in a painful attempt to cheers to Farrah's life of buttplugs, bad reality TV and Botox. Farrah, is, of course, horrified.
"Mom!" she screams. "Take it down a notch."
I gotta go with Farrah on this one, Deb. You may need a tranquilizer.
Meanwhile, Tyler is still working to process the news that BrandonandTeresa are tired of being the poster-children for 'Teen Mom' adoption.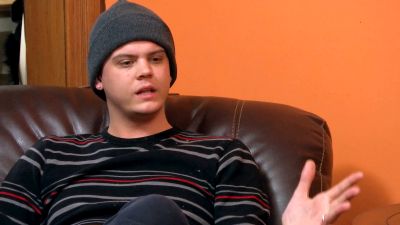 "The problem is, this is what I do!" he shouts. "I share my life story!"
He basically tells Butch that BrandonandTeresa can suck it if they think he's not going to whatever he wants. He doesn't even care if his actions mean that BrandonandTeresa will cut his and Cate's contact with Carly off. He's in the right, he says, so they're the ones who will have to live with it, not him.
While Tyler is yapping on, Butch looks like he kind of wants to slap some sense into his son (and also like he kinda wants to get some sort of snack treat).
"I will NEVER silence what I have to say and my opinion!" Tyler declares. "That will never happen."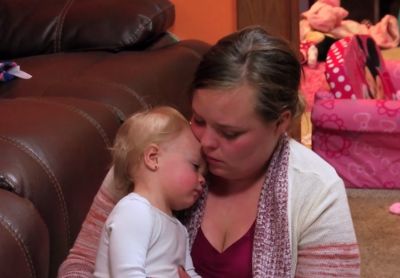 Later, Catelynn gets upset that Tyler's entitled attitude could cause her to lose her relationship with Carly. Tyler doesn't care; in fact, he seems to think that BrandonandTeresa owe him something.
"I have sacrificed enough for them to have a family!" he says. "I will NOT sacrifice my voice!"
This is basically Tyler's attempt to deliver the "Teen Mom' version of "I Have A Dream," isn't it? I just….can't…
In Massachusetts, Amber is touring around the town, looking at Matt's high school. His cousin tells us that Matt still holds a few school records. (Let me guess….most knocked up girlfriends in a single school year? I kid…kind of…) They also take a whale watching trip and a stroll on the boardwalk, where Amber talks about why she loves Matt.
"All of his crazy exes are coming out with these insane stories!" she says. "It's just horrible that he's getting that rap!"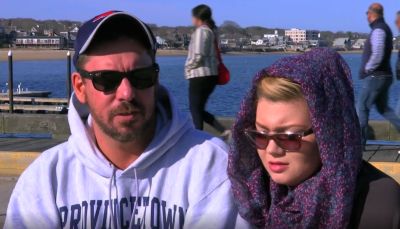 "If tabloids want to pay someone I barely knew for 10 seconds of my life to say bad things about me, congratulations," Matt says.
Um….? People like your son? Your ex-wives?
Back in Nebraska, Farrah and Deb are taking a stroll down memory lane via photo books. We see pics of a young Farrah being happy and goofy, which is refreshing, because it proves she was at least at one point, a normal human being.
They bust out Farrah's baby book and read what Debra wrote to Farrah on the day she was born. It actually spurs some real-life emotion from Farrah. It's almost…creepy. Farrah is crying real tears (not her creepy ugly cry tears) and seems to be having "a moment" with her mother.
Let's end it there…this episode can't get any weirder than it already has been….
To read The Ashley's other 'Teen Mom OG' recaps, click here!
(Photos: MTV)