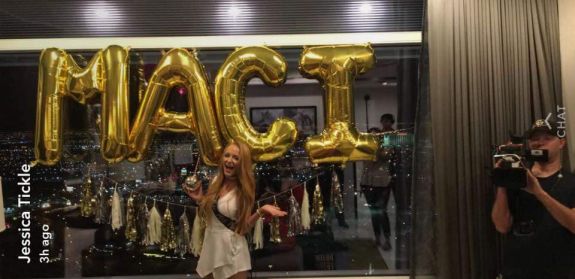 Maci Bookout's days as a bachelorette are numbered– but the Teen Mom OG star is making the most out of her final weeks as a Bookout. Last week, Maci celebrated her bridal shower with family and friends, but this weekend she jetted off to Vegas with a gang of her girlfriends to celebrate her bachelorette party!
Maci, along with many of her longtime friends (some of whom even appeared with her on her 16 and Pregnant episode!) partied at 1OAK in Las Vegas last night, at an event hosted by Scott Disick (as you do). Meanwhile, Maci's husband-to-be, Taylor McKinney, celebrated his bachelor party at the Foundation Room in Vegas. It doesn't appear that any of Maci and Taylor's 'Teen Mom OG' co-stars attended the parties.
Before heading out to 'da club,' Maci and her friends hung at the nearby Hard Rock Hotel to watch the University of Tennessee football game.
Naturally, a 'Teen Mom OG' film crew was there to document all of the festivities. Some of Maci's friends captured photos of the crew on their Snapchats.
Maci and Taylor will get hitched on October 8 in Florida, and the couple has stated that they will be allowing MTV to film it for 'Teen Mom OG.'
Check out the bachelorette party photos below!