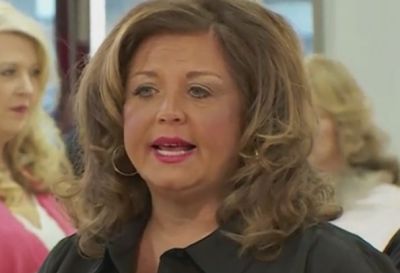 Abby Lee Miller is opening up for the first time since since she struck a deal with prosecutors in regard to the fraud charges against her.
The Dance Moms star recently did her first interview since pleading guilty on June 27 as part of a deal with prosecutors for the 20 counts of fraud that she was indicted on last October. Abby was set to be sentenced for her crimes on October 22, but that date was recently pushed back to December 2. (Read all about the crimes here!)
While chatting with Theo Von and Matt Cole Weiss of the Allegedly podcast on Tuesday, Abby admits to being afraid of what's to come.
"I'm scared to death," she said, adding that she has lost a lot of her friends since her legal woes began. "My support system used to be the moms on 'Dance Moms,' but not anymore."
During the interview, Abby told her side of the story, explaining that, at the time of the crimes, she didn't believe she was doing anything wrong.
"It's a fact of life, I made mistakes," she said. "I thought I was doing the right thing, I thought I had guidance. I thought I was on the up and up, and I wasn't."
As The Ashley previously reported, Abby was charged with bankruptcy fraud after it was discovered that she was trying to hide $775,000 of income she made from her 'Dance Moms' empire after filing for bankruptcy in 2010. She also admitted to failing to report a hefty amount of Australian currency (that equaled about $10,000 in U.S. funds) that she carried back to the United States with her in plastic baggies.
Abby told the podcasters that she hopes people will learn from her mistakes.
"I hope to be an example to others of what happens if you do not truly pay attention to your finances," she said.
(Photo: Lifetime)