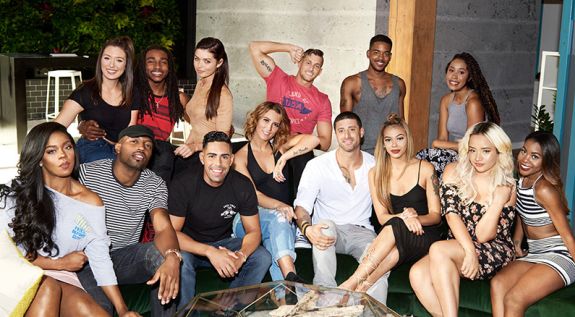 The Real World returns to Seattle for Season 32– but this season will be unlike any other!
MTV has released the first trailer for "The Real World Seattle: Bad Blood," introducing us to the "seven strangers picked to live in a house"…as well as seven people who basically made their lives hell earlier in their lives.
The seven cast members seem to have no idea that someone from their past will be moving into the house with them. While it appears that some pairs will end their feuds, some will deliver the beat-downs and verbal sparing we've come to expect from this show.
Let's meet the cast!
Mike Crescenzo: This 25-year-old New Yorker probably looks familiar to MTV reality TV fans. He appeared on the third season of Are You The One? His "Bad Blood" pairing is his former roommate, Peter Romeo. After Peter moved his girlfriend into their shared pad after three days, Peter and Mike's friendship went downhill.
Anika Rashaun: Also from New York, 24-year-old Anika will be confronted by her "Bad Blood" pairing, who is her ex-boyfriend Will Groomes. They dated for three years but it ended badly, even though Will is best friends with Anika's brother.
Katrina Stack: This 23-year-old from Florida does not get along with her older sister, Anna…which is exactly why they put Anna in the house with her. The sisters have gone for long stretches without talking and are intense rivals.
Jordan Anderson: A 21-year-old from Chicago, Jordan ended her longtime friendship with Orlana Russell over a video. Apparently Jordan posted a video of a guy that Orlana liked, which didn't go over well with her. They mention the guy– Anthony–specifically, so it's almost certain that we'll see him appear at some point during the season.
Theo Bradley: This 23-year-old from Illinois has been estranged from his cousin (and former best friend and college roommate) Kassius Bass ever since Theo was arrested and kicked off his college football team for having marijuana in their dorm room. According to MTV, Theo claimed that the drugs were Kassisus' and Kassisus said the pot was Theo's. In the end, Theo was kicked off the team, suspended from school and got put on probation. He was upset that Kassius never came forward, and has not talked to his cousin since.
"My cousin ruined everything," Theo can be heard saying in the trailer.
Tya Hooks: A 23-year-old from Georgia, Tya claims to have been bullied by Kimberly Johansson, a girl she went to high school with. Tya says that Kim mocked her via online videos.
Robbie Padovano: This 22-year-old from New Jersey tells us that he's "crazy" in the trailer. He also tells us that his last girlfriend put him through hell. Of course, said girlfriend– Jennifer Geoghan— will be arriving to live with Robbie and the gang.
'The Real World Seattle: Bad Blood' premieres on October 12 on MTV. Watch the trailer below: