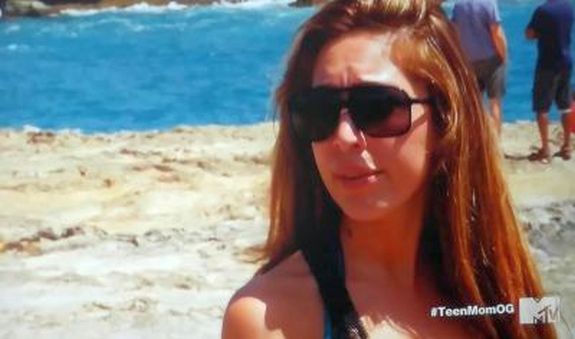 This season of Teen Mom OG is just flying by and The Ashley is trying desperately to stay stationary (Amber-style) long enough to recap this crap as it comes. She is failing miserably at everything she attempts, though (Matt-style), hence the lack of recaps.
Anyway, this week's 'Teen Mom OG' is a Very.Special.Episode. Not because Maci is pregnant or Farrah is treating everyone like the business end of her butt plug; that happens every episode. This is a Special Episode because we will get to meet someone very important from Amber's past- her former prison bunkie! Not even The Ashley could dream up such a wonderful plot line. She thanks the Reality TV Gods for sending her this Lil' Bit 'o' Heaven! This episode may replace the one that Gary dresses up as the Over-Eating Easter Bunny as The Ashley's favorite 'Teen Mom' episode ever!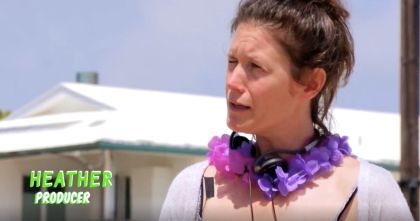 Before we can meet Ambie's prison pal, however, we have to sit through a bunch of other crap, so let's get started!
The episode kicks off in Hawaii. Farrah has used some of her Backdoor money to pay for her, Sophia, Deb, Michael (and the 'Teen Mom' crew, of course) to visit the island state. Jesus God (Leah)– I can only imagine the types of Forever 21 island wear that Deb will be sporting this episode. This could be better than Christmas, New Years Eve and that day that Chelsea Houska peed out her IUD but still wasn't pregnant, all rolled into one "Aloha" themed-trashheap.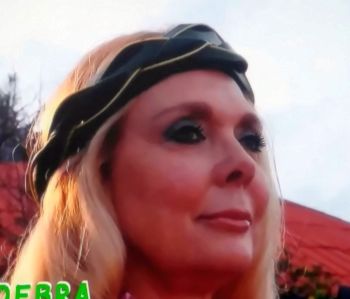 The Abraham clan starts things off with a stereotypical luau. As always, Debra is desparate to stay in Farrah's "inner circle" (insert Backdoor Teen Mom joke here), so she just lets her daughter berate her throughout the entire trip, as per usual.
After the luau, Farrah (and her enormous, um, chest pineapples, which are on full display) starts to ponder physics. She is curious as to how water is able to combat gravity.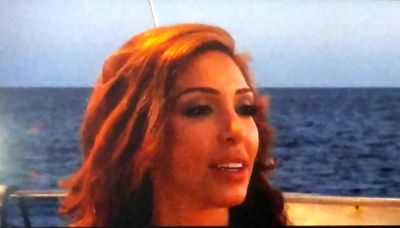 "If the Earth is a circle…how does the water always stay?" she wonders aloud. "Water is a little more heavier than gravity."
And…scene? Can we just end this right here!? Also…someone please make The Ashley a shirt with Farrah's face and that quote on it. Thanks.
Debra, who is all dressed up like Little Laura Ingalls in a giant straw hat, knows what her purpose in this scene is (other than to wow viewers with her "badical" fashion sense, of course). She has to bring up Farrah's on-and-off-again boyfriend thing, Simon. Deb thinks Farrah should ditch Simon.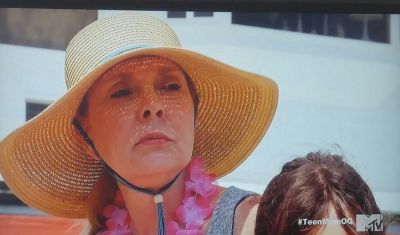 "Every day of your life with him is going to be an argument," Deb says.
Um…are you new? Did you just meet Farrah or something? Every moment of her life is an argument with someone. How is this any different?
Almost on cue, Farrah demonstrates this by basically telling her mother to hush up because she's tired of talking to her.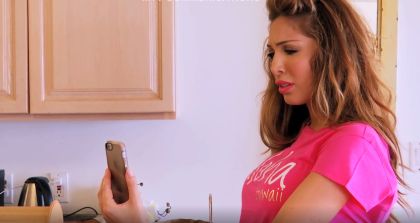 Later that day, Farrah Facetimes Simon (using whatever "face" she's currently wearing at the moment), and tells him that she's going to allow him to be her boyfriend, and that he can come to Hawaii if he wants, even though she doesn't necessarily want him there. He agrees to come and is willing to put up with Debra and whatever micro-mini bikini she'll surely be wearing in order to score a free trip.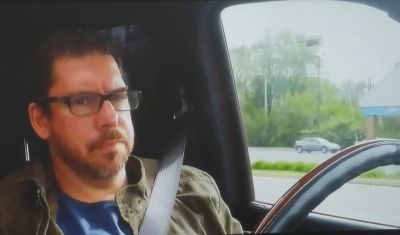 Over in Indiana, Amber and Matt have flipped another house, which gets Amber thinking about buying her own home. Matt looks slightly worried at the suggestion. If Amber spends her money on a home, that means there will be significantly less to pay for all of Matt's "oopsie" babies. But, on the bright side…at least there will be room for more dogs!
We learn that Amber's 26th birthday is coming up, and Producer Kiki commends Amber for doing so much in her short life. Wait…what?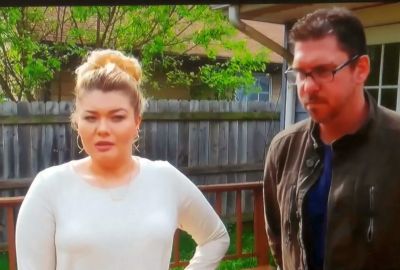 Amber encourages all teen moms to invest their money so they are "set for life."
While that's all well and good, Ambie, there is one problem: most teen moms don't have money to pay rent, let alone "invest." Amber has always had a trusty MTV check arriving consistently in her mailbox, even though we've never actually seen her clock any hours of actual work. This speech makes as much sense as having Maci be a spokesperson for preventing unwanted pregnancy.
Oh…wait…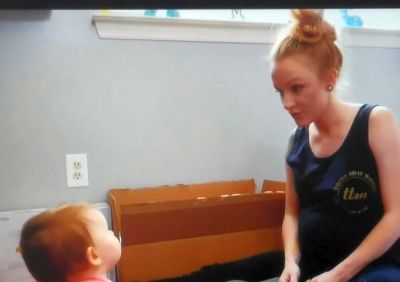 Speaking of everyone's favorite knocked-up knucklehead, Maci is now showing off her baby bump in full view, even though it is just as big now as it was when she "didn't know she was pregnant" a few episodes back. Even Baby Jayde can figure out that Maci's "I didn't know I was pregnant" story is a bunch of crap.
Later, Maci and Taylor go out to dinner. Maci stares longingly at Taylor's Bud Light (while making sure to show the cameras that she's only drinking water, naturally), and they discuss that they need a bigger house that can hold all of their "oopsies."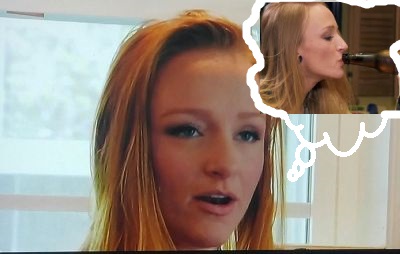 "How long before this little sh*t gets here?" Maci asks of her unborn son. (Aww….)
"13 weeks," replies Taylor.
Because this is 'Teen Mom' where everyone has more unplanned pregnancies (and money) than they know what to do with, Maci is able to just go buy a bigger house to fit her ever-growing family. They want to find, buy and move into a new house before the "little sh*t" arrives in about three months. As you do…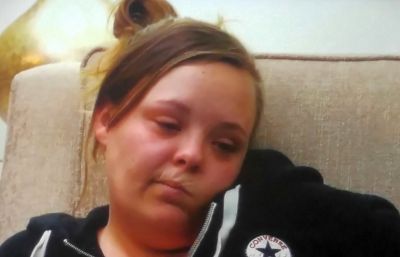 Finally we check in with Catelynn who…The Ashley always forgets is on this show. She's sprawled out on the couch (Amber-style) and is sans her zebra hoodie. (She does, however, have on a pair of leopard-print pants that she surely wrangled away from Debra at the last reunion taping.)
Things are not jolly in the Baltierra household. Cate is not doing well, and has decided to go to a facility in Arizona to get herself back to a healthy state. Tyler says that Cate bringing a pet pig into this mess may have been what pushed her over the edge.
"The pig was the straw for me," Tyler says. "That's where I was done being quiet."
I am so confused as to what the hell is going on here…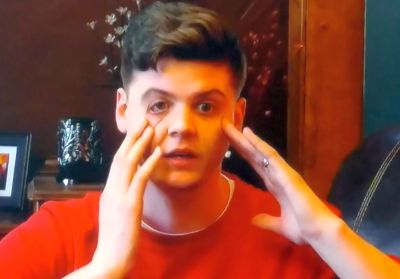 Tyler says he's tired of Cate being in bed all day and having no ambition. This is, of course, rich because Tyler has absolutely no ambition and isn't suffering from any apparent mental disorder. Producer Kiki comforts Catelynn and everyone agrees she needs to go get help.
(Meanwhile, in another room, some of the other producers are probably trying to figure out how to cut a hole into Cate's zebra hoodie so that they can install a hidden camera in there to capture all that good rehab footage!)
Back in Indiana, Amber expresses her desire to see Leah on her birthday, even though it's technically Gary's weekend with her.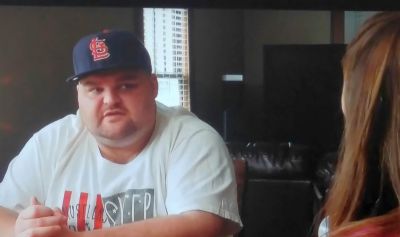 Anyway, Matt invites Gary, Kristina and Leah over to a surprise birthday party he's throwing for Amber. Gary isn't sure that he wants to go because he and Amber have an "interesting" relationship these days. Gary is very careful with how he speaks to Amber because, well, his memories of having a TV thrown at his head as he's pushed down the stairs has not yet left his mind.
He doesn't want to fight with Amber anymore, so he will have to think about if he should go to the party.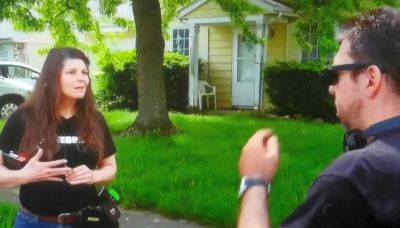 Meanwhile, Matt's talking to some other producer named "Kerthy." (Where is Producer Heather? We know she's not at the salon getting her hair done!) Matt tells Kerthy that he's throwing the party because Amber would never expect it. He wants Amber to feel special.
Matt tells Kerthy that he has an extra special treat planned for Amber's birthday: He's someone managed to track down Amber's old cellmate from prison. And, wouldn't ya know– she's not legally required to stay within 20 feet of her household or anything, so she'll be able to attend the festivities! Kerthy looks slightly amused (and slightly frightened) by the news, but she keeps on a good face.
Matt says that Amber hasn't seen her prison pal since she left the Big House, and is eager to reminisce about all the "Orange Is The New Black" fun that they had during their lock-up days.
Meanwhile, Farrah is enjoying terrorizing an entire new state of people with her Anti-Christ attitude. Debra is holding tight and insisting on wearing her Little Laura Ingalls hat throughout the entire episode. I think that's good.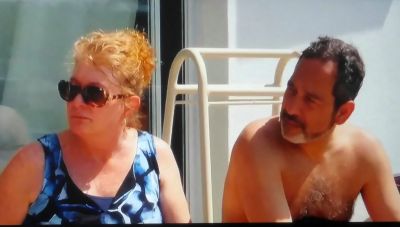 Outside, (Whatever) Michael is lounging around the pool with Sophia and his new girlfriend (?!) Amy. She looks mildly terrified of Farrah. I think that's good.
Michael is pumping Farrah for info on her relationship with Simon. He's hoping that she will give him another chance. (Basically, Mike is hoping that his check cleared and Simon will continue to play along with this charade.)
As if this conversation isn't awkward enough, Deb comes outside in her hat (and booty shorts, of course) and recommends that Farrah not talk about Simon until he gets to Hawaii. Farrah replies with a snotty remark, and Amy is just silent. Sophia, meanwhile, shoots her a look that says, "Better get used to it, lady!"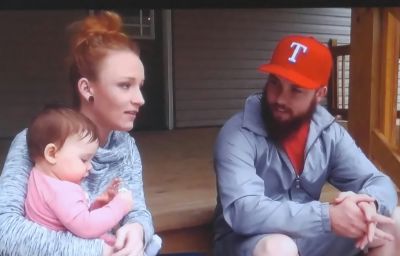 In Tennessee, Maci and Taylor have already found a house they want to buy. It's huge and Maci loves it.
"This is my dream kitchen!" Maci squeals as she thinks of all the Bud Lights she can store in there.
They love the house and decide to buy the house right then and there (as you do). Maci says that she doesn't want any more "oopsie babies" filling up the house's extra rooms.
Ha! Ha! Good one, Maci!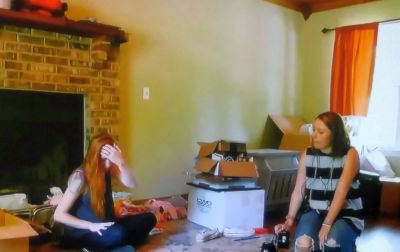 They are immediately able to start moving into the new house, and Maci is working to pack up all of the kids' rooms. It's hard for Maci because she's pregnant.
"Carrying around an extra 25 pounds is exhausting," she says.
Of course, she didn't seem to notice those extra 25 pounds just an episode or two ago…
That night, Taylor is chugging down beers as he's trying to put together the baby's new crib. We see that Taylor has already inked "Maverick" onto his arm to ensure that Maci doesn't change the baby's name.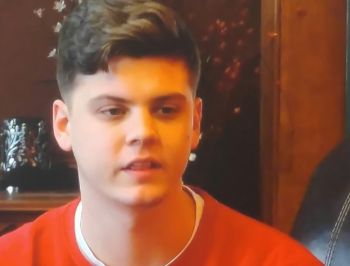 Meanwhile, Cate is heading to Arizona to a rehab center. Before she goes, though, she is heading to see her regular therapist. The therapist agrees that Cate's decision to go is good, and is happy to hear that Catelynn is planning to give up smoking weed.
Catelynn is very upset, and it's hard to watch. She doesn't want to leave Nova. Everyone is crying and it's not funny, so we're going to skip right along…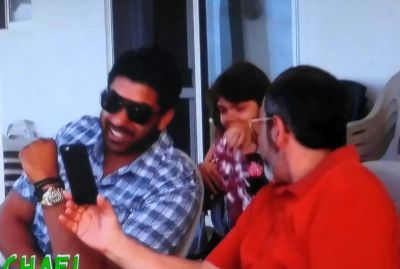 Over in Hawaii, Sophia has red lipstick smeared all over her face. Simon has arrived, and Sophia sneaks behind him with a devilish look on her face. She is either going to strangle him or put a flower lei on him. Luckily, it's the latter.
Farrah, meanwhile, is all dressed up like she's Mariah Carey. She's wearing a sparkly cocktail gown (as you do on a beach vacation) and parades into the room to greet Simon. She almost seems to show a spark of happiness behind her dead eyes.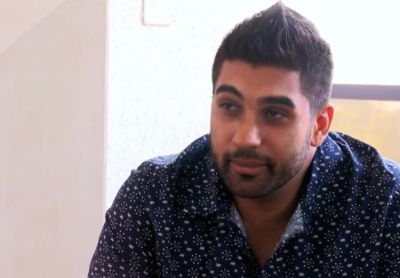 "Hello-ha!" Debra greets Simon.
It's totally awkward between Deb and Simon, but luckily, it's time for everyone to go on a boat ride. Sophia has now stripped down to just a coconut bra and grass skirt which is mildly disturbing and completely inappropriate. It almost seems like a set-up for To Catch A Predator or something. I keep expecting Chris Hanson to come out and ask me if I want some lemonade or something.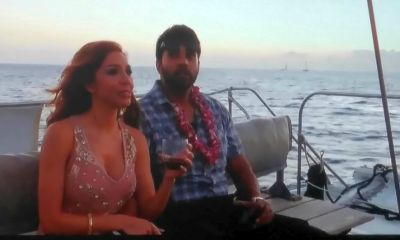 The entire motley crew loads up onto a boat. It's like the beginning of Gilligan's Island. Farrah, of course, is Ginger, due to her ridiculous sparkly gown. Simon is Gilligan because…well, you have to be a total idiot to date this woman. Deb would, of course, be MaryAnn, who is always in Ginger's shadow. (This would give Deb an excuse to wear pigtails so win/win!)
The gang is sailing around, and Farrah is talking about how she loves it when "clouds touch mountains…or whatever."
Can Farrah be Gilligan and Ginger?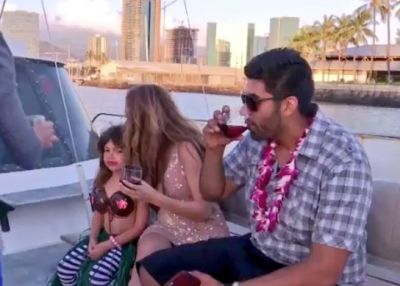 Simon is just sitting there, taking in the sights, and Farrah gets angry that he's not baby-talking to Sophia and telling her how great she is. Farrah literally demands that Simon tell Sophia that she's doing awesome at fake-driving the boat and Simon complies.
He's most likely hoping that Sophia accidentally veers too far right and dumps him out of the boat, allowing him to swim to shore.
Farrah isn't satisfied, of course. She keeps yapping about how Simon isn't talking and how annoying he is. I can't imagine why this man doesn't want to talk.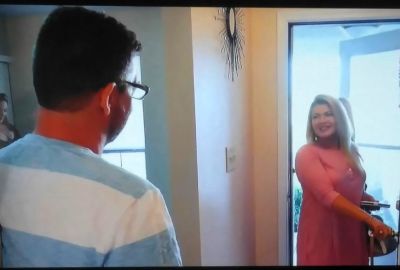 In Indiana, Cousin Krystal is taking Amber to get her cat claws done for her birthday. Amber has no idea that, back at home, Matt is setting up a surprise party for her.  Everyone is there– Leah, Amber's family and even Gary has made an appearance.
Unfortunately, Matt didn't have "the smarts" to have all the party guests park around the corner, so Amber sees all of the cars parked in her driveway and starts to put things together.
Amber walks in and pretends to be surprised. She, is, however thrilled to see Leah at the party. As Amber is greeting the party guests, Matt is sneaking a girl into the house. (Something tells me this isn't the first time this has happened in his life…)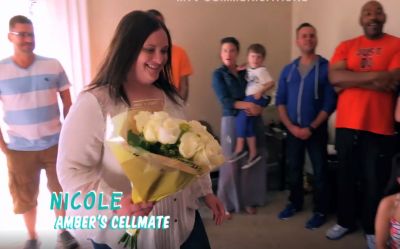 It's Amber's long-lost prison pal, Nicole. Amber is totally shocked to see her, and shows this by giving Nicole a kiss right on the lips. They hug for along time, and exclaim how beautiful the other looks. (You have to remember– the last time they saw each other, they were using Jolly Rancher-infused shampoo and wearing state-issued sweatshirts.)
"Oh my god, babe, you're in clothes!" Amber cries.
I'll just let you interpret that statement however you see fit…
Also…is this the infamous "SugarFoot?" If you don't have any clue what I'm talking about, click here. I always pictured SugarFoot being meatier and wearing a hairnet. Go figure…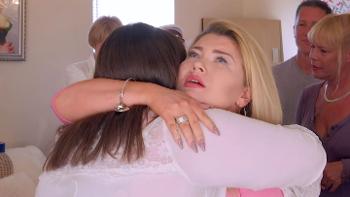 Apparently Nicole and Amber are the only people from their prison posse who haven't been locked up again.
At the party, Leah is all dressed up in a costume, which includes a shell-coconut bra (and thankfully a shirt under it). Amber tells her that it's inappropriate, and Gary warns Leah of growing up too fast. Oh, I see what ya did there, MTV editors! Touche!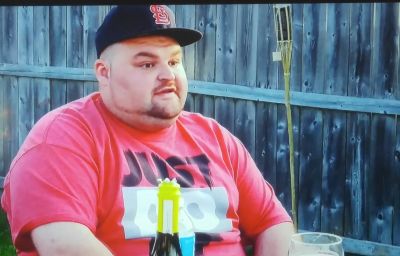 Things at the party are going great. There are burgers a'grilling, wine a'pouring and everyone is dancing. Amber looks very happy, and takes an opportunity to introduce her prison "bunkie" Nicole to the crowd.
"She knows all of my ups and downs," Amber said. "She's a strong woman and I learned so much from her."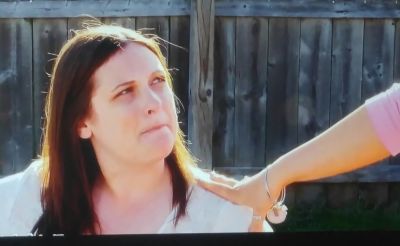 Nicole and Amber chat about how great it is that they get to sit together…in a backyard…without having to bend over and cough or anything! Amber blows out her candles and certainly wishes for more cavity-search-free birthdays.
In Hawaii, Simon has gone Missing In Action because he's tired of Farrah being "fake when the cameras are around."
Just when the cameras are around…?
Farrah has no idea why Simon would have left. (It's not like she told him he was annoying and to shut the f**k up or anything…)
Deb takes the opportunity to recognize the irony.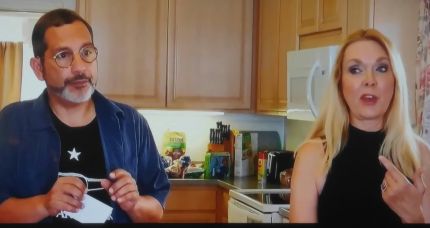 "He was saying that I was fake," she begins, before Farrah just shuts her down and forbids her to talk anymore.
"Mom, I don't even care!" she snaps.
Yup…I have no clue why Simon would have jumped ship on this Honolulu Hellfest.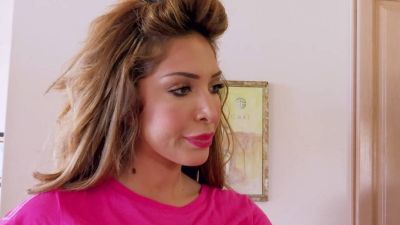 Farrah encourages the producers to throw Simon's bag in the trash. Just then, Simon arrives to pick up his bag. Farrah doesn't have time for this, so she tells Simon that she'll send her "minions" out to deliver the bag.
Ugh…if I was Producer Heather I would have given Farrah a great big ol' "Hawaiian Punch" in the mouth for that remark.
Farrah braids her hair and then sets Simon's stuff out by the garbage.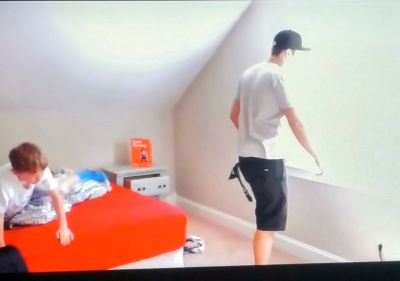 In Tennessee, Ryan is dropping Bentley off at Maci's new house. He can barely keep his eyes open as he tells Maci that the "party is over" after she squats out the third kid. There's still a bit of sexual tension between them which makes things uncomfortable.
Wouldn't it be a great plot twist if Taylor came home from the office only to see a pregnant Maci rolling around in a pile of leather-pocketed T-shirts with Ryan!? Now that would be a Very.Special.Episode!
Ryan goes up to Bentley's room and tells his seven-year-old son that he'll soon need to get a ladder so that he can sneak his girlfriends into his room.
That was even more inappropriate than Sophia's coconut bra.
That's it for this week's episode, y'all!
To read The Ashley's previous recaps of 'Teen Mom OG' click here!
(Photos: MTV)