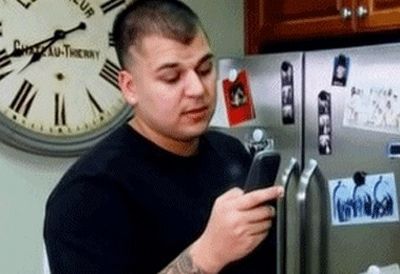 The Ashley generally observes the "No Kardashain Story" rule on The Roundup but…she does make exceptions for stories having to do with meltdowns!
While many Americans were watching the presidential debate, Rob Kardashian decided to start a spar of his own. The reality star, who is expecting his first child with Blac Chyna, took to Twitter to rant about his family– and, of course, tweet his sister's phone number to his over 6.6 million followers!  
After posting the number he claims to belong to his half sister, Kylie Jenner, Rob ensured his followers that his Twitter account was not comprised.
"I ain't hacked either this is rob dog lol," he tweeted before posting Kylie's number yet again.
Twitter users immediately began calling the phone number, and several early callers showed proof that Kylie's Instagram was connected to the number "Rob Dog" tweeted. (The Ashley has no idea if it actually was Kylie's number, but it certainly isn't now.)
Rob's next tweet offered an explanation as to why he just blasted his sister's private phone number to millions of people.
"Didn't invite the Mother of my child to a baby shower you all were trying to throw for me?" he wrote. "You all must have lost your damn minds."
Apparently Kylie & Co. "forgot" to include the mother-to-be on the guest list of the baby shower they are throwing for Rob.
Kylie has yet to respond to Rob's tweets (most likely because she's been busy changing her phone number!)
Rob and Blac Chyna are currently starring on their own reality show, Rob & Chyna.
(Photo: E!)