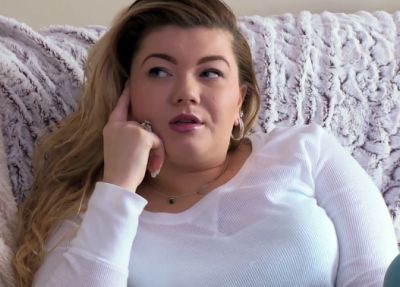 Another day, another Teen Mom star with fashion aspirations!
Teen Mom OG star Amber Portwood announced yesterday that she is planning to delve into the fashion world by opening up her own clothing boutique. If you desire to wear clothing a la Portwood, you're in luck because Ambie's line will be hitting the Interwebs soon, with sizes for all body types.
"Happy to announce that my new clothing boutique is coming soon!" Amber tweeted on Sunday. "For all sizes petite to plus and we also ship internationally."
She later told fans on Twitter that the clothes will run up to 3XL, and that it will be her own clothing designs.
"The name is still in the works," Amber tweeted of her upcoming brand. She also mentioned that the clothing line will start as an online brand.
Amber is hardly the first 'Teen Mom' star to tackle the world of fashion. Her ex, Gary Shirley, was one of the first 'Teen Mom' stars to create his own clothing line. (Who could forget his classic 'It's Gary Time' T-shirts? The Ashley always felt that he missed the mark when naming his line. It should have been called 'Wear by Gar.')
In addition, Teen Mom 2 star Kail Lowry released a fashion line a few years ago, and Jeremy Calvert is about to launch his clothing line. Maci Bookout and her fiance Taylor McKinney run a T-shirt line that meets the needs of today's fashionable, leather-pocketed-T-shirting-wear hipsters.
Surprisingly, Farrah Abraham has yet to explore the world of fashion. Farrah has hawked a lot of products during her time on TV– everything from books to perfume to vibrating vaginas (as you do). She has not yet released a "Farrah" clothing line, though. (This is probably a good thing, as all of her clothing would likely just have a giant photo of her own face on it.)
Anyway, Amber seems very excited about her new venture. In a tweet on Monday, she stated that she's happy she didn't take all of the money-making opportunities that have been thrown at her since she first appeared on MTV (like this!)
"Big changes coming soon! A new chapter of my life is here," Amber wrote. "Good things happen if you don't cheapen yourself by doing anything thrown at you."
The Ashley will keep you posted on the progress of Amber's clothing line! Meanwhile, The Ashley is still hoping for Barbara Evans to release a "Garb by Barb" fashion line!
(Photo: MTV)