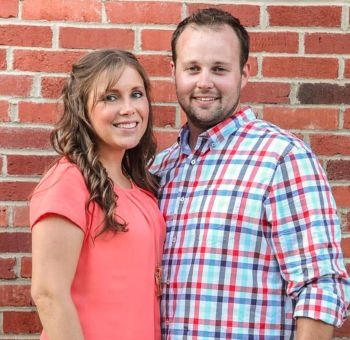 He's baaaaaack!
Josh Duggar made a rare appearance on the Duggar Family's social media pages yesterday, proving that the Counting On stars may be attempting to get their disgraced eldest son back into the public's good graces.
A new photo of Josh and his wife Anna was posted to the family's official Facebook page, in celebration of the couple's eighth wedding anniversary.
This marked the first time a new photo has been posted of the couple since Josh's numerous scandals of 2015–including when he admitted to being unfaithful to Anna, and stated that he was addicted to p0rn.
Josh was sent to rehab after admitting his sins. Upon his release, Anna announced that she was staying in the marriage, and working to forgive her husband.
In their anniversary post, the Duggar family acknowledged that all is well with the couple these days.
"Happy Anniversary, Josh and Anna," the photo caption read. "We are so thankful for God's redemptive love in your lives."
"Throughout this ordeal, Anna remained faithful to her husband," the family wrote in their blog post. "She continued to trust in God and be strong for her children."
Josh and Anna are the parents of four children:  six-year-old Mackynzie, four-year-old Michael, two-year-old Marcus and 14-month-old Meredith.
While Josh has managed to creep back onto the Duggar family's social media accounts, he is not allowed back on the family's reality show, 'Counting On.' TLC has stated that Josh will never appear on the program, due to his previous scandals.
(Photo: Duggar Family Facebook)