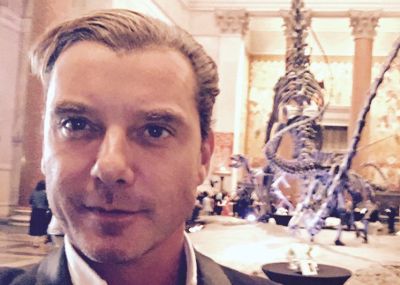 Gavin Rossdale is taking a page out of his ex-wife Gwen Stefani's career playbook– he's just accepted a role as a coach on the United Kingdom's version of The Voice!
The Brit, who split from Gwen last summer after 13 years of marriage, was announced as one of four coaches for the upcoming season of The Voice UK.
"I am so thrilled to be joining The Voice UK," Gavin said in a statement. "I have always been extremely proud to fly the flag for British rock music and I can't wait to join this incredible panel and help discover some new talent."
This is not Gavin's first time on 'The Voice,' however. He appeared as his then-wife's guest mentor back in 2014 on the American version of the show. Gwen went on to do a second season of the show in 2015, around the same time that she and Gavin announced their split. (It's rumored that the breakup was due to Gavin's alleged infidelity with the family nanny.) Several months later, Gwen hooked up with fellow 'Voice' coach Blake Shelton, and the couple has been going strong ever since.
Gwen has yet to comment publicly on her ex's new career move. However, she is probably finding it delicious that many UK fans of the show are unhappy that Gavin will have a spot on the coaching panel.
"Gavin Rossdale is a coach on 'The Voice.' Really? I only know one of his songs and that he cheated on Gwen Stefani," one Twitter user wrote.
"If I auditioned for The Voice UK and only got Gavin to turn around I'll politely ask him to turn back around as I sprint out the building," another tweeted.
Even more delicious, many media outlets felt the need to run a "refresher" story to remind fans who the hell Gavin is.
Ouch.
Gavin will be joined by Jennifer Hudson, Tom Jones and will.i.am on the coaching panel.
(Photo: Twitter)