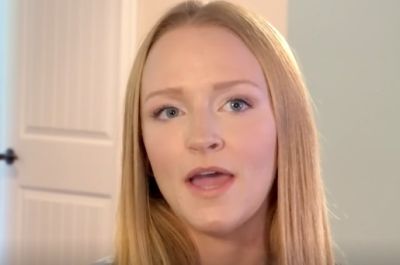 File Under: Awkward!
Between the sexual tension and the comments made by both Maci Bookout and Ryan Edwards during the current season of Teen Mom OG, it's no surprise that viewers have noticed that there is still some love/hate chemistry between the exes.
In a new video interview, Maci seems to confirm this, stating that she thinks Ryan needs to get himself a girlfriend…who's just like her. 
"Ryan's perfect match would be–this is going to sound ridiculous– someone exactly like me but maybe not such a hard ass," Maci says. "Like someone who is willing to put up with a little more of his s**t than I was willing to put up with."
Ryan and Maci were once engaged but after the birth of their son Bentley in October 2008, their relationship fell apart. Although the exes have been fighting on 'Teen Mom' for years, Maci obviously still cares about Ryan, despite the fact that she seems very content with how her love life is going these days.
"I've been lucky enough to find [my fiance] Taylor [McKinney] and for us to be building a life together," Maci said. "Sometimes I do worry about Ryan and if he'll find happiness or find someone that completes him. In my honest opinion, I think Ryan has to learn to love himself first."
Watch Maci's interview below: