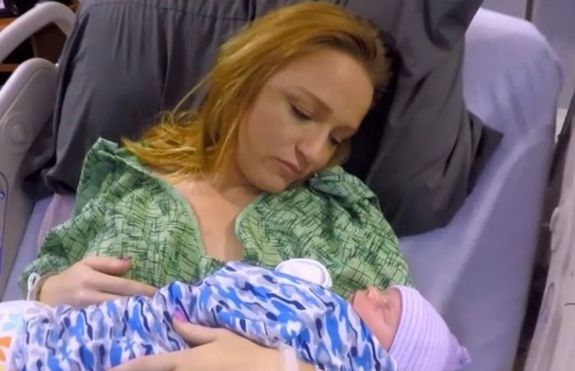 If you think this season of Teen Mom OG has been wild so far– you haven't seen anything yet!
MTV released a mid-season trailer that shows all the drama, arguments and meltdowns still to come in the season's remaining episodes. The one-minute supertease clip also introduces us to a few new faces, including Maci's son Maverick and Matt's son Chris. ('Member when The Ashley broke the news that Chris was living with Matt and Amber and stated that Chris would likely find his way onto an episode of 'Teen Mom OG?' Well…here he is!)
Since The Ashley realizes that many of you Roundupers are not able to watch the clip, due to being in countries outside the United States, so she will do her best to describe what the clip contains.
The trailer starts with clips from Maci's hospital room, where Maci has just given to her third child. Maci's fiance Taylor, as well as her son Bentley, are shown anxiously awaiting the baby's birth. We also get to see clips of Maci's bridal shower, which happened last month.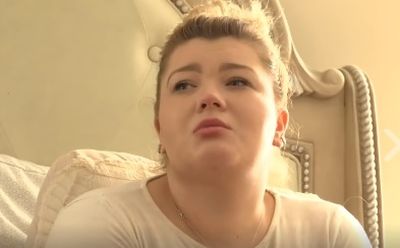 Next we see Amber stressing because she feels that "everybody hates" her again. She's presumably upset that Matt is not very popular with the show's fans.
"I just want us to be left alone!" Amber wails.
Um…then it's probably a good idea to get yourself off of a TV show, Amb!
Later, Matt and Amber learn about a rumor going around about them that states that Amber had miscarried a baby. She seems surprised by the claim.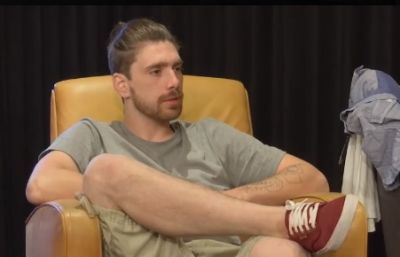 We also get our first glimpse of Chris Baier, Matt's formerly abandoned son who is now in trouble (as The Ashley told you). Matt suggests that he and Amber open their home to Chris, who has admitted to using drugs. This new living arrangement seems to make Gary understandably worried, as his daughter Leah will be living in the same house as Chris some of the time.
After that, we see Farrah screaming and jamming her finger into her mother Debra's freshly peeled face.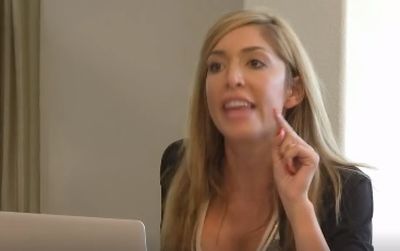 "I don't f**king care about you!" Farrah tells her mother, who is standing there with a classic dead-behind-the-eyes look. "Just like right now you're calling me liar but f**k it, that f**king happened!" (We do not yet know what Farrah is so upset about…this time.)
Farrah also screams at her boyfriend-thing Simon.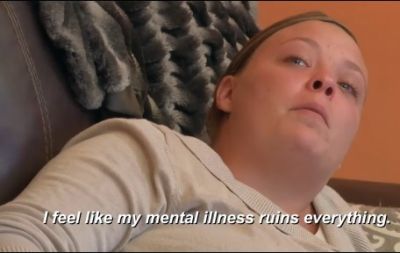 Lastly, we see a scene featuring Catelynn and Tyler discussing what Tyler says is "the hardest year we've had in a long time." Catelynn appears to still be struggling with her mental health issues, despite having returned from rehab.
"I feel like my mental illness ruins everything," Catelynn tells her husband.
Later she makes a startling statement.
"It's like life would be so much better if I wasn't around," she says.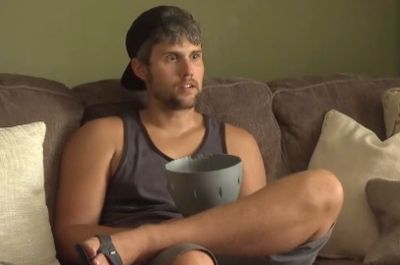 Finally, we see that Ryan's parents are fed up with Ryan's behavior. Ryan's father, Larry, is particularly disgusted by his son.
"My dad…he's just a dick," Ryan mumbles to the camera.
"I'm done with him," Larry tells Ryan's mother, Jen. "I'm tired of that blood-sucking leech!"
Watch the dramatic trailer below:
(Photos: MTV)