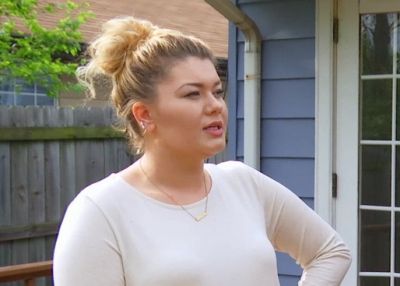 Amber Portwood just went under the knife– and she's certainly not trying to keep it a secret!
Last month the Teen Mom OG star mentioned that she was considering getting a "Mommy Makeover," a plastic surgery package that focuses on rejuvenating a woman's body after pregnancy, and today Amber revealed that she's already had the surgery!
Amber tweeted on Saturday that she's resting up after having the plastic surgery.
"Had my mommy makeover and I'm now in recovery," Amber wrote. "If you want your post mommy body back or you've lost a lot of weight then I would recommend it."
The "Mommy Makeover" package, which usually consists of a tummy tuck, breast lift and/or augmentation and sometimes liposuction, is pricey, but luckily Amber is making a bundle filming 'Teen Mom OG.' A package that includes a breast lift, breast implants and a full tummy tuck will usually costs upwards of $16,000 in Amber's part of the country. (For the record, though, The Ashley is not confirming that Amber had all of these procedures, or that she paid that much.)
While many of Amber's 'Teen Mom' franchise co-stars have gone to Dr. Miami, a plastic surgeon who gave Kail Lowry and Briana DeJesus comp plastic surgery in exchange for allowing him to Snapchat their surgeries, Amber confirmed on Instagram that she did not get her surgery done by Dr. Miami.
She also told fans on Instagram that she did not have the surgeries to slim down. Instead, she said she went under the knife to "tighten up my body from losing weight."
"Everyone should feel good about their bodies," she tweeted. "Losing a lot of weight isn't easy. And your body sometimes changes. Thanks for the support."
On Twitter, she revealed that her fiance, Matt Baier, has been taking care of her while she recovers.
Amber has not posted any photos of herself post-surgery; however The Ashley is expecting Amber to do some sort of reveal via a tabloid or website. It's not yet known if Amber's surgery will be featured on upcoming season of 'Teen Mom OG.'
Wanna see which other 'Teen Mom' franchise stars have gone under the plastic surgeon's knife? Click here!
UPDATE! Amber has confirmed on her Instagram account that her Mommy Makeover did not include a tummy tuck.
"I didn't get the tummy tuck because I do plan on having more kids," she told a fan.
(Photo: MTV)