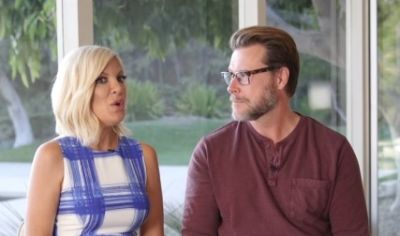 It's been a while since Tori Spelling has been in the news…so naturally, it's about time the former True Tori star pops out another kid and regains the spotlight!
The television heiress announced on Wednesday that she is expecting her fifth child with husband Dean McDermott. Tori told People that this baby was a complete surprise. 
Tori and Dean currently have four other young children—Liam, 9, Stella, 8, Hattie, 5, and Finn, 4. Dean also has a teenage son from a previous marriage.
Tori said Dean told her, "We just got Finn out of diapers; I thought we were in the clear."
"It was a total surprise," Dean says in a video posted on People.com. "We didn't think that we were going to have another one, or could have another one, because it had been four years [since the last pregnancy]."
"Oh my god!" Tori jokes. "We're going to be the Brady Bunch!"
Tori has been in the spotlight ever since she appeared on her father, Aaron Spelling's show 90210 when she was a teen. Dear Old Dad famously stiffed her in his will (leaving her only $800,000 of his $600 million fortune) and she's been forced to pimp out her personal life on television in the convening years to make her (high) ends meet.
Tori's terrifically awful reality show, 'True Tori' followed the couple as they struggled to keep their marriage afloat after Dean was caught cheating on Tori in 2013. Naturally, the couple milked the drama for all it was worth on their reality show. But Tori says that is all in the past.
"We're in such a good place going into this pregnancy," she told People. "We're not just still here, but we're bonded and solidified as a couple…It was one of the worst times in our lives, but it was also one of the best times. I wouldn't change anything because if we hadn't started talking and opened up those lines of communication, maybe we wouldn't be here today."
While Tori's drama with Dean may be over, her money troubles are just beginning. It was recently reported that Tori was ordered to pay American Express the nearly $38,000 she reportedly owes them in unpaid credit card debt. (In addition, Tori and Dean had a $259,000 tax lien placed against them in July.) They are currently in litigation over the credit card matter and Tori's mother, Candy Spelling, has had to help out her daughter.
Earlier this year, Candy told TMZ that she pays for Tori and Dean's house, the kids' schooling, and even puts food on the table for Tori and her family.
Um, why can't Dean and/or Tori work? (Tori, of course, does hawk random products on Instagram for profit.)
It's awfully coincidental that this "surprise" pregnancy pops up right at the time the couple is strapped for cash. Could baby mean another season of the reality TV tragedy that is 'True Tori?'
Stay tuned!