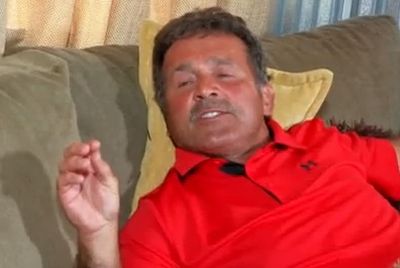 Papa Larry does not play!
In a new sneak peek clip of the upcoming episode of Teen Mom OG, Larry Edwards, the father of Ryan Edwards, reveals his true feelings about his son…and he certainly doesn't hold back!
While talking to 'Teen Mom' producer Jaala Webster, Larry unleashes the fury he's been holding in, calling his son a "blood-sucking leech" and a "bum," among other things. It's revealed that Larry and his wife, Jen, have recently kicked Ryan out of their home, but do not state why they finally booted their unemployed 27-year-old son out.
"Good riddance," Larry (who is hilariously rolled up in a blanket like a taquito) says in the clip. "It was a long time coming…I'm over his lies. I'm over his laziness, selfishness. I'm done with it."
While we don't know what Ryan did to send Larry over the edge, The Ashley suspects that Ryan's cat-killing scandal this summer may have something to do with Larry's anger toward his son. (The Ashley is not confirming this; however, it appears that this scene was filmed around the same time that Ryan was being investigated by Tennessee police. His actions caused Ryans' parents' home to be raided by police.)
"I'm done with him forever," Larry says of Ryan. "I don't want him anywhere around me ever. And I never wanna be around him ever 'cause I'm tired of that bloodsucking leech. I'm over it."
Ryan has been chronically unemployed throughout the six years that 'Teen Mom' has been on the air. While he has occasionally had jobs over the years, it does not appear that Ryan is currently working or going to school.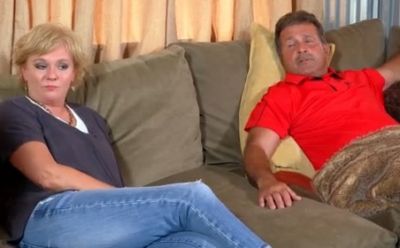 Ryan's dad says that Ryan has been staying at a home that is co-owned by his mother, aunt and uncle, and it seems that he is considering purchasing the house from them. Larry suspects that Jen may lower the price they were considering selling the home for so that Ryan can buy it, and warns his wife not to do it.
"And you better sell it to him for what you were gonna sell it for, too," Larry tells Jen. "You better, you better. You better not damn lie about it either 'cause I'll find out eventually."
Jen is moved to tears by Larry's outburst, but that does not seem to make Larry soften.
"I'm not crying about it," he says. ""Look, I was No. 2 [to Jen] from day one. Then I went to No. 3 after Bentley. I don't mind after Bentley, but I'm not playing behind [Ryan] anymore. Hell, no. If [Jen] don't like it, she can get her s**t and get out."
Ryan's dad then delivers what may be the harshest comment of the clip.
"I wouldn't piss on him if he were on fire," Larry says of his son.
Ohhh, burn! Watch the full clip below: