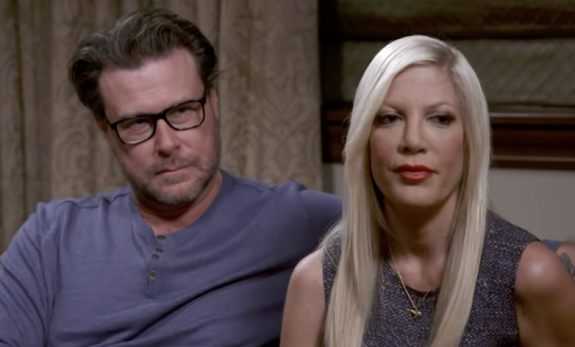 Dean McDermott is sober and speaking out for the first time about his split from wife Tori Spelling.
The actor and former True Tori star recently sat down with DailyMail to talk about the breakdown of his and Tori's marriage and how his past addictions to alcohol and prescription drugs played a part in their unraveling.
Dean applauded Tori for her efforts to save the marriage.
"All Tori's ever done to this day is want me to be happy and healthy and I inflicted a lot of damage and pain on that woman," Dean admitted. "I'm taking accountability for that today. And it's the biggest amends that I'm ever going to have to make."
Dean— who has also appeared on Tori & Dean Inn Love and hosted Chopped: Canada— shares five children with Tori and one from a previous relationship. He told DailyMail that he recently completed a 40-day stint in rehab and currently resides in a sober-living home with eight other men. While he's no longer drinking alcohol or abusing prescription drugs, Dean admits his past struggles only made things worse in his and Tori's already troubled marriage.
The 56-year-old said prior to hitting his rock bottom, he and Tori were already living like "roommates," partly due to the financial issues they were facing. He also claims the two had not shared a bedroom since 2017, allegedly due to Tori's insistence that their pets-– a menagerie that included a pig and chicken–- sleep in the same room.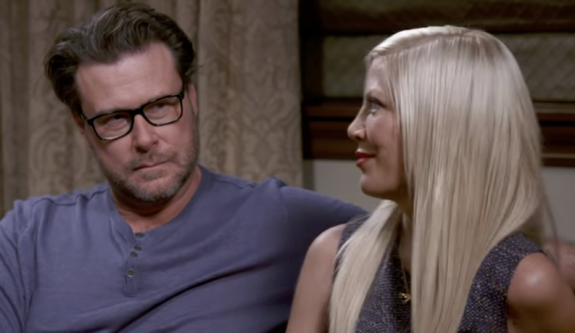 "I drew that boundary for myself and moved to another room and things just progressed from there," he explained. "There were no efforts to sort of remedy the problem to get back into the room."
In addition to his marital problems and the isolation he was feeling, Dean said he was also "deeply depressed" at the time, eventually consuming "a fifth of tequila every night, seven days a week," and taking a "handful of narcos [prescription drugs]."
"I've never been so lonely in the same house with six other people, never been so lonely in my life," he revealed. "I didn't know how to get out of the situation I was in. I was hurting. I was heartbroken. I was depressed. I hated myself. I didn't want to live."
Dean said his method for coping with his pain often led to alcohol-fueled rages that "petrified" Tori. There were even instances, he revealed, when he would pass out, resulting in Tori checking on him frantically to ensure he was still alive.
"Alcohol made me feel good enough," he said. "I started feeling good enough until it got to a point where it didn't– I ended up in isolation."
Dean admitted to partaking in these activities at home while his "beautiful family [was] in the other room."
"That's what it led to and that's what led to the brokenness and to what happened between me and Tori," he said.
Dean said it eventually got to a point where he "couldn't live like that anymore," noting he was "tired of the anger and the yelling." He also admitted his addiction made him nearly impossible to live with.
Dean has not seen Tori nor their children since he moved them out of their rental home at the end of June due to a mold problem, though he said he and Tori have begun communicating again via text. (Back in August, Tori and her children were reportedly living in an RV amid the mold issue.)
Since splitting from Tori, Dean has begun a relationship with 32-year-old Lily Calo. Though his and Tori's relationship was plagued with many challenges along the way-– including Dean's past attempt to get sober in 2010, his affair with Emily Goodhand in 2013 and living life in the public eye–- Dean said he has no regrets about his time with Tori, calling it "a total fairytale" and "a beautiful love story."
"[I'm] going to be living the rest of my life making amends because I took something that was really beautiful and I just tore it down year after year, day after day," he said.
Tori has not yet commented on Dean's interview.
RELATED STORY: Tori Spelling to Host 'Love At First Lie,' MTV's First-Ever Relationship Mystery Competition Show: Watch the First Trailer
(Photos: Lifetime; Instagram)