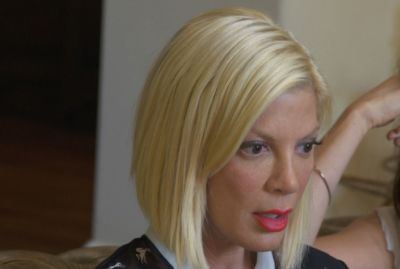 Reality TV stars seem to have a hard time understanding that, even though they're famous, they still have to pay their taxes just like everyone else! (Did ya hear that Richard Hatch? Amber Portwood?)
Tori Spelling and her husband Dean McDermott are the latest reality TV stars to learn the hard way that Uncle Sam will always get his fair share.
Page Six is reporting that Tori and Dean are once again having money troubles, and that the IRS recently emptied the couple's bank accounts of over $707,000.
"In July 2016, it was reported that the couple were slammed with a federal tax lien for $707,487.30 in unpaid federal taxes for their 2014 bill alone," the report states.
And that's not all. Page Six also reports that Dean's ex-wife is threatening to send him to jail for not paying child support for their 18-year-old son. During a hearing in March for the child support, Dean told the judge that he and Tori had "fallen on hard times."
Tori is the daughter of late multi-millionaire Aaron Spelling, but that hasn't stopped her from having her fair share of financial troubles.
In her 2013 book, Spelling It Like It Is, Tori tried to explain why she is always struggled to get control of her spending.
"It's no mystery why I have money problems," she wrote. "I grew up rich beyond anyone's dreams. Even when I try to embrace a simpler lifestyle, I can't seem to let go of my expensive tastes."
Four years after the book was released, Tori still hasn't managed to get her spending under control.
Last year, Entertainment Tonight broke the news that Tori was being sued by American Express for an unpaid credit card bill of over $87,000. American Express also sued her  earlier in 2016 for an unpaid bill of nearly $38,000. (Why the company keeps giving Tori credit is a mystery!)
Back in 2016, Tori's mother, Candy Spelling told TMZ that she pays for Tori and Dean's house, the kids' schooling and even puts food on the table for Tori and her family.
However, their money troubles haven't stopped the couple from expanding their family. In March, Tori and Dean welcomed their fifth child. Even with their bank account balances going down, Tori and Dean may not be done having children yet.
"All of my kids have their little pair, so I would be open to one more," Tori recently told People. "But whatever is meant to be, will be."
Not everyone agreed with Tori and Dean's decision to keep trying to have more kids, despite their financial woes.
"Oh please for the love of God stop procreating and take care of the kids you have!" one person wrote in the comment section of the People story.
"You should probably focus on being able to pay your bills…… It's totally irresponsible to keep having children you can't afford," another person wrote.
It has been reported that Tori had hoped to parlay her fifth pregnancy into another reality show, but it doesn't look like that's happening…yet.
(Photo: Lifetime)