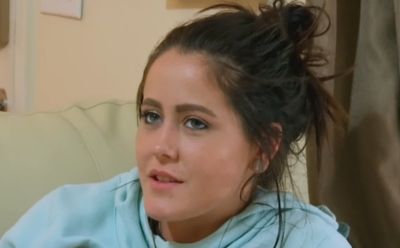 Jenelle Evans recently starred in [an incredibly awkward] commercial for a device meant to help make child birth easier, but it looks like the Teen Mom 2 star won't be using the device any time soon.
In a recent interview with E! News, Jenelle, who is the mother of infant Ensley (by fiance David Eason), as well as three-year-old Kaiser (by ex-fiance Nathan Griffith), and seven-year-old Jace (by Andrew Lewis) declared that she is not having any more children.
"David and I talked about it one day recently and how complicated things can get with Kaiser and Ensley together. They remind us why we are done," she said.
"It's pretty hectic!" Jenelle added. "I get a lot of help though. Having a 3-year-old and a newborn at the same time is the hardest part."
David has two children from previous relationships to add into the mix. (He currently has full custody of his daughter Maryssa, and will soon be allowed to see his young son that he was previously barred from having any contact with.)
Jenelle claimed that David is more than just her soulmate; he's also an ideal father figure to all of their kids.
"David is amazing with my children," Jenelle said. "He's not afraid to change dirty diapers. He loves to make sure to tell them the importance of school, staying out of trouble, worrying about being a kid."
Even if Jenelle doesn't have any more children, we will always have the opportunity to watch her awkwardly pretend to be in labor by watching the cinematic masterpiece below: