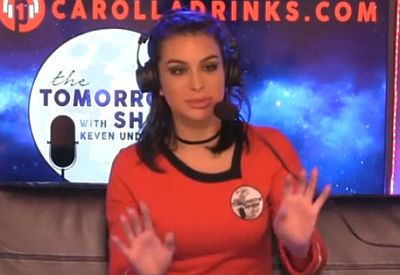 Bachelor in Paradise star Ashley Iaconetti recently made some serious accusations against Tommy Lee, but now the reality star is recanting the statements she made that the rocker once "basically sexually assaulted" her backstage at a Mötley Crüe concert.
On Monday, Ashley appeared on the radio program "The Tomorrow Show" and told the hosts, while laughing, that Tommy "basically sexually assaulted me…in a weirdly strange way."
"He like pushed me against a couch very similar to this, and, like, licked me from my chin to my forehead, which apparently I found out is something that he just does."
Ashley said that she told Tommy that she had a boyfriend and asked him not to touch her.
"Then he grabbed me by my shoulders and he said, 'I'm gonna have my way with you right here on the floor in front of everyone.' I was like, 'Okay, I think I'm going to leave now.' And then I walked out of the room…Yeah, it was kind of creepy." (She then tried to pawn Tommy off on her sister, apparently.)
On Tuesday, Ashley recanted the claims in an interview with Page Six.
"She told Page Six on Tuesday that she didn't actually feel she'd been assaulted and was 'just really taken aback and really out of my comfort zone,'" the site states.
"I was a fresh 22 years old, only kissed a handful of guys, super innocent, was used to going to [New Kids on the Block] and Jonas Brothers concerts," Ashley told the site. "I fully expected backstage at Mötley Crüe to be a completely different and sort of scary experience.
"We laughed about [what happened with Tommy] as soon as we got into the car and still do to this day. It's just a funny story to tell," Ashley added.
Tommy Lee's rep apparently did not reply to Page Six's request for a comment.
Watch Ashley's full interview with The Tomorrow Show below:
(Photo: The Tomorrow Show)