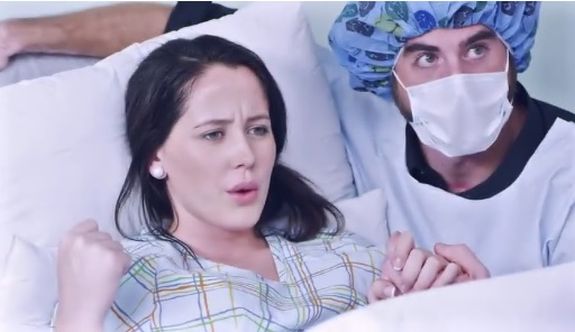 Jenelle Evans has a lot of experience pushing babies from her nether regions, so it's no surprise that she was recently chosen to star in a commercial promoting Laboraide, a mouthguard-type product that supposedly makes it easier to expel a child from your loins.
Jenelle and her soulmate, David Eason, both star in a just-released commercial for the product and, well, it's downright creepy. But…The Ashley can exclusively reveal that Jenelle made a ton of money for being a part of this commercial!  
In the two-minute ad, Jenelle gets to show off her stellar acting skills again, which we have already seen put to good use in weird Instagram ads for weight loss tea.
As hysterically awkward as this commercial is, Jenelle is laughing herself all the way to the bank. The Ashley's insiders tell her that this deal was floating around and that Jenelle scored about $90,000 for being in this commercial (and all of the promo work that will come with it.) And, no, that is not a typo- she made at least ninety thousand dollars for doing this. She was also given some stock in the company and a small monthly paycheck as part of the deal!
Since The Ashley realizes that many of her of her readers are out of the country and may not be able to watch the video of the commercia and see Jenelle and David in all their cinematic glory, she has chosen to "recap" the commercial for you all.
The video starts off with David wheeling a laboring Jenelle down the white-lit halls of  a hospital (or possibly heaven?) There is no color on either side of them as they head down the hall so that Jenelle can expel the Spawn of David from her loins.
The creepy voice-over lady (who may or may not be the same woman we know as the "Your call is very important to us, please stay on the line" lady), tells you that "You are pregnant and you are powerful. You are bold and you are beautiful."
(Did anyone else keep thinking that this sounds like the stop-smoking tape Chandler listens to during that episode of Friends that he's trying to stop smoking– you can hear right here starting at the 1:04 mark? Just me? Ok…)
Next, Voice-over Lady makes sure to tell you that the very act of squeezing a  child from your nether regions is very dangerous. But…don't worry, guys! Jenelle is safe because she has David by her side. Oh, and "Laboraide," of course!
Jenelle reaches back to grab David's girthy paw, as we learn all about Laboraide, "a unique product that will help you bring your child safely into this word and reduce the risks of complications during child birth."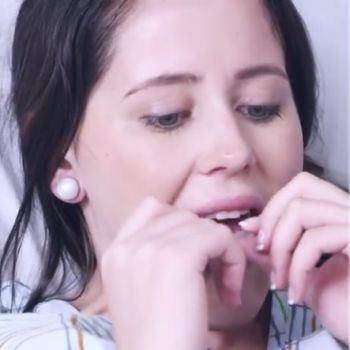 Jenelle pops her trusty Laboraide into her mouth and suddenly, child birth becomes instantly easier, now that she has something to bite down on as she pushes. (With her other two pregnancies, someone probably threw her a stick to gnaw on while the child was shooting out.)
Now that she has her Laboraide in, Jenelle can breathe easy, and have stronger ab muscles…or something. (She didn't even have to have "gym time with Nathan" in order to get those abs of steel!)
Jenelle gets down to business, pushing and breathing (while being careful not to smear her lipstick, or knock off her jumbo pearl earrings naturally). Luckily, she has David, who is, for some reason, all dressed up like Dr. McCreepy. He's monitoring her breathing (made so much easier by Laboraide!) She's even able to give David a loving glance that say, "I've got your spawn emerging from between my legs right now and I  like it!"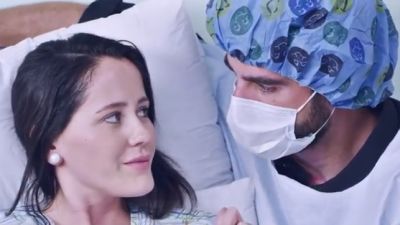 Jenelle bears down twice for her "hard labor" and all the nurses nod in approval at Jenelle's impressive birthing skills. Because she was smart and used Laboraide, Jenelle didn't have to have a C-section, or have the nurses Hoover her baby out of her hoo-ha!
Finally, the baby arrives. (It's not Jenelle's real baby, of course, but it's somebody's baby!) He/she is placed in Jenelle's arms, as David rubs his face on the poor kid.
Thrilled with her Laboraide experience, Jenelle gives the camera a final approving look. She's proud that she was able to bring this random child into the world!
You can be as happy as Jenelle by purchasing your Laboraide for a mere $49.95!
Watch the full commercial below: