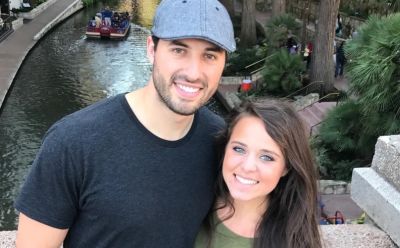 The Duggar gals have spent their whole lives wearing long skirts and dresses so it's no surprise that Jinger Duggar has raised some major eyebrows lately by daring to wear…PANTS! Jinger, who married Jeremy Vuolo in November 2016, appears to have her husband's blessing to finally dress how she wants to.
When Jinger was photographed in March sashaying around town in shorts it literally made international news, as this was the first time any of the Duggar girls had been seen wearing shorts in public. Since then, Jinger has been photographed in slacks several times, even wearing them while attending an event with her dress-doning sisters.
Before getting married, Jinger only wore skirts and dresses, strictly adhering to her family's dress code. However, now that she her "head of household" is her husband Jeremy, rather than her father Jim Bob, things have changed. In a recent sermon, Jeremy expressed why he is A-Ok with Jinger's 'risque' fashion choice to wear pants and shorts.
"It is your liberty as to whether you dress modestly with a modest pair of pants, or with a skirt, or with a T-shirt, or with a blouse," Jeremy said during a December 18 sermon at Grace Community Church in Laredo, Texas. "It is not your liberty, women, to wear sensual, seductive clothing that is designed to draw the attention of your brothers."
Oh, Jeremy…you had us until that very last part! Considering Jinger's brother is Josh Duggar, who famously did this to his sisters, that was probably not the best word he could have used.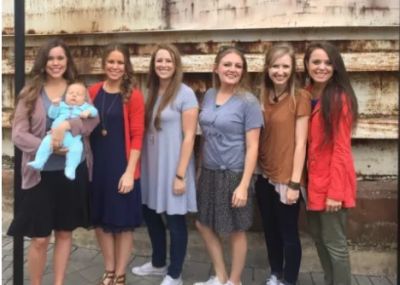 "The emphasis of the gospel is not food or clothes," Jeremy said in the sermon, according to Inquisitr. "Jesus does not save people to make them wear skirts."
The Duggars have expressed in the past that they feel dresses and skirts are more modest than pants, and that wearing modest clothing helps prevent the girls from 'defrauding' men.  (The Duggars define defrauding as "stirring up desires [in men] that cannot be righteously fulfilled.") They believe in covering themselves from "neck to knees."
"My daughters are the second generation of modest dressing in this family," Jinger's mother Michelle Duggar has said. "They've grown up being dressed modestly, and in clothes that are definitely more feminine apparel. I've told my daughters this has been a joyful journey for me to learn what my Lord has called me to. I really feel like the Lord is impressing upon me that I should be modest in what I wear. And also, that I really should be defining who I am as a woman by choosing to wear dresses and skirts."
Jinger's sister Jessa Seewald certainly isn't on-board with all the pants-wearing going on in her family. She has continued to sport only dresses and skirts since getting married in 2014, and recently announced that she will be giving a presentation on modesty in June. The Ohio-based event will allow girls to hear why Jessa chooses to maintain a 'modest lifestyle.'
(Photos: Facebook)