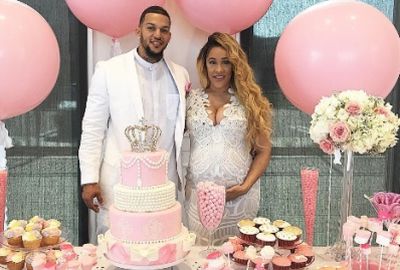 It's a girl for Bad Girls Club star Natalie Nunn and her husband Jacob Payne!
The couple welcomed their first child on Monday, and the reality star took to Twitter to announce the happy news.
"Baby Payne is here," Natalie tweeted. "I NEVER THOUGHT I COULD LOVE ANYONE SO MUCH! GOD IS GOOD! blessed!"
Natalie, who starred on the memorable first season of The Mother/Daughter Experiment last year with her own mother, posted a photo of herself in a hospital bed on Easter Sunday, along with a sweet caption, to let her followers know that she was in labor.
"Thank you for this contraction, Lord!!" Natalie captioned the photo, which also featured her husband Jacob. "I welcome it and know that I am one step closer to meeting my baby! I give this contraction permission to accomplish its task and I trust in my God-given instinct to birth normally and naturally, and I thank you for guiding and directing me during this process. My husband and I can't wait to meet her! Dilated to 8 centimeters."
Natalie and Jacob have not yet announced their daughter's name or birth details, but yesterday, Natalie gave her followers a quick update on herself and the baby.
"Haven't slept in 3 days…baby is doing great she's so precious and sweet!" Natalie tweeted.
Natalie first announced her pregnancy back in November. (Who could forget her frisky and semi-awkward NSFW maternity photo shoot?) She told Oxygen that she wouldn't mind if her daughter grew up to be a 'Bad Girl' one day.
"I will raise her to speak out in what she believe's in and to always stand up for herself," Natalie said. "I want her to walk to the beat of her own drum! Be you! 'Cause mommy and daddy will love you no matter what. If she's a bad girl she'll be a really successful, empowering, and strong bad girl!"
Natalie isn't the only 'Mother/Daughter Experiment' cast member to be trading mayhem for motherhood. Her co-star, Heidi Montag, just announced that she and her husband Spencer Pratt are expecting their first child later this year.
(Photo: Instagram)