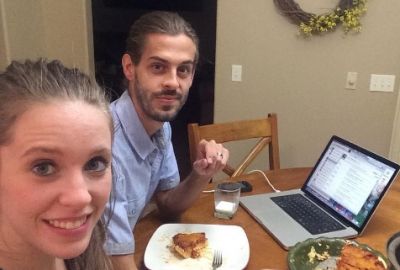 Counting On stars Jill and Derick Dillard are currently in the good ol' U.S. of A, spreading God's message to the masses and eating some tator tot casserole. The couple, who has been living down in Central America doing missionary work for over a year, recently took advantage of having unlimited access to WiFi to post an update on their family website.
In a post from October 6, Derick assured their fans that all of the money that has been donated to the Dillard Family Ministries charity has been put to good use. Derick and Jill, who, in the past have been scolded by fans for taking frequent trips back to the United States and possibly misusing charity donations, stated that they have paid for all of their travel expenses (except for one trip there) without having to tap into the donated funds. Derick assured us that all donations they've received have gone directly to helping the "spiritually dead of Central America."
Now that they are back in Arkansas, Jill and Derick are both taking Bible classes, sharing their stories with others, and preparing to return to the jungles of Central America. In addition to all the studying, Derick stated that he has been working a "number of jobs" to support the family, including substitute teaching.
Derick then rambles on for a few paragraphs about how difficult it is for the couple to take care of their toddler son, Israel, while working and studying the Bible.
"Everything in life becomes immensely more complicated when you have a child," Derick wrote.
Derick assured us that just because he and Jill are temporarily back in the United States, that doesn't mean that they're not still trying to save "spiritually destitute" souls. As you do.
Want to keep up with what's been happening on the Duggars' snooze-inducing reality show, 'Counting On'? Click here to read our recaps!
(Photo: Instagram)