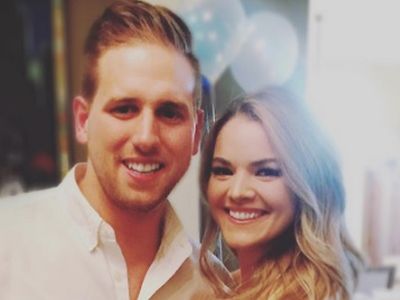 Nikki Ferrell may not have found love on Juan Pablo Galavis' season of The Bachelor but–es okay!– she ended up finding it on her own!
Nikki, who won Season 18 of 'The Bachelor' back in 2013 (if you call being chosen by Juanny P 'winning'), married Tyler VanLoo on Saturday in Kansas City, Missouri.
Nikki and Tyler (who bares a striking resemblance to Juan Pablo, in The Ashley's opinion) were friends before Nikki went on 'The Bachelor.' They became engaged in January.
As 'Bachelor' fans may remember, Nikki was Juan Pablo's final pick, but never received an engagement ring– or even an "I Love You" from the Latin Lothario during the course of their relationship. They tried to make things work via an appearance on Couples Therapy but ended up splitting for good in October 2014.
While Juan Pablo did not attend the festivities, several of the girls who starred on Season 18 with Nikki did, including Andi Dorfman, who served as one of Nikki's bridesmaids. Kelly Travis and Christy Hansen were also among the 300 wedding guests.
Nikki shared a few photos from her wedding on Instagram, including this stunning shot. (To see more wedding pics, click here and here!)
As for Juan Pablo, he is currently dating Venezuelan model and TV host Osmariel Villalobos.
(Photos: Instagram)