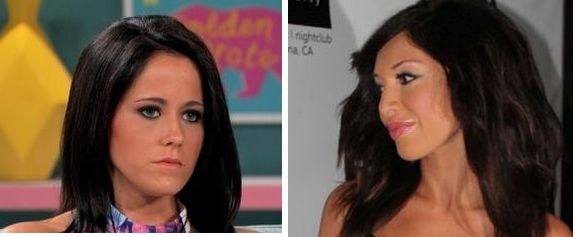 UPDATE: One of The Ashley's WEtv sources has given more back info on the story below! The source tells The Ashley that WEtv was initally not going to allow Jenelle to film the new show because she was pregnant, but Jenelle and her lawyer eventually got permission. The pregnancy is not the reason for Jenelle not appearing on the show. The reason she will not appear is that her mother, Barbara Evans, backed out and decided not to do the show.
Since only Jenelle and David Eason were willing to appear, WEtv approached them to appear on their other show, Marriage Boot Camp: Reality Stars, but they declined. The source tells The Ashley that there's still alot of friction between the network and Jenelle's camp.
Everything below remains true:
WEtv just did a Teen Mom switcharoo!
Last month The Ashley broke the story that Teen Mom 2 star Jenelle Evans was going to star on a new reality show on WEtv that would involve Jenelle, along with her soulmate David Eason and mother Barbara Evans, getting family counseling on-camera. The show is essentially WEtv's answer to VH-1's Family Bootcamp.
As The Ashley told you, Jenelle & Co. had signed contracts this summer for the show and filming was set to begin in October. However, Jenelle and her family will no longer be appearing on the show. Instead, Farrah Abraham and her family will be appearing!
Today, Farrah's father, Michael Abraham, announced that he and Farrah were heading to Los Angeles to begin filming a new show that, according to a source for Real Mr. Housewife, is a "new show concept and it's something that's never done before."
Michael told Real Mr. Housewife that he and Farrah will be on lock-down for a few weeks while filming the "mystery" show.
From what The Ashley hears, that show is, indeed, the same show that Jenelle was supposed to be on. Farrah and her family, who are never ones to turn down any reality show, will take the 'Teen Mom' slot left open by Jenelle's absence.
What's more, Amber Portwood announced on Twitter today that Farrah was the network's third choice to appear. She confirmed that she, too, was approached by WEtv to go on the "Family Bootcamp" show, but passed because she's still recovering from her recent plastic surgery. She also stated that she has no desire to continue doing random reality shows just to gain more fame…unlike one of her fame-hungry co-stars.
"I just passed on a certain show because of my surgery so they went to the 3rd choice to take my place..wonder who that was lol??" Amber tweeted, before retweeting a fan who suggested she was talking about Farrah. (In case you've had trouble following along, Jenelle was their first choice, followed by Amber, and then Farrah.)
"No shade…well maybe a little bit of shade haha," Amber tweeted. "This would be the 2nd time this has happened…I love not being a reality show puppet.
"I never strive to be a millionaire or famous I just want to make sure my family and future is taken care of and we're happy and healthy," Amber added.
Anyway, as The Ashley previously reported, Jenelle was not happy that she had been cast aside due to her pregnancy, and had even ranted on social media about suing WEtv because of it. As stated in the update above, Jenelle eventually got the network to agree to let her film while pregnant. The Ashley's source tells her that Jenelle may be in legal trouble with WEtv if she does not appear on the show!
Stay tuned– this story is going to get much more interesting!
(Jenelle Photo: MTV/ Farrah Photo: The Ashley)