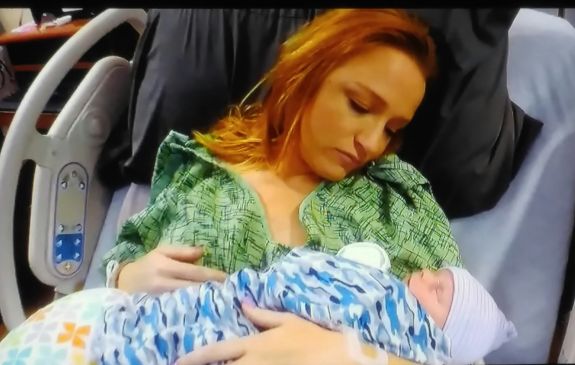 Hey y'all! It's once again time to head down into TeenMomVille, where the unplanned pregnancies are plentiful and the couches are well-worn. Since it's been a few weeks since The Ashley has done a Teen Mom OG recap, a lot has changed in the lives of our gals and their beaus, so let's get started! There are babies to be birthed, weed to be smoked and fake boyfriends to be yelled at!
We kick things off with Gary, who has given little Leah an iPhone iPod so that she can send an "SOS" signal to him while she's at Amber's house, if things start getting sketchy over there. Gary is obviously worried about leaving Leah at Amber's for extended periods of time, so he wants her to have a way to get a hold of him, should Leah find herself stuck under piles of dogs or Matt's child support papers something.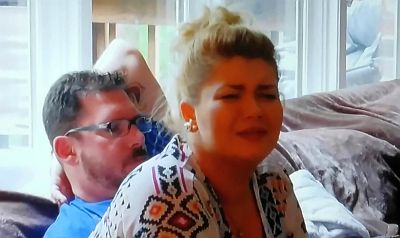 Speaking of Amber, dogs are fartin' and peein' and poopin' all over her house, but, hey, Ambie's been living with Matt and his ever-unfolding lies for months now so she's used to having to deal with unexpected crap. She cleans the mess out of her fancy kitchen. Why not just have the maid do it? Surely Ambie is too high class these days to Swift up dog pee, yes?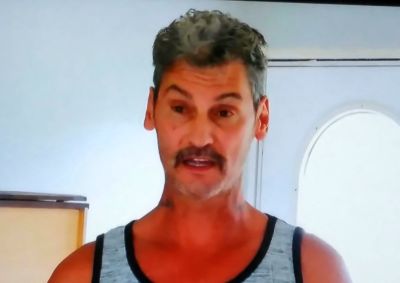 Over in Michigan, Tyler and Butch are working hard to get Ty and Cate's "open floor plan" home cleaned up and ready to live in. Tyler is having a hard time coping with Cate's mental health issues, and Butch– a man who has spent the better part of his life trading Ramen noodles for extra minutes in the shower in prison–decides to give his son some life advice. He tells Ty that it's not he's so callous when he speaks. It's everyone else who is too sensitive.
Ty tells Catelynn that she should set up an appointment with their therapist Kathleen now that she's been released from the 'hab. Tyler is hesitant to suggest anything to his wife because the people at her rehab basically told him he acts like a dick most of the time when it comes to Cate, and if he's going to say asshat things to do it off-camera.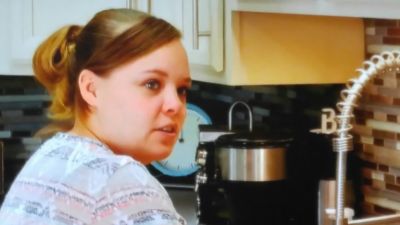 The producer asks the couple if they're still smokin' the weed on the regular, and Ty and Cate both exchange looks, as if to find out if the other plans to lie when they answer. Tyler says that he likes to smoke pot at night still. (Hey- don't worry! He only gets high on nights he doesn't have to go to work or college the next day. So that's, what, seven nights a week, tops!)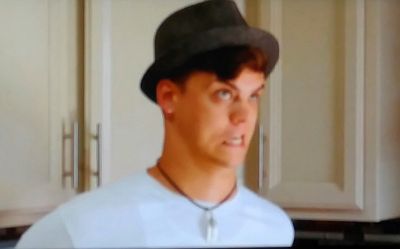 While Tyler admits he is still tokin' the wacky tobaccy, but Cate stays silent about her own pot usage. Meanwhile, somewhere in North Carolina, though, Barbara Evans is screaming, "HIGH! HIGH! Ya both HIGH!" at her television screen.
In Tennessee, Maci is getting ready for the birth of Baby Oopsie…Number Three. She's packing plenty of "Things That Matter" tees (and possibly a onesie with one of those weird leather pockets on it) to take to the hospital when it's time to shoot yet another child from her nether regions. (I mean, honestly, she could probably use the bag she took to the hospital when she had Jayde. It's probably still stashed in a corner, packed, behind a pile of "TTM" flannels and a bunch of empty Bud Lite beer cans.)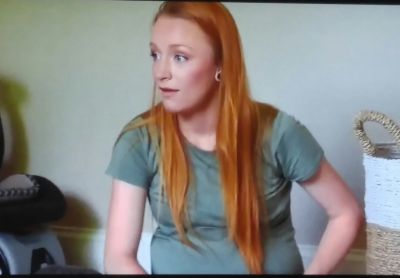 Taylor is anxious for the birth of his son. Not, of course, because he can't wait to meet the baby. He's actually excited because it means that he will once again be able to chug beer with Maci. Maci's pregnancy has really put a cramp in the couple's drinking schedule. (Well…kind of…)
"I need my drinkin' partner back," Taylor says.
Maci, too, is anxious to expel this child from her body so that she can fill up her womb with cheap beer, as per usual.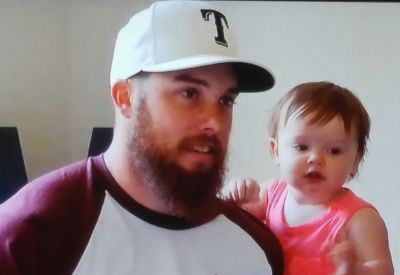 The Ashley can't quite figure out if these people are great big ol' drunks like we think they are, or if they purposely talk about getting blitzed on BLs so much so that the one or two people who actually devote time to recapping this horrible show will have some fodder. If that's the case, The Ashley raises her glass to Maci and Taylor.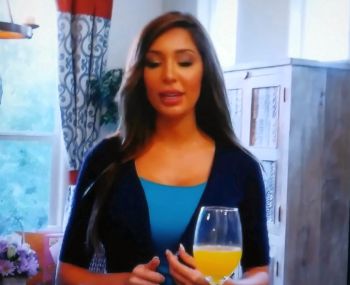 Finally we head to Texas, where we are celebrating Mother's Day with Farrah & Co. Basically, this is just an excuse to make everyone come over to Farrah's house and tell her what an amazing mother she is. Michael and his girlfriend have been corralled over there first, and must listen as Farrah describes all of the things Sophia has made for her because she is a fabulous mother.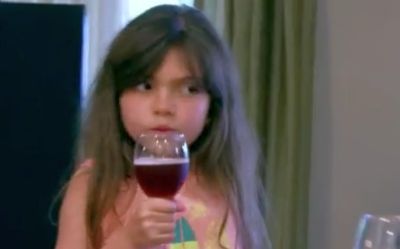 Everyone is drinking wine for breakfast (including seven-year-old Sophia, naturally) and listening to Farrah yap on about Simon, who has sent Farrah something for Mother's Day. Farrah is actually in rare form, though. It's at least two minutes into this scene and she has yet to scream at anyone. (Her head hasn't even spun around at all!) She's smiling and using a pleasant tone while talking to her guests.
I don't trust it. I don't like it and I don't trust it…at all…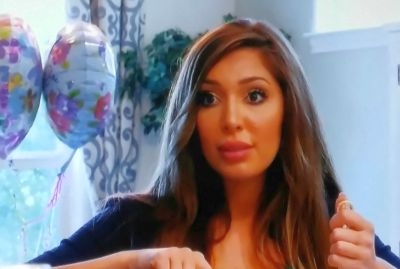 Farrah tells her guests that Simon is not going to be her fake boyfriend anymore because he's "unstable" and not in touch with his emotions. Also, she feels that Simon is a "negative person," so she doesn't want him around her. Coming from Farrah, of course, that is just rich. That's like Maci Bookout saying she doesn't want to associate with anyone who drinks alcohol. COME.ON.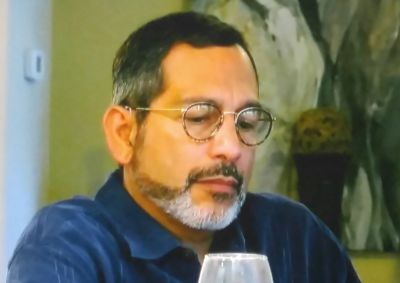 (Meanwhile, we can assume that Sophia has just stuck the straw from her Capri-Sun into a box of red wine and is sucking it down as fast as possible. While children should not drink, we may need to make an exception for Sophia. After all, if you spent as much time around Farrah as she does, wouldn't you drink heavily too?!)
It was probably just grape juice in a wine glass. Yeah…that's it…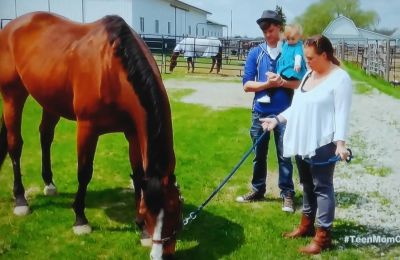 Back in Michigan, Tyler is trying to get in touch with his sensitive side by bringing flowers to Catelynn for Mother's Day. She is, of course, still in bed, but is willing to roll herself out of her blanket cocoon because Tyler has promised her a big surprise. The surprise is that they will be going to horse stables so that Cate can spend time with the horses.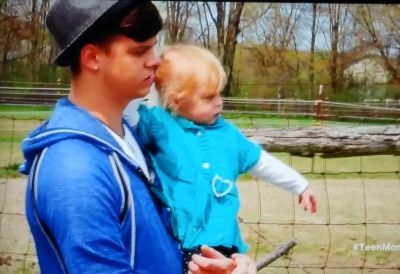 She really liked working with horses while in the 'hab, and she is thrilled that Ty has planned a special day for her. They watch the horse eat grass and have some awkward conversation. Tyler looks like he can't wait to get back home and consume some, um, grass of his own.
See what I did there?
Later, Tyler stares disapprovingly at his wife, who is happily shoveling Chinese food into her gullet.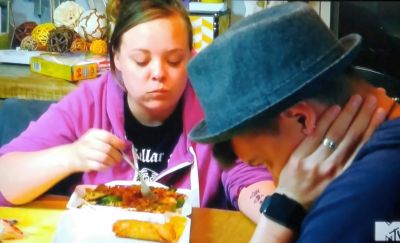 Tyler finally comments that Cate is "really indulging," and she is not thrilled. She tells her husband to stop being a dick, while an eggroll sloshes around her mouth. He starts snorting like a pig and remarks that he's "just kidding…a little bit."
In Indiana, Amber and Matt are taking Leah and an assortment of degenerates out on a boat ride. They have allowed Matt to be the boat driver, but Amber is insisting on screaming at him every time he touches the steering wheel. Amber is making sure everyone on the Cruise 'o' Horrors knows that she's unhappy. She's waving her clawed meathooks in the air, and throwing her bed back in disgust to show her anger.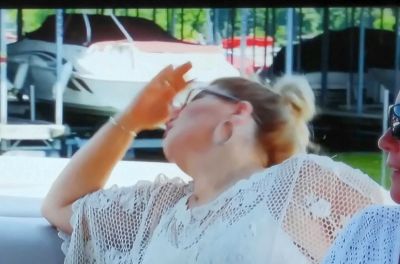 They motor past some giant mansions on the lake, and Amber is in disbelief that she actually lives down the street from such impressive homes.
Well…it's amazing what getting knocked up at can do for a gal, eh, Ambie?
It's also Mother's Day in Tennessee, and Maci is being showered with gifts from Bentley and Jayde.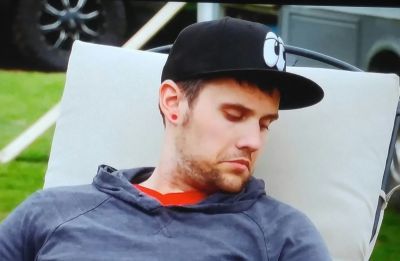 Ryan is spending the day with his parents. He's taken the day off from lying around the house like a hairball and has now moved his lifeless corpse outside to sit on the lawn furniture. Jen and Larry have gathered around their son's near-comatose body so that they can spend Mother's Day as a family.
It's hard for Ryan. He's tired, y'all!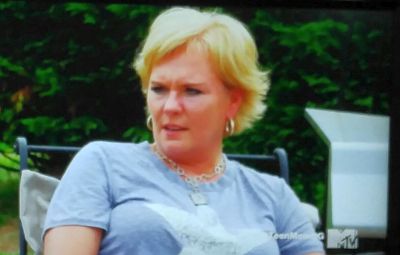 Jen is trying to quiz Ryan about a new girl he was dating. She asks him if they are still together and Ryan barely musters an answer. (Next time, she should tell him to blink twice for "yes" and once for "no.") Ryan tells his parents that the girl was nothing special and they are sad because they are hoping the right girl will come along and take him off their hands make Ryan happy.
Jen brings up the point that whoever ends up with Ryan, she will have to get along with Maci for Bentley's sake. Ryan can barely muster up a grunt in response.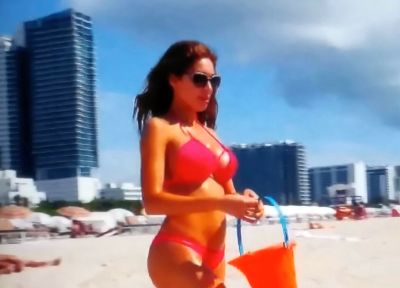 Meanwhile, Farrah is heading down to Florida to spread her terror into the Sunshine State…and celebrate her birthday. Farrah puts on a bikini and heads to the beach, where her plastic body shines like a Barbie's behind in the sun. Deb is, of course, down there as well, showing off the "groovy" bikini top she recently snagged in the Kohl's juniors section!
Farrah and Deb talk about how great the weather and beaches are in Florida. Deb says that these are some of the greatest beaches in the world and for some reason that little comment sets off our sunning soulless wonder, Farrah. She screams at her poor mother to let her know that she used to live in Florida and she doesn't need to hear Debra's stats on the state!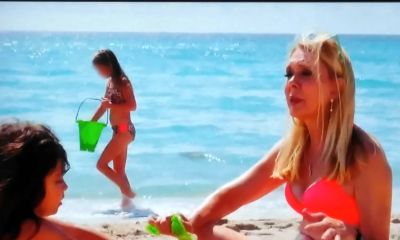 Sophia continues to shovel sand, not even acknowledging her mother's totally random demonic outburst because, well….it's business as usual.
Farrah is turning 25 in a few days and she's vowing that her future will not include Simon, but instead some random doctor or lawyer she meets online. (Um…do you know how much the 'Teen Mom' producers are gonna have to shell out in order to get a decent doctor or lawyer to pretend to date Farrah?!! That's going to take up their whole travel/porta-potty budget for the next season!)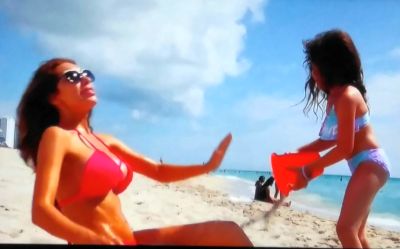 Just then, Sophia throws a bucket of cold water on her perfectly posed mother. Farrah screams, but shockingly she doesn't start melting a la the Wicked Witch of the West. Raise your hand if you were kind of hoping that there would be nothing left of Farrah after the water hit her except a glob of plastic and a pink bathing suit?
Later, Farrah's hired pal, Paola, takes Farrah out to lunch so they can talk about the "exclusive club" that Farrah will be having her birthday part at that night. Poor Paola. Talking is hard for her.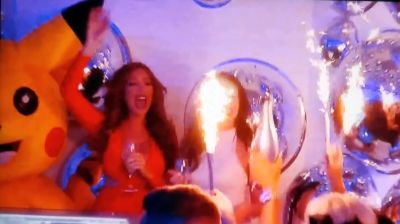 Later, we get a look inside that "exclusive club." It's packed with girls in skanky crop tops. The champagne is flowing and Farrah and Paola (and Pikachu, for some reason) are partying hard. It appears that Paola is the only person Farrah actually knows at the party.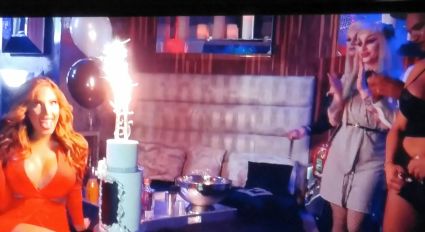 Farrah is constantly blowing kisses to…well, no one, as a bunch of frightening-looking clown-women stand on the side. For once, Farrah isn't the most made-up person in the room!
The next day, Farrah is essentially topless as she heads to brunch with Sophia and Deb. Seriously, Farrah's breasts are just globbing around and frankly, I'm concerned for Sophia's safety! Those things could knock an eye out or something!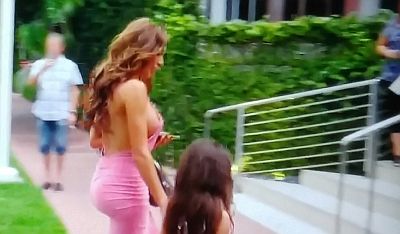 Once they sit down, Farrah doesn't want to talk about her birthday party in front of Sophia because it was "adults only." (I mean, it's fine for Farrah to cuss out her parents in front of Sophia, or put her bowling ball breasts on the table for all of South Beach to see while her daughter is sitting next to her but..discuss a party at 'da club?' NEVER!)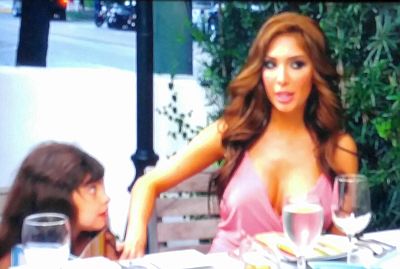 Farrah changes the subject, saying that being in Florida "brings up so much memories" (yessss) of when she and Sophia moved to the Sunshine State years ago. Back then, Farrah was worried that she wouldn't achieve her goals but…boy was she wrong! What a role model she is to us all!
"You have to stay positive and learn from your mistakes," Farrah advises. (Those are two things Farrah has literally never done. Ever.)
She vows to keep opening businesses and living her life as an independent woman. Cue the Beyonce song! Farrah don't need no man…until next episode, of course, when it's once again time to talk about Simon.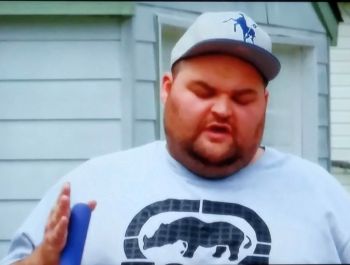 Back in Indiana, Gary is thinking about asking Matt and Amber over for a cookout because 1) hamburgers are rad and 2) it may help Leah to see her parents together. Gary knows that Amber has been reluctant to hang out with him and Kristina, but he thinks it would be good for him to extend the offer.
Hey, the fact that Gary is offering to share his barbecued meats with anyone, let alone Amber, is a big step!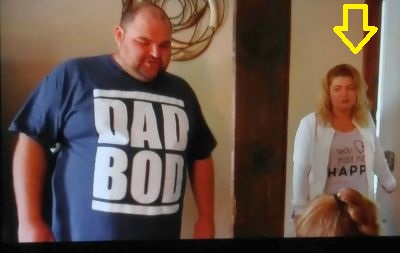 At Amber's, Leah admits that she hasn't been charging the phone Gary gave her. It's time for her to go back to Gary's house, and Gary extends the invite for Amber and Matt to stay for some home cookin'. Amber declines the offer and then gets all sad for no reason. She throws Leah inside the house and seems to want nothing to do Gary, despite the fact that he's dressed to the nines in his fashionable "Dad Bod" T-shirt.
After Amber leaves, Gary tells the producer that he's disappointed Amber didn't accept the invitation and stay for dinner. He says his intentions are good, but Amber doesn't seem to understand that.
Meanwhile, Maci is about to be induced so that she can get the Oopsie Baby out of her. Taylor's probably got the keg all pumped up and ready so that he can start mainlining Bud Lite into Maci as soon as Baby Maverick comes barreling out of her crotch.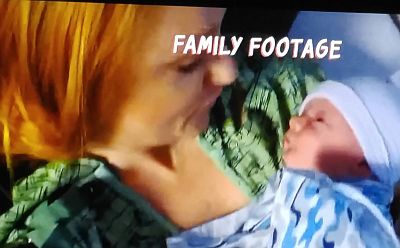 On the day of the delivery, MTV was shut out of Maci's hospital room. We are spared from having to see the actual baby birthin', but do see some "family footage" of Baby Maverick being held by Maci shortly after birth. Both families have arrived for the birth, including Maci's parents, who have been missing in action since MTV added the "OG" to the 'Teen Mom' title. Bentley is thrilled about his little brother.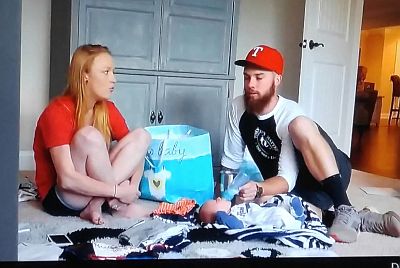 Later, once Maverick is home from the hospital, Maci and Taylor are realizing that having two screaming babies is not exactly a great time. It's time for Bentley's big baseball game. Maci has invited Ryan to the game, but he has yet to respond. She's upset that Ryan hasn't even met Maverick yet.
Perhaps Mav and Ryan can become napping buddies? They are essentially the same mental age, so it might work out, although his mom Jen may have a hard time finding a Baby Bjorn big enough to hold a sleeping, unemployed 27-year-old.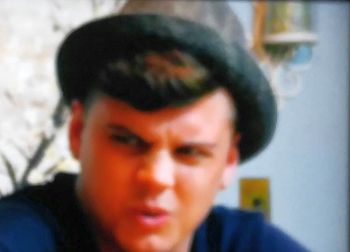 Finally, we head back to Michigan one more time to see if Ty has any more choice words about his wife's eating habits. Tyler's mom, Kim, comes in after a hard day of work, complaining about how tired she is. (Cate and Ty both say that they, too, are tired. Kim looks like she wants to slap them both silly because she knows they haven't done crap all day.)
Kim sits down and asks Ty if he has seen any difference in Catelynn since she's been home from rehab and Tyler forces himself to say yes. Kim isn't buying it.
"I coulda sworn the other day you were high," she straight-out tells Catelynn, who gets all bug-eyed. "You've been smokin' haven't you?"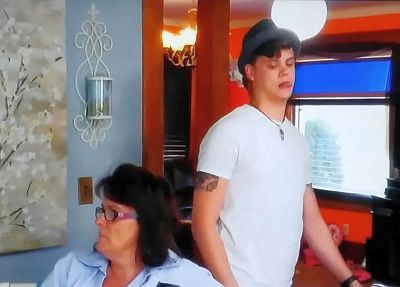 Tyler pretends he doesn't hear what his mom has asked, and Cate says she doesn't want to talk about her smokin' the weeeeed on-camera because she "doesn't want the whole world to know."
Um…you kind of just told us, Cate. Thanks.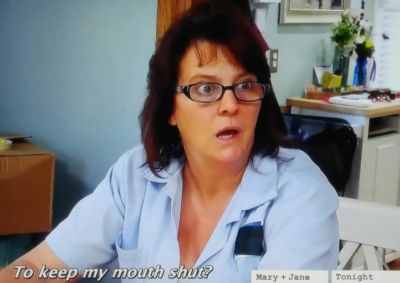 Tyler's mom seems to have had no idea that Catelynn being a great big ol' pothead was a secret. She looks like she feels bad for bringing the topic up on camera.
Next time on 'Teen Mom OG,'  Farrah can't stop yelling at her parents, Amber can't stop eating, Catelynn can't stop being sad and Maci can't stop Ryan from ignoring his son. Good times!
To read The Ashley's recap of the previous episode of 'Teen Mom OG,' click here!
(Photos: MTV)