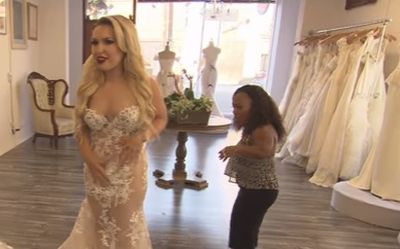 Lifetime has found big success with its Little Women franchise– and now the network is giving us a look into the world of little people weddings with its new docu-series Little Weddings!
'Little Weddings' will follow the McInturff Family, who run Sassy Bash Events, an event-planning company that specializes in creating weddings and events for little people. 
"Little people weddings pose their own unique challenges and there's no team better to give couples the best big day ever, but can they make it to the altar without big drama?" the network announced today in a press release on Tuesday.
Sassy Bash Events is owned by Kelly McInturff, who runs the Simi Valley-based company with her siblings Kacy, TJ and Kensey. It does not appear that the McInturffs are little people themselves, but they apparently have a lot of experience working with brides and grooms who are.
"[The McInturff family] bends over backwards to ensure nuptials go off without a hitch for their little clients, even when emotions run high as they balance the everyday challenges of being little and the inevitable power struggles that come when working with family," the press release stated.
The three-episode special docu-series premieres Wednesday, November 23 on Lifetime.
In addition to 'Little Weddings,' Lifetime announced on Tuesday that it will also be adding Little Women: Dallas to its successful 'Little Women' franchise in November.
(Photo: Lifetime)