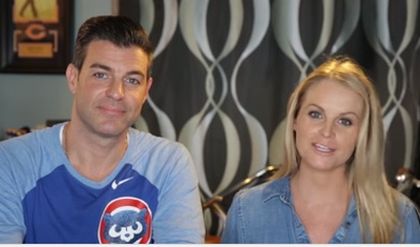 It's a boy for reality TV stars Jordan Lloyd and Jeff Schroeder!
The couple, who has appeared on a variety of reality shows including Big Brother, The Amazing Race and Marriage Boot Camp, somehow found time to make a baby! Jeff announced their son's entrance into the world on Thursday, revealing his name on Instagram.
"Welcome to the world Lawson Keith Schroeder! [Jordan] did great! #Family," Jeff wrote in the caption of a photo he posted of Jordan holding the newborn.
Jeff and Jordan have been keeping their fans up-to-date on the pregnancy via their YouTube channel, Jeff and Jordan TV.
The couple, who became engaged on 'Big Brother' in 2014, have stated that this pregnancy was not planned. They were preparing to get married in Mexico in September, but bumped up the wedding when they discovered that Jordan was pregnant. In March, they had a simple courthouse wedding in Beverly Hills.
"It definitely threw us through a loop, and we were kind of like, 'Well, we need to figure this out, because the baby is going to be born October 20,' and I don't want to be walking down the aisle nine months pregnant, and my dress won't fit," Jordan told Us Weekly earlier this year.
Jordan and Jeff are planning to have a second wedding next year.
"I'm more traditional anyway, so I was like, 'I want our baby to have our same last name on the birth certificate too,'" Jordan told the magazine. "So I was like, 'Let's just go on ahead and get married, and then we'll have the baby, and then next year we'll have a wedding ceremony with all of our friends.'"
Check out the adorable photo of Jordan and baby Lawson.
(Photos: YouTube, Instagram)