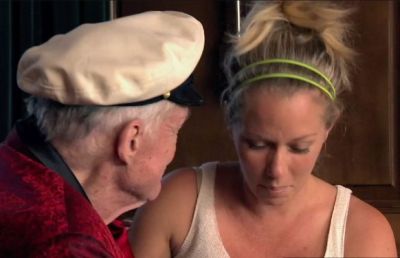 Is Mr. Playboy Hugh Hefner in ill health? That's what some people are wondering after seeing an interview that one of his exes, Kendra Wilkinson, recently gave to E! News.
Kendra, who starred on the reality show The Girls Next Door with Hef, was asked by E! to comment on reports that the Playboy mogul is in poor health. When a report surfaced in the tabloids last month, claiming that Hugh was gravely ill, Hugh tried to shutdown the rumors by tweeting, "I wish the tabloids had informed me a little earlier in the week that I'm sick. I might have cancelled my weekend plans."
However, Kendra's recent interview has some fans doubting Hugh's claim that he's healthy. When asked point-blank if Hef was sick Kendra replied, "I can't say that…I'm not a medical person or any of that stuff."
While Kendra was suspiciously reluctant to describe the condition of her 91-year-old ex-boyfriend, she did confirm that Hugh was at least alive and talking when she saw him recently.
"Honestly he was there and we had a great talk and we were very happy to see each other," Kendra told the network. "You know and there were rumors that things are happening but God he's 91 years old! He's gonna live longer than us."
Kendra did little to convince fans that the reports of Hugh being "super sick" were false. Last month, a source told Page Six that Hef was down to about 90 pounds and that Hef's people were trying to keep it "under wraps." The source even claimed that all visitors had to sign a confidentiality agreement before being allowed to see Hef. (If that's true, that may explain why Kendra was so tight-lipped when talking about Hef's condition.)
However, Hef's refs told Page Six in September that the mogul was "fine," and despite suffering from some back pain , is "enjoying his life and still very involved in the day-to-day activities of editing the magazine."
Kendra said that she is scared she's going to lose him.
"I worry every day," Kendra said. "You know he's at that age and—I'm not gonna lie— every day I open up my social media and I pray that I don't see what we think might happen. He honestly is like my family.
"The day that comes will be devastating to me and my family," she added.
Although Kendra and Hef broke up in 2009 when Kendra met her now-husband Hank Baskett, the exes have remained close, unlike Kendra's 'Girls Next Door' co-stars, Holly Madison and Bridget Marquardt. (Holly famously slammed Hef after she left the Playboy Mansion, and accused him of emotional abuse in her book. Bridget has stayed largely out of the spotlight and doesn't seem to have much of a relationship with Hef.)
No matter what happens to Dear Ol' Hef, surely Kendra and her team will find a way to use it for fodder for the next season of her reality show, Kendra On Top.
As for Hef, he has not tweeted since he posted the tweet on September 30 that denied he is in ill health. He has not posted to his Instagram account in over six weeks.
Click here to watch Kendra's full interview with E! News!
(Photo: WEtv)