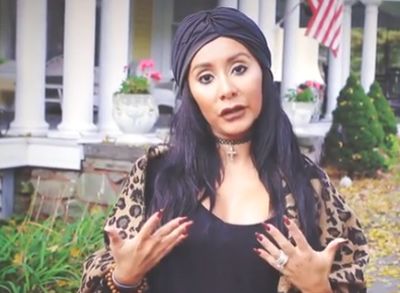 File this under… "Things We Shouldn't Care About But We Kind of Do."
Former Jersey Shore star Nicole 'Snooki' Polizzi happily announced to the world—and her BFF Jenni 'JWOWW' Farley that she got a breast augmentation and breast lift last week. Nicole, who stars with Jenni on the web series Moms with Attitude, has been talking about getting a boob job for years. (In 2013, Jenni even offered to buy Nicole a new set of boobs as a Christmas present…as you do.)
Nicole finally got the surgery, and chose to tell Jenni about it on-camera. (Jenni, of course, is no stranger to the plastic surgeon's scalpel. In February, she revealed that she had gotten her second breast augmentation. Fans have long suspected that Jenni has had more cosmetic surgeries, but Jenni has denied it.)
Anyway, in the new Moms with Attitude video posted on Friday, Nicole revealed that she is one week out of surgery and that her "nipples are, like, falling off."
In true Snooki fashion, Nicole held nothing back while describing her breast augmentation surgery and resulting new rack.
"I look like Frankenstein right now!" Nicole said, later joking, "I've been faking these boobs for a lot of years!"

Nicole, who is the mother of two kids with husband Jionni LaValle, says that she initially wanted to wait until after she was finished having kids to have her breasts done, but she just couldn't hold off any longer.
"I mean…I could be 50 by then, and I'm in my prime right now!" Nicole said. "I'm gonna be 29 and I want to be as hot as I can…Being a mom, your boobs are destroyed, especially after breastfeeding…I want to look hot for my husband, but I also want to feel great about myself, and that was an insecurity that I had."
Nicole had her surgeon done by Dr. John Paul Tutela of New Jersey. The Good Doc took Snooki to a "nice, full C" cup, but was careful not to make Nicole's boobs too big.
"I don't want to have JWOWW boobs, because she's the p0rn star and I'm just the regular cute person," Nicole said.
Nicole certainly didn't go overboard with her breast implants. In fact, it took Jenni awhile to notice that Nicole had even had surgery!
Watch the full video below:
(Photos: Awestruck)