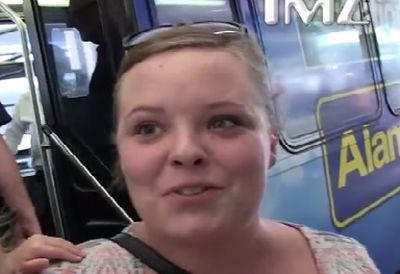 The Ashley never doubted that MTV would be wheeling out the gals of Teen Mom OG for yet another season, but on Monday, Catelynn Lowell confirmed the news that the long-running MTV reality show will, indeed, be back for a seventh season.
Catelynn, who was in Los Angeles with her family to see Sia after the singer personally invited her to a concert, chatted with TMZ about the future of 'Teen Mom.'
"We are planning on [doing another season], yeah," Catelynn said. "I feel like it's always going to be a part of my life now!"
When the TMZ cameraman asked Cate how long she planned to continue doing the show, Cate couldn't help but poke fun at the fact that she's still on a show about teen parenthood, even though she is not actually a teenager (or even close to teenager) anymore.
"What's it going to be, '30-year-old Mom OG?'" Catelynn joked.
Catelynn's mother, April, piped in to suggest that MTV could possibly continue to follow the cast member's kids when they have babies (hopefully not at the age of 16 though…right?)
Catelynn's husband, Tyler Baltierra, jokingly(?) suggested that MTV may try to keep the show running until "Season 42!"
It's no shocker that MTV is doing a seventh season of the show, but this marks the first time anyone connected to the show has actually confirmed it. As The Ashley previous reported, MTV cameras were on-hand to capture Maci Bookout's recent wedding (which will likely be one of the highlights of next season). Amber Portwood's plastic surgery will also likely be featured on Season 7.
During the interview, Catelynn also gave an update on her relationship with Tyler, which, judging by the current episodes of 'Teen Mom OG,' appears to be in trouble. According to Cate, things are much better these days.
"We're doing great," Catelynn told the TMZ cameraman. "We are, we're really doing great."
MTV has not yet officially confirmed that 'Teen Mom OG' Season 7 is happening, but The Ashley is thrilled to know that she will be recapping the hi-jinks of Catelynn, Amber, Maci and Farrah Abraham for at least one more season!
Watch Catelynn's interview with TMZ below:
(Photo: TMZ)