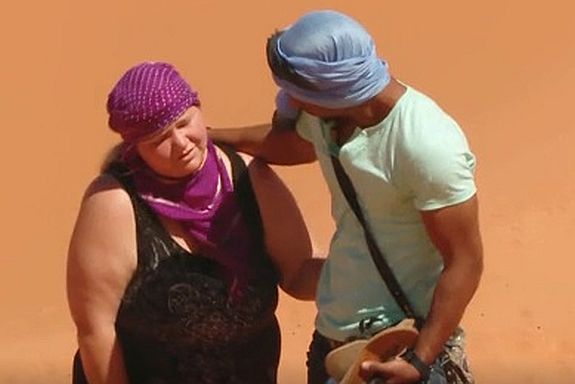 It's time to get your online dating profiles updated and settle in for another episode of 90 Day Fiancé.
We start out with Narkyia, who is shopping for a wedding dress. (Unfortunately, ol' Lowo doesn't quite have the cash that Anfisa's fiancé, Jorge, does, so Narkyia can't buy a $45,000 dress like Anfisa wants.) Her family is there for her but they can't help but offer up plenty of snide comments.
"She's shopping for a wedding dress and her fiancé isn't even in the country," her sister quips.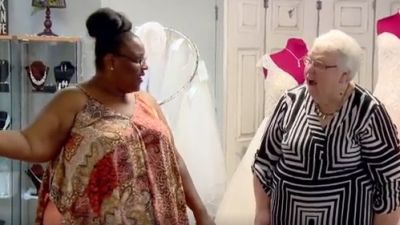 Still, Narkyia picks out a beautiful lace dress and even her doubtful sister is impressed.
"Even if Lowo is a polygamist, he'll marry you in that," her sister says.
Um…yay?
Meanwhile, Nicole and Azan are still on their romantic overnight desert campout in Morocco. After dancing by the fireside, Azan finally bites the bullet and proposes to Nicole. She is overcome with emotion.
"I never in my dreams imagined being proposed to under the stars, completely dark, in the Sahara Desert," she says.
They retire to their tent. Bow Chicka WowWow. Also…ew…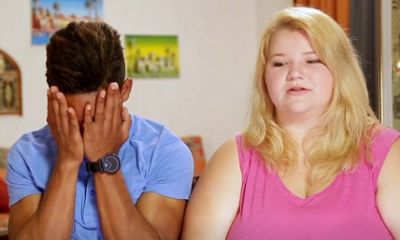 "The question of us getting much sleep tonight is unknown…. it's up to your imagination now," Nicole giggles.
Did you hear that? It was the sound of the stomachs of every viewer turning at the thought of these two fornicating.
Over in Kentucky, Alla is missing her sister, but of course her fiancé Matt is unable to handle his fiance's perfectly normal emotions. He is bummed out that he isn't enough to fulfill her every need.
Alla says she would like to bring her sister and nephew to the U.S. because they have no other family and they are very close.
In Florida, Anfisa is being her usual spoiled self and dragging Jorge with her to a photo shoot. Anfisa is apparently convinced that she has what it takes to become America's Next Top Model, so she is trying to shoot some sexy pictures so that she can become famous and ditch Jorge for a life of Tyra Mail and "smizing"…or something.
The breakout star of this scene is by far the makeup artist. She's amazing and hilarious. Jorge and Anfisa are bickering, as usual. She wants to model in lingerie, but Jorge thinks it's too revealing. Of course, Anfisa loves that she's getting all of the attention, and is even taking it as an ego stroke that Jorge is getting upset.
"I think it's cute when Jorge gets jealous, it shows he cares about me," she says. (Well…that and the fact that he's spent almost $100k on crap you don't need or deserve.)
She tells us that she came to America to be rich and famous. I guess Jorge is just the transportation that got her here.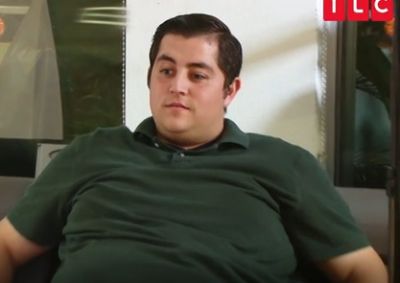 "I hope fame and fortune isn't more important to her than me," he says.
Why would he ever think that?! It's clearly true love and true love only driving Anfisa to Jorge! Duh.
Over in Florida, it's six days before Chantel and Pedro's wedding and they still haven't even told her parents they're getting married. Chantel, ever the child, tells us that she's not good with pressure so she's just gonna make Pedro tell her family the news.
In the next scene, they all head to a gym where Chantel is performing as a cheerleader and her dad is a coach…or something? I'm very confused as to what is happening in this scene. Is Chantel auditioning for "Bring It On Again and Again?" Is this what they do for a living? What the hell is going on here? The only thing we know for sure is that Chantel's mom is still trying to pull off that cowboy hat look.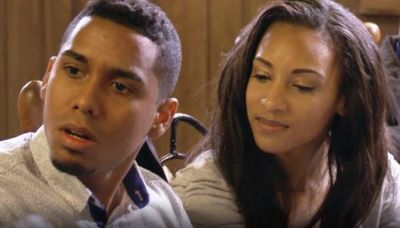 After they finish…whatever the hell it is that they were doing in the gym…Chantel gathers all of her family in the parking lot and breaks the news. Her family just stands there in stunned silence for a few seconds. Chantel's dad wants to know why they are just now hearing about the couple's plans to get married. Her brother feels lied to.
"I'm not mad or upset at Pedro…" Chantel's dad says.
"I would never recommend getting married that way, but what can you say," her mom asks.
Her parents are surprisingly calm about the whole thing. Why the hell was her whole story line about her being worried to tell her parents?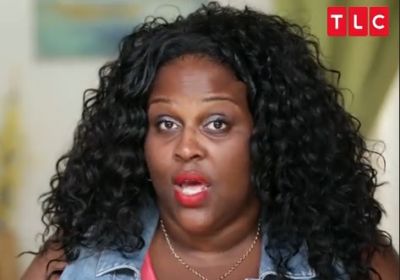 Meanwhile, Narkyia is still planning for her wedding…and wedding night.
"I might go get waxed later…you know…get ready," she tells us.
Again, TMI. Stop making us picture gross things!
Narkyia tells us that she and Lowo have only spent a total of nine days together.
"In normal circumstances I would say that's crazy," she says.
Luckily, she met her catfishing lying, non-prince fiancé online so we aren't talking about normal circumstances here.
Just when she's getting ready to vajazzle herself, Lowo calls with bad news. There's a hold up with his visa. Lowo tells her there's a delay with getting the police report that is required for his visa but Narkyia doubts this story. Remember, she questions everything he tells her because he has a history of lying to here…a lot. Lowo tells her they will probably have to delay the wedding and Narkyia isn't happy. Well…on the bright side…at least she didn't get her, um, nether regions waxed for no reason!
Finally, we head to Morocco one last time to check on Nicole and Azan. They are just waking up from their night of tented lovemaking, so we are "treated" to seeing them with, um, afterglow.
Also…ew.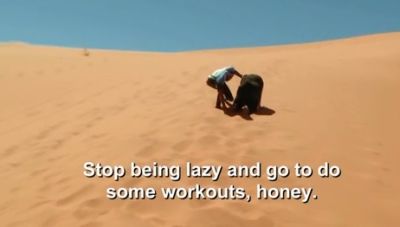 Later, they trek up the sand dunes and Nicole almost dies. Seriously, she is huffing and puffing and about to pass out. Azan encourages her by saying, "Stop being lazy and go to do some workouts honey."
It's so sweet when lovebirds encourage each other like that, ain't it?
Azan tells us that he is surprised to see that Nicole is not a healthy person and that she needs to do "a lot of workouts." Nicole doesn't see the need, though.
"I don't exercise. This is not a thing for me," she says.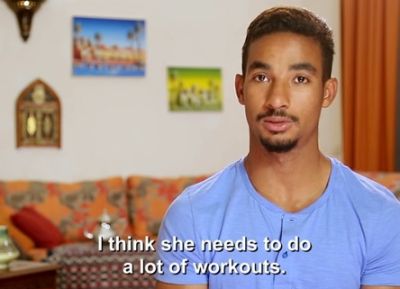 Nicole is not happy that Azan wants her to work out and be healthy. She says that makes her feel like he's trying to change her. Why would anyone want to change Nicole? She's just a fantastic specimen of human all the way around!
Next week, Anfisa is still using Jorge, Alla meets Matt's enabling mother, Chantel's brother is mad, and Nicole and Azan prove to be the worst match ever.
To read our recap of the previous episode of '90 Day Fiance,' click here!
(Photos: TLC)