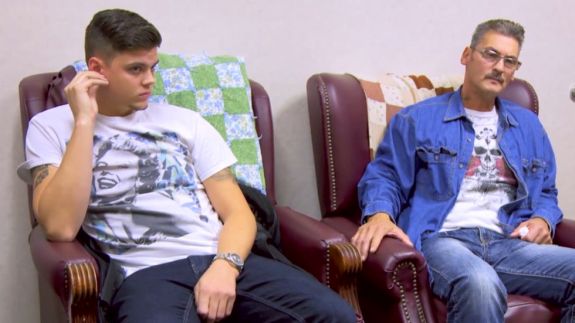 Earlier this week, The Ashley reported the sad news that Teen Mom OG star Butch Baltierra had landed back behind bars earlier this month after reportedly violating his parole supervision requirements by driving with a suspended license. While Butch's currently location remains unclear (he is still listed online as being on parole, but it appears that he is, indeed, still at some sort of facility), his recent reincarceration has been upsetting to his son, Tyler Baltierra.
In an interview with Dr. Mike Dow for the "Dr. Mike Show" earlier this week, Tyler finally spoke out about Butch landing back behind bars, just over a year after he was released after a long prison stint.
"I'm so used to it when I hear something like that happen, it's just kind of like, 'Here we go again," he told The Mike Dow Show , according to WetPaint.
The Ashley has not been able to locate additional details as to what caused Butch's reincarceration, and it seems that even Tyler is a little unsure about what happened.
"It's a little upsetting and unfortunate. Until I get more information on what's going on, I can be mad, really sad, or angry," he said during the radio show interview on October 19. "But for right now … it's a waiting game to find out why he's in there or what's going to happen. It is what it is."
Unfortunately, Butch being behind bars is nothing new for Tyler. Butch has been in and out of prison all of Tyler's life. He was released in August 2015 after serving about four years for violating his parole stemming from previous charges. He promptly cut off his beloved salt-n-pepper mullet to show that he was a changed man. (RIP, Butch's Mullet; you are so missed!)
After being released from prison, Butch was very vocal about maintaining his sobriety. Based only on his recent court records, it does not appear that the arrest had anything to do with Butch relapsing on drugs or alcohol (although The Ashley can't totally confirm this).
Tyler told Dr. Dow that he has learned to deal with Butch's lifelong struggles.
"This isn't about me, it's about my dad's personal demons and the way he handles them," Tyler said. "I went to therapy my whole childhood over this, getting an understanding that he is who he is. He has an addiction."
Tyler and his wife, Catelynn Lowell, are currently filming for the next season of 'Teen Mom OG' so there is a very good chance that Butch's reincarceration will be addressed on an upcoming episode of the show.
(Photo: MTV)