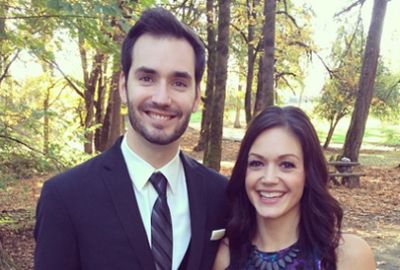 It's a boy for former Bachelorette couple Desiree Hartsock and Chris Siegfried!
The couple, who met during Desiree's season of the reality show back in 2013, announced via Us Weekly that they became parents to a baby boy on Wednesday. The baby, whom Desiree and Chris named Asher Wrigley, weighed 8 pounds and measured 20.5 inches at birth.
"Words can't even express the amount of love we feel for our baby boy Asher," Desiree said in a statement to Us. "He has already brought so much joy into our lives in one day. He's strong, healthy, happy, playful and warm. Chris and I are beyond blessed with this beautiful gift of life that we are excited to have as a part our family."
Asher is the first child for both Des and Chris. The couple have stated in the past that they plan to have three children, and have expressed interest in adoption.
Chris and Desiree got married in 2015 and, other than releasing a book of cheesy romance poetry in 2013, have kept a relatively low profile since Des' season of 'The Bachelorette.'
Desiree announced her pregnancy back in April, and was one of many former 'Bachelorettes' who became pregnant or welcomed babies within the last year. Former 'Bachelorette' Ashley Hebert is currently expecting her second child, while Emily Maynard welcomed her third child in September. Other former 'Bachelorettes' Ali Fedotowsky and Jillian Harris also gave birth this year.
(Photo: Instagram)