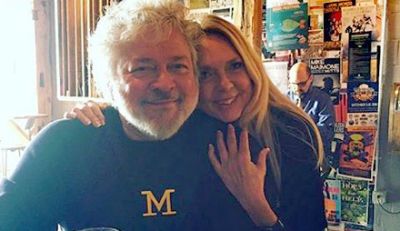 File this one under "Report" until The Ashley can completely confirm it.
Farrah Abraham already has an engagement ring for herself purchased and ready to go, but it appears that her mother, Debra Danielsen, will be heading down the aisle before Farrah ever does! According to a new report from Real Mr. Housewife, Deb is engaged!
Although Debra hasn't confirmed the news herself, a source for the website claims that Deb wasted no time committing to her new boyfriend, Dr. David Mertz.
"The pair have been dating for a few months and have been on only a few dates, so it's definitely a fast-track engagement," a source told Real Mr. Housewife.
Earlier this month, Debra talked to Starcasm about her boyfriend David.
"He specializes in infectious diseases and lives in Marquette, Michigan," Deb told the site, adding that she has been dating David since July.
"David and I met on a great dating site called Elite Singles," Debra told Starcasm.
Debra and Farrah's father, Michael Abraham, have been divorced since 2010, but remain on good terms.
Anyway, David will apparently appear on the next season of 'Teen Mom OG.' According to a separate source for Real Mr. Housewife, Farrah, is none-too-thrilled that her mother is getting hitched again.
"Farrah is not happy with Debra's engagement and there has been a lot of drama about it since the announcement," the source said. "Farrah feels that it's way too early. Debra and her fiance have only dated a handful of times and have only known each other four months."
Farrah and David have met, but apparently Farrah doesn't like her mom's new squeeze. (Can you imagine Farrah not liking someone? She's so warm and loving!)
As The Ashley previously told you, Farrah, Debra and Michael are currently in Los Angeles filming a "Family Bootcamp"-type show for WEtv, so the topic of Deb's engagement will most likely come up on that show. The Ashley is not sure if David will appear on that show as well.
Perhaps Farrah can come out on top on this deal? Maybe she can sell her already purchased engagement ring to the Good Doctor to give to Deb? Just a thought…
(Photo: Instagram)