The cast of Teen Mom OG is currently in Los Angeles filming the Season 6 Reunion show and, apparently, things got downright crazy during yesterday's shoot, with things ending in a physical altercation between multiple cast members!
Let's get ready to RUMBLE!
Sources for Real Mr. Housewife have stated that 'Teen Mom OG' cast members Amber Portwood and Matt Baier got into a brawl with Farrah Abraham and her father, Michael, as well as Simon Saran.
As you do.
According to Real Mr. Housewife, the hi-jinks started when Dr. Drew Pinsky was talking to Farrah and Simon onstage about comments Simon recently made about Matt. (In a series of Snapchats, Simon made fun of all of the 'Teen Mom OG' cast members while watching several episodes of the show. He basically called Matt a pedophile in one of the Snaps.)
"When Dr. Drew mentioned Simon had called Matt a pedophile, it seemed like he was heading in the direction of an apology, claiming it was all in fun," the insider continued. "However, Farrah piped in and said, 'Well [Matt] does kind of look like a pedophile.'"
Amber, who was watching from the sidelines, apparently stormed onstage and got in Farrah's face. Naturally, Farrah's dad, Michael, decided to insert himself into the brawl as well.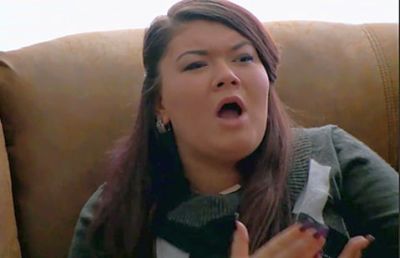 "At that point things got out of hand…Michael, Farrah's dad, got out of his seat and got in between Farrah and Amber and was yelling at Amber and calling her a bitch," the site's insider claims.
Next, Matt stepped in to separate Amber and Michael. When Michael allegedly put his hand on Matt's throat, things turned physical.
"Michael went flying into the audience and Farrah was yelling at Amber to punch her," the source stated. "Amber tried [to punch Farrah] and just missed hitting her."
Of course, the brawl caused complete pandemonium on the set. Since Farrah is none-too-popular with Maci Bookout and Catelynn Lowell, it's no surprise that they were trying to jump in and help Amber deliver a whoopin' to Farrah.
Seriously…you can't make this stuff up!
"The other cast members were trying to get onstage," the source stated. "You could hear Maci screaming that she wanted to come on and was going to f**king kill Farrah. They didn't get on, though, as security seemed to hold them back."
Eventually, Matt and Amber were removed from the stage by security. Real Mr. Housewife reached out to a rep for Farrah and Michael, who stated that the scene was the result of "Michael defending himself."
As unbelievable as this story sounds, several cast members who were on-set yesterday have basically confirmed that an altercation occurred.
When Maci's husband, Taylor McKinney, tweeted "Mic drop" in reference to the brawl, Simon piped up.
"Lol. Amber you should work on your aim. And Matt should have came after me. Pu**y," Simon tweeted, later tweeting to Amber, "Thanks for the good laughs. Your clown act matched your makeup last night."
On Sunday, Simon discussed the fight in another tweet.
"Recap of reunion: @amberportwood trotting around like a hippo," Simon wrote. Matt and another senior citizen in a small scuffle. #teenmomog"
(In case you're not catching on here, Simon is calling Michael the other 'senior citizen.')
This is not the first time Amber has feuded with Farrah and Michael. There have been several incidents in the past that have caused issues between the cast members. However, in recent months, Farrah and Amber seemed to have come to an understanding and were getting along better. That truce is apparently over, though, judging from the alleged events from yesterday.
The Ashley will post more details when she gets them! This is the most exciting thing that's happened at a 'Teen Mom' reunion since Leah Messer yelled "MONKEY!"
(Photos: Instagram, MTV)