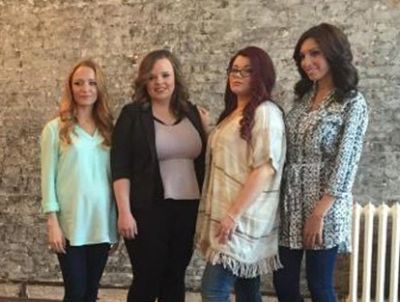 It's been a few days since the cast of Teen Mom OG got into an epic brawl while shooting the Season 6 Reunion show. (Read all about that here!) While the fists have stopped flying and the cast has all returned to their respective homes, the fight is still continuing via social media and jabs in the press!
Here, The Ashley reveals how each of the involved cast members of the brawl have reacted to what may be the most epic fight in 'Teen Mom' franchise history.
Farrah Abraham: 
Farrah, whose salty comment that Amber Portwood's fiance, Matt Baier, "looks like a pedophile" reportedly started the whole on-stage fight, has taken to the press to announce that she will be pulling her daughter, Sophia, off the show. Farrah claimed that her three co-stars are dangerous.
"Due to the three stooges, I now will not have my child around an unsafe envirnoment," she told Radar Online. "Production is just as much to blame as the girls."
According to Real Mr. Housewife, Farrah did not show up to the taping of the "Ask the Moms" special that was taped the day after thr brawl.
"Due to the events that had taken place the day before, specifically with Maci screaming she wanted to kill her the day before, Farrah felt unsafe showing up the next day for filming," a source told the site.
Simon Saran:
Since the fight, Simon has continued to tweet about the fight and cast. He has also called out the show's executive producer, Morgan J. Freeman for "making criminals rich."
Amber Portwood:
Amber, who has been criticized for allegedly trying to punch Farrah, has released a series of videos on her Instagram account in which she discusses the fight and insists that she is still a changed woman.
"I just want everybody to stay open-minded and understand that 90 percent of what you are reading isn't true…I'm not really allowed to say things contractually about what happened on the show," Amber says in the video. "Know that a lot of things you are reading from [Farrah's] side are false and they are all negative and it is just not true….It's just sad that when the video comes out they are going to look like nothing but liars which makes me kind of excited actually."
Michael Abraham:
Farrah's father inserted himself into the fight between Amber and Farrah (for some reason) and as a result was injured. According to an interview Michael did with Radar Online, he claims he attempted to get in between Farrah and Amber and was screaming at Amber to distract her from hitting his daughter. That's when he claims Matt came after him.
"I was protecting myself," Michael said. "I had a raging person coming after me. I was thrown into the audience."
Michael claims he suffered bruises, burns, scrapes and an injury to his back. He also says his hearing aid was broken.
There are so many potential lawsuits here that The Ashley's head is spinning! Stay tuned!
(Photo: MTV)