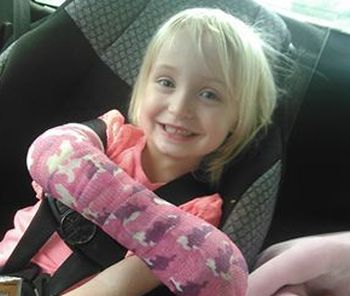 Well…you don't get to write headlines like that everyday, do ya?
Kaitlyn Cardwell has spent her life living in the shadow of her aunt, former TLC star Alana "Honey Boo Boo" Thompson, but she recently made headlines of her own!
Kaitlyn, the daughter of Honey Boo Boo's older sister, Anna Cardwell, recently underwent a surgical procedure to have her extra thumb removed.
Yes, you read that correctly.
Anna, known as "Chickadee" on the now-cancelled reality show, chose to have 4-year-old Kaitlyn's extra digit removed for health reasons, as well as the fear of her being bullied as she gets older.
"I know a few people will be mad but we have made a decision on what to do with Kaitlyn's thumb," Anna wrote on Facebook in August. "We have decided to remove it 'cause of school and because we don't know what it will do to her when she is older and 'cause of kids these days of how mean they are and they don't care not saying all kids are like that but some are."
Kaitlyn, whose birth was featured on a 2012 episode of 'Here Comes Honey Boo Boo,' was born with four fingers and two thumbs on her right hand. The little girl's extra digit was frequently discussed on the show before it was cancelled by TLC in 2014. Honey Boo Boo even quipped that she would love to have been born with two thumbs.
"I wish I had an extra finger so then I could grab more cheese balls," she said.
"It's better to have an extra thumb than no thumb at all," Anna's mother, Mama June Shannon, memorably stated during the episode featuring Kaitlyn's birth.
TMZ reported that Kaitlyn is "healthy and recovering" after the procedure but will be required  to wear a cast for six weeks.
Kaitlyn is the oldest daughter of Anna and her husband, Michael Cardwell. The couple welcomed another daughter, Kylee, earlier this year.
If you want to see before and after photos of Kaitlyn's surgery (and you know you do!), click here! 
(Photo: Facebook)