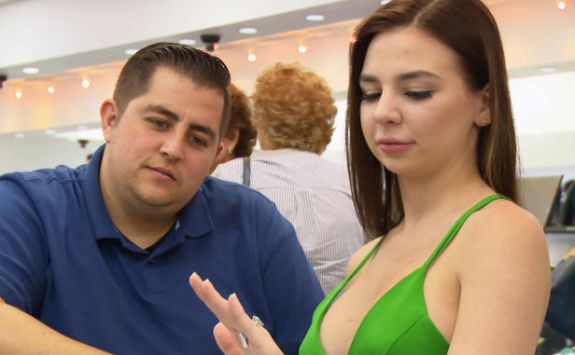 It's time to check back in with the gang from 90 Day Fiance to see if any of these terrible relationships have finally gone kaput. Spoiler: They haven't because, well…these people are pretty much contractually obligated to act like they like each other for at least a few more episodes.
We start things off with everyone's least favorite Russian gold digger, Anfisa, and her lug-of-fiancé Jorge. These two are headed to—surprise!—a jewelry store because it's time to shop for their wedding rings.
Oh, this isn't going to end well for poor Jorge and his ever-lightening wallet…
They meet a very enthusiastic jeweler, who says everything like she's auditioning for a TV show.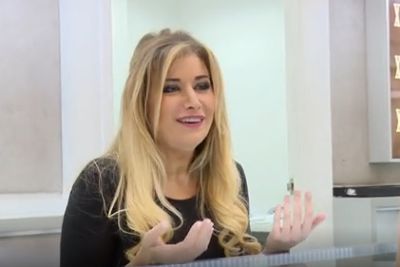 Anfisa tells us she wants a ring that is "at least three carats."
However, when Anfisa goes to the jewelry store she realizes that for a "love" as big as hers and Jorge's, a measly three-carat ring just won't do. Can you imagine what all of Anfisa's Russian gold-digger friends would say if she posted a photo of a ring that was only three carats?! She'd be the laughing stock of Moscow!
She puts on a giant three-carat ring and can't even smile at it.
"Nice," she says, as she hands the ring back to the jeweler.
The jeweler is no fool. She knows a money-grubber gold-digger when she sees one. She quickly suggests that Anfisa try on a five-carat ring, you know, "just for fun."
Get that commission, girl!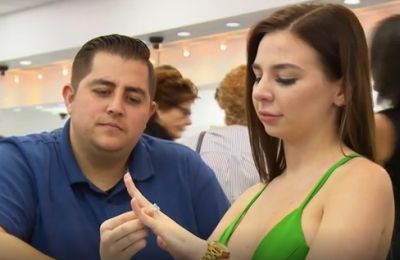 The ring Anfisa falls in love with is five carats and costs $150,000. Jorge is sweating at the thought of spending that much money on a ring. (Anfisa probably thinks he's sweating because she's just so damn hot and that being in her presence makes Jorge perspire.)
Jorge tells his fiancé that the budget for her ring is $35,000-$45,000(!)…and she is not happy.
"I think the ring shows how much he loves me," Anfisa says. "If he proposes to me with some cheap ring, then I'm not going to marry him. Jorge and I need to have a talk about money. He made a lot of promises and now that I am here, he's not coming through."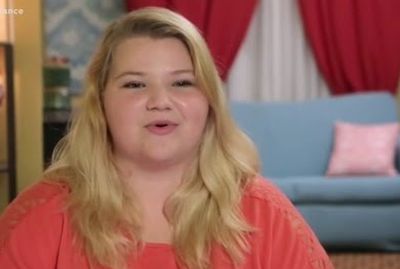 Over in Morocco, Azan and Nicole are still acting like that hate each other.
"Not seeing my daughter for five weeks is really hard. I just hope Azan is worth it," Nicole says.
We get to meet Nicole's sister who is stuck watching Nicole's child for a month and she's not very happy about it. Nicole mother, Robbalee, also isn't too keen on the whole Azan thing. Go figure.
"It seems like it's been a seesaw," she says. "I think she's in love, but it's time for reality to set back in."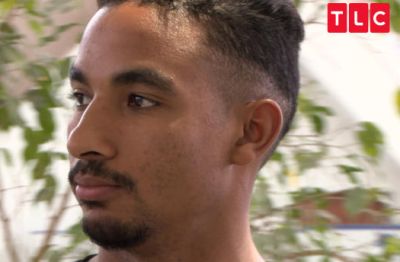 Azan and Nicole continue to fight over their roles in life. Azan tells her he expects the woman to stay home and take care of the kids and cook. Nicole says she doesn't want to just stay home with the kids. (Clearly; she left her kid for a month to go meet some random dude across the world.)
Nicole says she would never convert to Islam and Azan says he would never convert to Christianity. So… they're going to be having these arguments for the rest of their lives? Will their life together basically just be one big argument, with a few tent love-making sessions sprinkled in?
Later, Nicole meets with an American friend of the family who is also engaged to a guy from the Middle East. The friend gives Nicole a reality check, and it seems like she is finally considering the idea that this whole engagement may be a big mistake.
In Kentucky, Alla is talking wedding plans with Matt's overbearing mother, Mery Anne. Alla tries on her wedding dress for Mery Anne and tells her future mother-in-law that she wants to have a beach wedding. Mery Anne has bad news, though.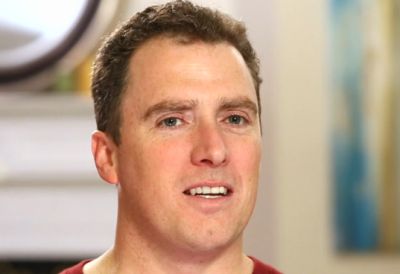 "As we all know, this wedding will be the fourth one for Matthew," she says. "The third one was on a beach in Cancun that's why we try not to talk about it too much because that was the beach wedding," she says.
Um…this dude has basically already had every type of wedding there is, save for nuptials that take place in the garden center at the Wal-Mart. When you start hitting four or more weddings, you're gonna have to budge and do a "repeat," Matt.
Later, Matt and Alla meet with Matt's family to celebrate the birthday of Alla's son Max. The conversation turns again to the upcoming wedding, and Mery Anne mentions that she thinks the beach wedding is also too expensive. Apparently after you've helped pay for your son to get hitched three times before, you're kind of over shelling out the cash for "dream weddings."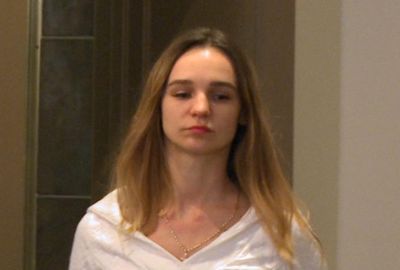 Mery Anne then suggests the wedding that every woman surely dreams of: a wedding at home in the living room. But wait! Just because Alla's getting hitched in a ratty living room, that doesn't mean she can't at least feel like she's at the beach. Mery Anne suggests they just put sand on the floor of the living room and have the wedding there.
W.T.F. Can you imagine if Jorge's mom had suggested this to Anifisa? She seriously would have burned the whole house down, future-mother-in-law in all!
Alla agrees to the living room wedding but seems very disheartened.
"If you have a big family, they might be involved in your life a little too much," she says.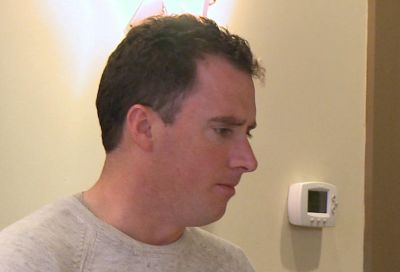 Well that's the understatement of the episode.
Matt senses that his fiancé is unhappy about getting married next to a Lay-Z boy chair covered in sand, so he takes her to a local wedding venue that his mom has found.
"The other day, my mom laid out that we were not having a destination wedding and Alla was sad," he says.
In the end, they decide to go with Mommy Dearest's suggestions.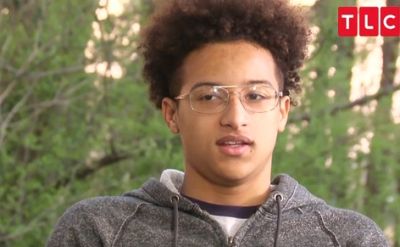 Over in Atlanta, Chantel's parents are still not happy with her for springing the news on them that she's getting married to Pedro in a week. Chantel's brother, River, is extremely upset as well. In fact, he's so upset that he skips school and calls Chantel over for a one-on-one meeting. River says he doesn't like Pedro and he doesn't want to see him ever again. Chantel doesn't understand why her family isn't happy for her.
"You're making a mistake and some mistakes are permanent," River says. "Pedro turned my sister into a liar."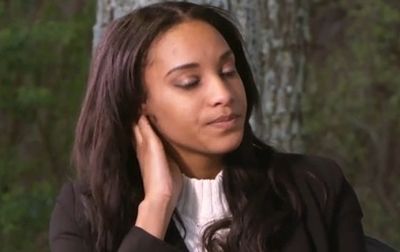 Uh, dude, your sister was the one orchestrating this whole lie. Pedro wanted to tell the truth from the beginning. Maybe keep Pedro and kick Chantel out of your life instead?
Finally, we check back in with Jorge and Anifisa. Jorge decides to take Anifisa out to lunch to tell her that she has to stop demanding so many expensive things. As you can imagine, this conversation goes very well…
"He says my expectations are too high and that I want too much, but that is what he promised me when we started dating," Anfisa says. "Of course I'm gonna expect it."
So it sounds like Ol' Jorge inflated his wealth to lure Anfisa over and now that he's got her reality is setting in.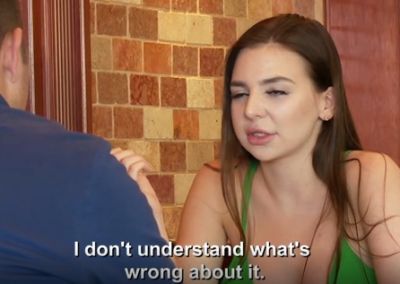 "So you're basically saying that you're just dating me because I can buy you things?" Jorge asks.
"Yes," Anfisa replies. (Hey, she may be a gold-digger but at least she's an honest gold-digger!)
Jorge looks like he's about to cry.
"That's not right," he tells us. "I don't think that's love."
Um…ya think?! She just kind of gave you a sledgehammer of a hint there, buddy.
"I don't understand what's wrong about it. If I was ugly and fat would you be dating me?" she asks.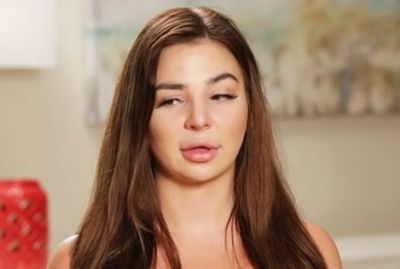 Jorge straight-out asks Anfisa if she will leave him if he gets hurt or something and can no longer buy her things, and she basically says yes.
"I'm beautiful and I like nice clothes, nice shoes and nice dresses so I expect him to pay for all that," Anfisa says.
Jorge seems like he's regretting getting into this mess. Seriously, bro, head to Kentucky. Alla is willing to marry Matt standing in a living, shuffling sand under her feet! That's real love!
Next week, Chantel's parents call for a prenuptial agreement, Matt celebrates his bachelor party, Nicole and Azan try to figure out if they should get married, and Anfisa kicks Jorge out and says she wants to go back home.
To read our recaps of the previous episode of '90 Day Fiance,' click here!
(Photos: TLC)