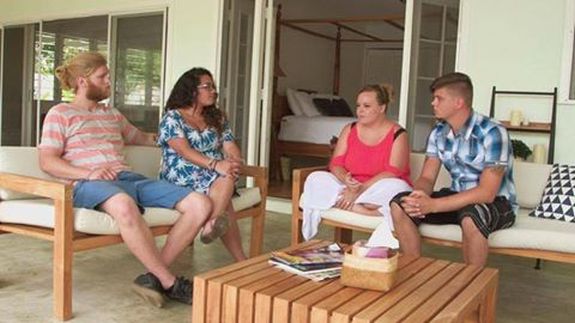 Earlier this week, The Ashley told you about a new show that Teen Mom OG stars Tyler Baltierra and Catelynn Lowell will be part of. At the time, The Ashley didn't have many details on the show, but since then more info has been released!
The show, which will basically focus on people who are looking to reunite with a loved one after a long absence, will be called ReUnited and will air on MTV starting December 5.
As The Ashley told you, MTV circulated a casting notice for the show months ago that gave some more info on what we can expect from Ty and Cate's new venture.
"Are you looking to reunite with a loved one?" the casting notice reads. "Have you recently reconnected with someone from your past? Are you adopted? Is someone you love about to get out of jail and you haven't seen them since they went away? Have you had a long estrangement from a family member and are looking to reconnect?"
It appears that Catelynn and Tyler will be appearing on-camera on the show and, judging from Tyler's recent tweets, the show was his own idea.
"I just got lucky enough that one of the many crazy ideas in my head actually worked out," he tweeted to a fan.
One episode of the upcoming series will feature an adopted Florida woman named Pheniquea, who sought Tyler and Catelynn's help in finding her birth family. The episode was filmed this past summer. In a recent Facebook post, Pheniquea posted about her experience filming the show.
"As most of you know I was in Hawaii this summer to meet my birth mother and birth sister for the first time since I've been adopted," she wrote. "I had the most wonderful opportunity to work with the lovely Catelynn and Tyler Baltierra during my journey. I am very excited to announce that me meeting them will be broadcast on MTV December 5th at 10 p.m. I thank everyone who was so supportive in my journey and a huge thank you to the amazing Cate and Ty, love you guys."
'ReUnited' is produced by 11th Street Productions, the same production company that brings us the 'Teen Mom' franchise.
(Photo: Facebook)