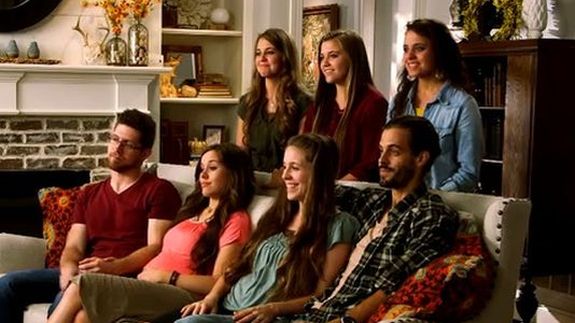 On this week's episode of Counting On, the producers decided to try something "brand new" to keep the dozens of people who watch this show interested: they've decided to replay clips that have already been shown! How inventive.
For this episode, all of the Duggar kids will be watching clips from the past season and will add their comments as they watch. So…basically they are going to be doing what they've done all season long: regurgitating old clips (that were barely watchable the first time around) to make new episodes.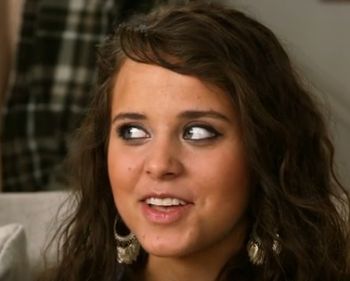 We review all of the scenes with Jinger and her reason for living, her fiancé Jeremy. We catch up with Jessa as she smugly talks about her second pregnancy. Take that, Jing! You thought you were gonna one-up Jessa, but nobody puts Jessa in the production corner and takes away her screen time!
We find out that Jessa's son, The Spurge, and the new baby will only be 15 months apart. (Is there any chance that we can somehow convince Jessa and Ben to name their second spawn Spurgina? Boy or girl, it's a solid name, no?)
While watching a clip of Jessa forcing people to do free labor for her, Jill remarks, "It is kind of surprising that Jessa is having her second before me."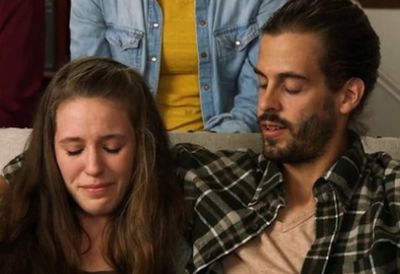 The sadness is her voice when she says this is actually frightening. It's almost like they are competing for their parents' approval via babies popped out. Sorry, Jill, but I think Jessa will win this battle. After all, she's mostly likely already enlisted poor "spinster" Jana to start having her babies for her after Spurgina breaks free from her blessing maker.
Derick, meanwhile, is hanging his man-bun-adorned head in shame at the fact that he has failed to impregnate his wife for the second time in two years. Damn you, Zika! Damn you to H-E-double hockey sticks!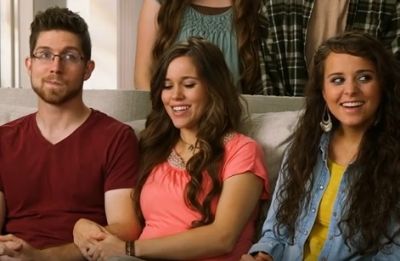 Next, we get to relive the awesomeness that is the "Flame" episode. As you may recall, Flame is a Christian hip-hop artist from St. Louis that Ben is friends with. We get to hear Ben "spit bars" again, which is scary enough to serve as the soundtrack at your next Halloween party.
The producers, of course, use this opportunity to drag out all the Duggars one by one and ask them if they like rap music. Justin says he prefers poetry. Wait…what? That's like asking someone what their favorite sandwich is and having them tell you that they like Hot Wheels. Oh…Duggars!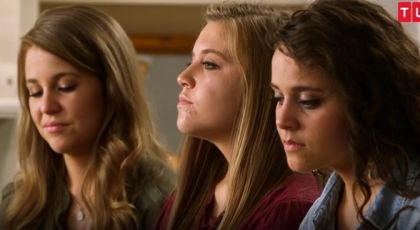 Most of the kids say that they prefer bluegrass. (It goes without saying that whatever bluegrass tunes that the Dugs are using to get down with their bad selves are free of any sexual content, or any mention of hugging before marriage, natch.)
Then there's John David, whose robotic voice and confused hillbilly mug makes his next quote all that much better…
"The only rap I do is when I eat it…a chicken wrap, a turkey wrap. I eat wraps," John David says.
STOP.IT.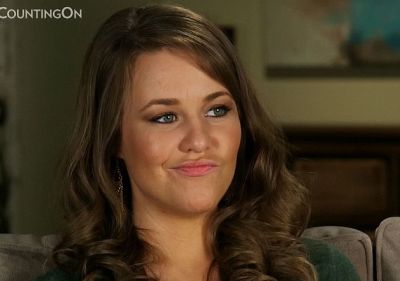 Jana can be heard awkwardly giggling in the background like she can't believe these people are her family. (You know that Jana secretly listens to Drake on her smuggled-in iPod when all of the Bible-thumpers go to bed.)
After that, Jill and Derick talk about their work in Central America. Jill gets emotional telling us about an instance where she had to hide in the bathroom with Israel one night because she thought someone was breaking in…but it was just the shower rack falling. Of course, having to live in fear of being kidnapped and tortured alongside your toddler is worth it if you can convert even one heathen Catholic to Christianity, the Dillards tell us.
"We're willing to take that risk because of what's at stake," Derick says.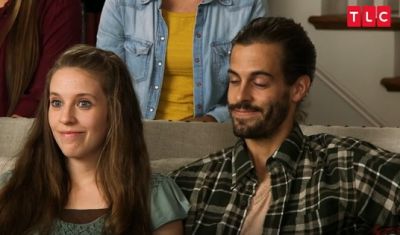 Fear not, Jill and Derick are bravely facing shower racks to spread to the word of the Lord!
Naturally, Jessa can't let Jill have all the glory. She pipes up to state that when she and Ben went down there, she heard "gunshots all the time." Poor Jessa!
They start talking about how Jill would have loved to have gone on the camping trip all the other siblings went on. Jill says, "as long as Derick was there to kill things for me." And, swear on Jim Bob, Jana rolls her eyes and makes a face. It's the best scene in the whole show. I replayed it three times.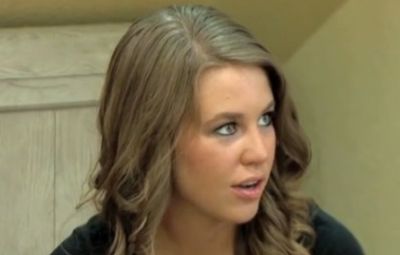 When asked who would be the most likely to survive in the wild Jill delivers a line that makes any self-respecting female shake her damn head.
"We would have to have the guys with us to survive," Jill says.
Later, the producer asks Jana, "Do you see yourself designing and redecorating for your siblings as they move out of the house on their own?"
So, are we just accepting the fact that Jana is going to be poor, spinster, Jana-rella slave to Jim Bob and Michelle forever? Run, Jana! Grab your Drake CDs and run like the wind! Stop at Target, buy some pants and high-tail it away from Arkansas forever! Go get your man (or don't), enroll in real college, and live your life, girl!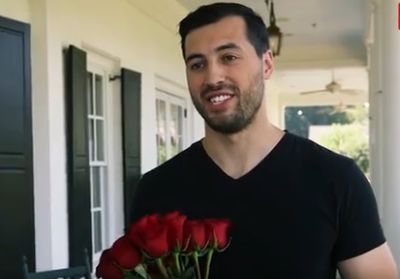 Next up, our "special guest" arrives. While many of us were hoping it would be the girls' pervy older brother, Josh, here to spin his sins in an attempt to get back on TV, the special guest turns out to be Jinger's fiancé Jeremy.
Ho-hum. We've been looking at this dude's mug all season. Why are they acting like it's so rare to see him? They're acting like they just spotted Bigfoot, and he agreed to do a sit-down interview or something. Also…why do they keep doing the "Jeremy surprises Jinger" story line? This is like the fourth time this season, guys.
Jeremy rolls in like "The Bachelor" in a black vehicle with a dozen red roses. We have a flashback scene of Jim Bob "warning" Jeremy that Jinger likes to spend money on thrift shopping so he needs to be prepared for that. Vomit. We all know Jinger won't have much time to be "popping tags" as soon as she's married. After all, she needs to deliver at least one blessing within a year of the wedding or she may be shunned!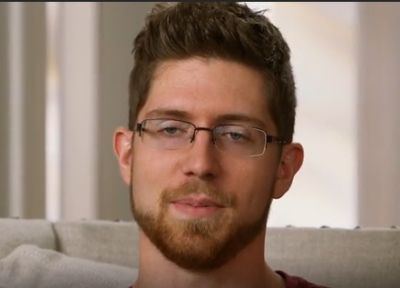 We find out that Jim Bob made Derick, Ben and Jeremy fill out a 35-page questionnaire before he allowed them to court his daughters. Again, vomit.
The producer then asks Jill and Derick what will happen if, while they are in the United States "on break" from mission work, Jill ends up pregnant.
"Will that alter your plans for returning to Central America?" the producer wants to know.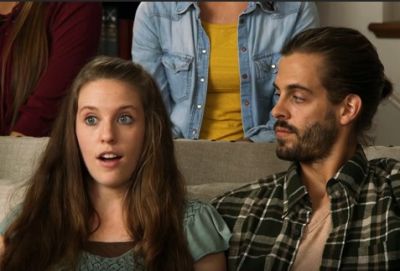 Will Jill and Derick risk Jill contracting the Zika virus in order to meet their required quota of children? Of course, the couple spouts off some hokey comment instead of actually answering the very fair question.
"You can't boast about tomorrow because you never know what tomorrow holds," Derick said.
STOP.IT.
The producer asks them if they are trying for another child and, of course, they confirm that they are. They always are.
"We are excited. I've taken like a ton of pregnancy tests, but I'm not pregnant," Jill says.
After that, Jana starts telling us how she bought an old tattoo parlor. She says they're going to renovate it and do something else with the space. Not gonna lie…we were really hoping to see Jana open a Duggar-themed tattoo shop, complete with denim-skirt-colored ink!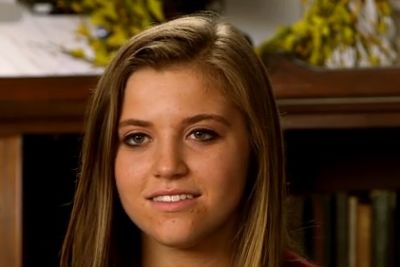 Joy tells us that she just graduated high school, but she's not going to college. Of course not. Rest assured, though, that she is taking online Bible classes. Of course she is.
Jeremy assures us that he and Jinger will get started on that baby-making as soon as they get married.
Wedding bells, babies and Bibles…that about covers things in Duggar Land for now.
To read our recaps of previous 'Counting On' episodes, click here!
(Photo: TLC)