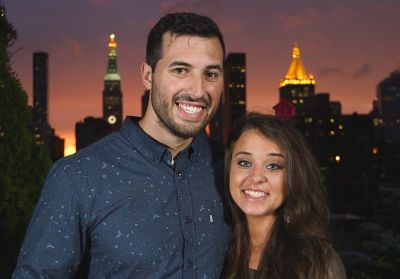 File this one under "report" until The Ashley can completely confirm it.
The current season of Counting On is coming to an end, but it seems the the producers may be saving the "best" footage of the season for last. According to many hints and reports circulating the Interwebs, Jinger Duggar is set to marry her fiance, Jeremy Vuolo sometime this week. Friends of the Duggar Family have been buzzing about the nuptials on social media, and an event that resembles a bridal shower (held in a barn, naturally) took place recently.Members of the Bates Family recently made comments on social media about attending "the wedding" this week. (Shoutout to the Pickles4Truth Facebook page for finding these screenshots!)
While Jinger may be getting hitched this week, the wedding episode will not be shown live. The next two episodes of 'Counting On' will (once again) feature many flashback clips, including one episode devoted to rehashing the weddings of Jinger's sisters, Jill Dillard and Jessa Seewald. The following episode will be called "Courting Jinger," according to TV listings, and will basically recap Jinger's life up until this point. It is rumored that these two episodes will be leading up to the big "Jinger/Jeremy Wedding Extravaganza" in two weeks.
Members of the Duggar family were spotted filming last weekend. It's assumed that the footage filmed on those days will be part of Season 3, even though TLC hasn't officially announced that the struggling show has been renewed.
Jeremy and Jinger have already stated that they will not have ridiculously big weddings like Jinger's siblings did.
"We're trying to keep it intimate, between family and friends," Jeremy told Us Weekly. "We want to be very intentional with who we invite."
Unlike Jill and Jessa, Jinger has done her best to keep her wedding date, location and details under wraps.
The Ashley will update this story when more info becomes available!
(Photo: TLC)