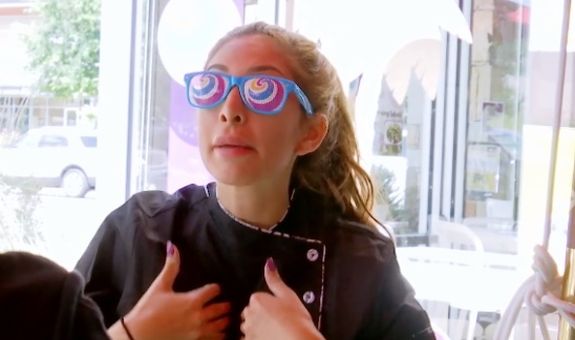 It's been a while since The Ashley went down the MTV trash TV rabbit hole and recapped an episode of Teen Mom OG, so as a post-Halloween treat to her readers, let's open up this trashcan and see what our gals (and their beaus, ex-beaus, kids and inappropriately dressed parents) are up to!
The episode kicks off in Farrah's yogurt shop, Froco. Farrah and her employee Kianna are busy preparing the toppings for the customers (and the random 'Teen Mom' fans that just go in there to gawk at Farrah).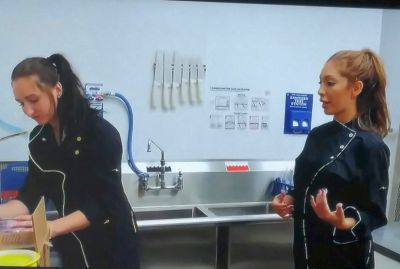 Farrah's employee is having trouble using the can opener, and Farrah flatters herself to believe that Kianna is having trouble because she is in the presence of the Great Farrah Abraham. (Um…it's probably because the girl is working a new job…on camera…for a woman who once  threatened to kill someone over a broken flip flop. She probably just fears for her damn life!)
Later, Farrah and Sophia go out to lunch with (Whatever) Michael to talk crap on Kianna. Apparently the girl was having some issues with the yogurt machines, and Farrah used her education to assist her. (She did "go to school for restaurants," after all!)
"Everything is figure-outable," Farrah explains before telling her dad how Kianna kept calling her crying because apparently everything isn't figure-outable after all.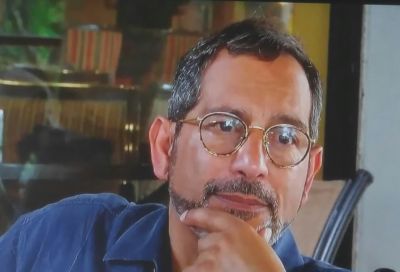 Farrah is upset because she feels Kianna has a "know-it-all attitude" and, as we all know, Farrah likes to be the only know-it-all in a 'Teen Mom' scene. Farrah vows to talk to Kianna tomorrow and Micheal reminds Farrah to "be professional"… but then quickly adds, "like you always are" because…well, he was probably afraid after watching Farrah chop nuts.
You can interpret that last comment any way you'd like, by the way…
Meanwhile, in Michigan, Tyler is busy spending his day working er….in class….um….lying in a hammock. Finally, he shovels himself out of the hammock and walks in the house to find Catelynn. (It's not exactly hard to find her, given the fact that she's right where she always is…on the couch!) Tyler and Cate decide that they need to do something nice for Butch to celebrate that the one-year anniversary of his release from prison is coming up.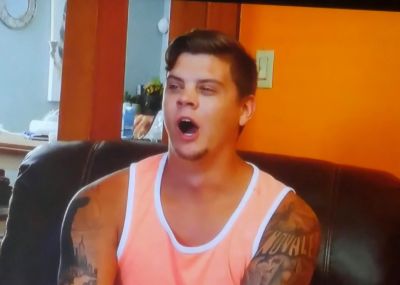 How does one celebrate a monumental occasion like this, anyway? Does Party City sell pinatas shaped like jailbirds or something? If not, they are really missing out on an important market!
In an effort to celebrate the anniversary of Butch being sprung from the clink, Ty and Cate decide that they will throw him a party in a park. This is the longest period of time that Butch has been in the free world (and sober!) and Tyler is happy that he finally has a relationship with his father.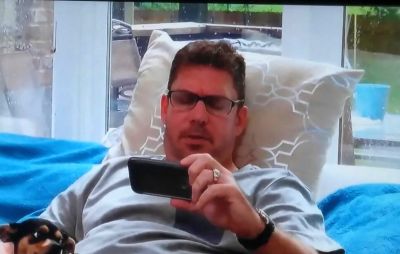 Next, we head to Indiana, where Matt's friend "Jeff" (who is most likely Producer Larry trying to disguise his voice by using a Boston accent) calls Matt to inform him that there's a rumor circulating that Amber had a miscarriage because she was "HIGH! HIGH!" Or something.
Matt finds the story online (and, for the record, The Ashley never reported on this story when it was circulating the Interwebs. The site Matt is looking at is not The Roundup!) He knows that Amber is going to flip out when she hears this.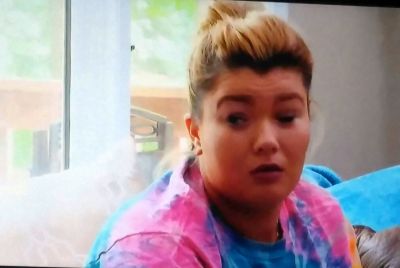 He finds Amber (again, the search was not difficult, as she was in her trusty seat on the couch). Amber, who is all dressed up for a Grateful Dead tribute show or something, is shocked to learn that people think she had a miscarriage. She's understandably upset, and claims that she's not on drugs, but she is on the Depo shot, so she's not pregnant.
This is most likely true. After all, if Amber was not using some sort of birth control to ward off Matt's ever-fertile sperm (also…ew), she would have gotten knocked up long ago. We all know that Matt is fantastic at making babies. (Taking care of them….well, not so much….) He's like the moochier male version of a Duggar girl, basically!
Matt wants Amber to speak out about the false miscarriage rumor, and she agrees. Instead of simply tweeting that the rumor is false, or addressing it in an interview, Amber and Matt decide that this is a job for the Good Doctor himself, Dr. Drew! They know that he's always looking to make a buck off of these girls, and will mostly help them spread the word that Amber's sober and that she won't be creating the Spawn of Matt #35 any time soon.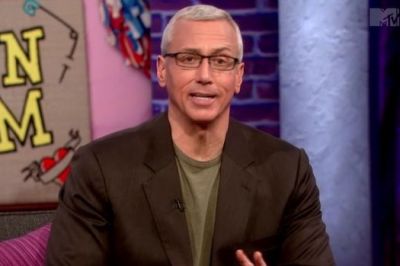 Amber says that Dr. Drew would "be the first to call me out if I was high!"
Um…really? That hack used to interview you during old 'Teen Mom'  reunions and pretend he didn't know that you were higher than Jenelle Evans at a Kesha concert! You really think he's going to "call you out," unless he's contractually obligated to do so by MTV?
Of course, Matt wants to go on Dr. Drew's show to "clear the air" (and, you know, clear the rent thanks to the big fat check they'll receive for appearing). That fancy Indianapolis livin' is costly, folks!
Later, Amber tells us that Dr. Drew is letting her and Matt appear on his show. This appearance also comes with a free trip to Los Angeles, and Matt seems to be tickled pink about the fact that he 1) gets to be on TV again and 2) will get all the free tacos his grubby mitts can hold (not to mention all the free hotel soaps he can take back home with him.) Matt has officially hit the Moocher's Motherlode!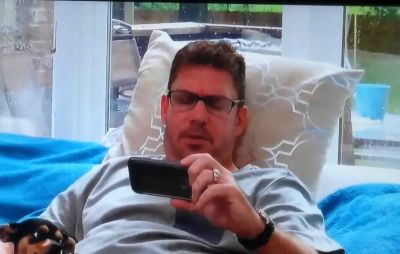 Just then, Matt's long-lost son, Chris, calls. Matt looks slightly confused, which is understandable. After all, it's hard to keep track when you have as many long-lost offspring as Matt does!
Chris tells Matt that he "just can't function." (Well…you're definitely on the right show, buddy!) He says that he and his [pregnant] girlfriend aren't getting along and all the fighting and impregnating has made it hard for Chris to stay sober. Chris claims that he doesn't want anything from Matt and his famous and rich fiance. He's simply looking for "someone to talk to." Conveniently, though, that "talk" will have to take place in LA because Matt and Amber are flying out to talk to Dr. Drew soon.
Instead of telling Chris that they can talk when he gets back, Matt just invites his long-lost son along on the trip! Hey, if MTV is paying, why not pack a few extra (alleged) junkies for the road, just for kicks?!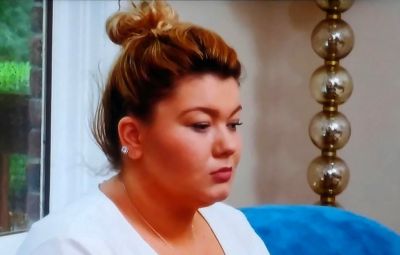 Chris jumps at the chance to take a "break" from his life and go experience some Hollywood glitz and glamour (and free tacos, obviously).
Isn't it fun that less than a year ago, Amber and Matt were screaming that this kid (and his 20 brothers and sisters) didn't even exist? And now they're out jetsetting the country together! What a time to be alive!
Matt offers to pay for the ticket, but doesn't bother to ask Amber if she's OK with his not-so-sober son coming along on the trip. We can assume that Matt will be using Ambie's credit card to book the ticket, but that's not confirmed. Maybe Amber gave Matt his allowance early this month?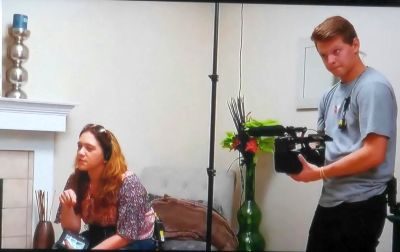 After Matt hangs up the phone, he tells the producers that Chris is 25 and living in South Dakota and, although they've been talking recently, Matt hasn't seen Chris "in a while."  Also, this comes just weeks after Chris went to those gosh dern tabloids and said a bunch of mean things about his Dear Ol' (Deadbeat) Dad.
Matt explains that he was upset when that article came out because he thought that he and Chris were getting along. Chris has since apologized and all is forgotten because Chris was just high as a kite when he did the interview. Naturally.
Matt explains that Chris "got in some trouble" and, you know, went to prison for a while.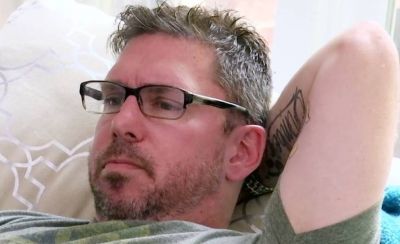 Matt admits that he "could have done a better job" of keeping in contact with his son while he was behind bars. He  vows to never lose contact with his son again, even if that means using Amber's credit card to fly the kid all over the ding-dang country!
Over in Tennessee, it's Maci's birthday, and she has been shipped to her friend Keelie's house while Taylor and the kids prepare a birthday surprise. Naturally, Keelies gives Maci a six-pack of Bud Lights as a birthday gift. Maci is thrilled because she doesn't currently have a "whoopsie baby" in her belly, so she can drink up on-camera without having to deal with "stupid haters" who say she shouldn't guzzle cheap beer while knocked up! Fiesta!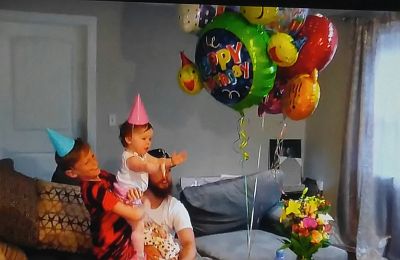 Keelie busts out a card from Bentley and the kids that tells Maci to come back to her house. Maci (and the three Bud Lights she has left from the six pack) head back home. When Maci arrives, she finds that Taylor and the kids are sitting in a room full of balloons and birthday fun. It's actually really cute.
Later, Maci and Taylor are talking about the next day, which is Bentley's first day of school. Maci tries to ask Taylor if he thinks Ryan will actually show up, but she can't even get the producer-required sentence out of her mouth without laughing.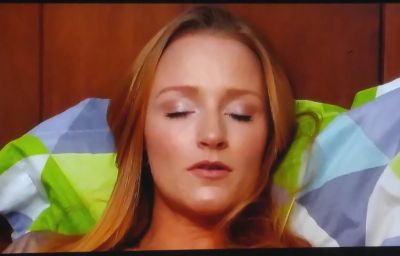 Producer Jaala brings up the fact that Ryan has basically turned into a bug-eyed, salt-n-pepper-topped glob of uselessness. Maci says that she doesn't care what Ryan does because she only sees or hears from him when MTV is around.
Well…for God's sakes…the man has to nap!
In Michigan, Catelynn is lying on the couch. Tyler is responsible for their daughter, Nova, (in addition to turning his wife every hour or so to prevent bedsores). It's time to plan Butch's prison break anniversary party, but Cate just isn't in the mood to party. They can't find any "friends" to come over and talk to Tyler about this subject, so one of the producers is forced to serve as the chatty friend.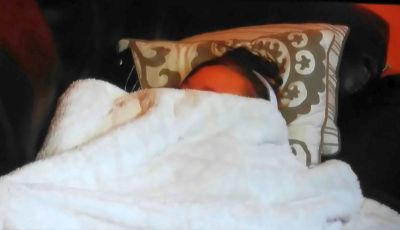 Tyler tells the producer that he doesn't even try to talk Cate out of her couch cocoon because she doesn't listen to him anyway. I mean….if the idea of planning a prison break anniversary party for Butch can't get her to spatula herself off the couch, what in the hell can!? The Ashley would legit fly all the way to Michigan just to attend the festivities!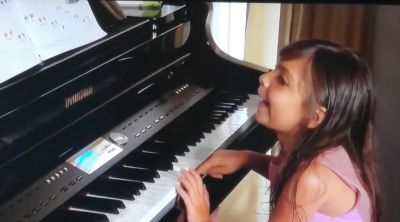 In Texas, Farrah is upset because her employee Kiana has dared to show up early to work! Kiana seems to have no idea that Farrah is watching her on her cell phone cam, a la Big Brother, and Farrah seems to take great joy in that.
(Meanwhile, Sophia is legit just sitting at a random organ playing creepy music while making a super creepy face. Um…and why the hell does Farrah have an organ?! The only "organ" we know she can play belongs to James Deen!)
Farrah flounces over to Froco, where she finds an inventory guy standing outside. Apparently ol' Kiana has failed to let the guy into the store, and this, of course, angers Farrah.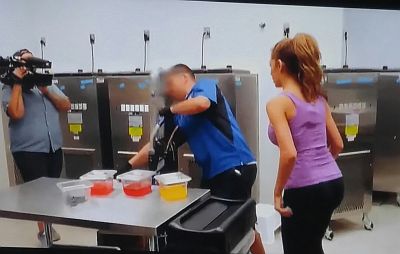 The inventory guy (whose face must be blurred out because he doesn't want people to know that he has anything to do with this stupid show) drops off the boxes, sneaks a few peeks at Farrah's plastic body parts (which are on full display), and nopes the hell out of there. Even he can sense that Farrah's plastic head is about to explode, and he doesn't want to be there when the silicone starts flying!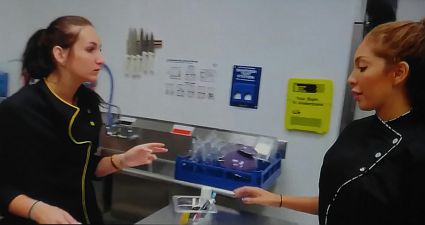 Kiana and Farrah start prepping fruit and food (sans gloves, natch) but apparently Kiana isn't cutting kiwi quick enough for Farrah. She scolds Kiana, all while the girl just stands there holding a large knife and staring at Farrah. She seriously looks like she wants to perform some impromptu plastic surgery on Farrah's face! (Debra will probably randomly show up and want to be next in line.)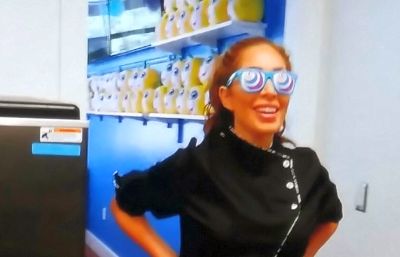 Kiana is struggling to get all the opening tasks done when Farrah comes 'round the corner, wearing those terrifying sunglasses. She takes Kiana outside, and I'm half expecting Farrah to have Michael standing out there with some sort of whip, ready to give Kiana some lashings whenever Farrah barks at him to do so. Oh, also, in my mental picture Michael would be wearing the Ginkokaboba costume while doing this.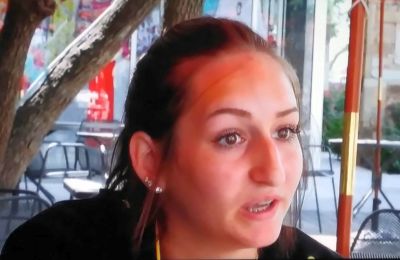 Kiana explains that she was very frustrated when she couldn't get the yogurt machine working. Farrah busts out her best "Dr. Jen" lines and tells Kiana that she "needs to be more in touch with herself" so she doesn't get frustrated. Or something.
How the hell are we supposed to even pretend to be taking Farrah's philosophical quotes seriously when she's wearing those ridiculous lips….er, I mean glasses? COME ON!
Kiana seems to be sensing that she's in great danger. She can see Mount Farrsuvius starting to blow her top, but it's too late. Kiana is already in its path.
"I've never been mistreated like this!" Kiana yells.
Oh, honey…welcome to FarrahLand!
Farrah delivers some classic Farrah-isms during this scene.
"I'm severancing the relationship because it feels like there is not an open mind in this," Farrah tells her very confused employee.
They both bust out the "I'm done!" (but Amber still has them beat on that one– no one will ever do it better) and walk away. As she's leaving, Kiana tells Farrah to "grow up and be mature." This is solid advice, which should be coming from Farrah's parents/employers/therapists/doctors but unfortunately, it came from her teenage yogurt employee so Farrah discounts the advice.
Kiana goes to the back to strip out of her weird black "chef's uniform" but unfortunately, she can't return the uniform pants because…well she's not wearing pants underneath them. (Hey, this is the Backdoor Teen Mom's yogurt shop, after all!)
Well…at least Kiana got one hell of a story (and a free pair of chef's pants) out of her time employed at Farrah's Little Yogurt Shop of Horrors!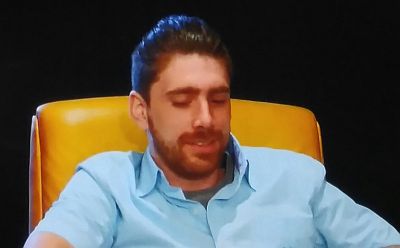 Meanwhile, Matt, Amber and Matt's vagabond-of-a-son, Chris, are jetting off to Los Angeles. Chris shows up at their hotel room and we get to see as father and son are reunited after 10 years. Chris, naturally, has a man bun, and will be accompanying his dad and Amber to Dr. Drew's studio.
What a week to have a hard time functioning, eh!?
Before they can head off to the studio, though, Matt and Chris chat about the stuff they have in common: the fact that they would both basically be hobos if it wasn't for Amber, and general junkie life– you know, the typical stuff fathers and sons talk about!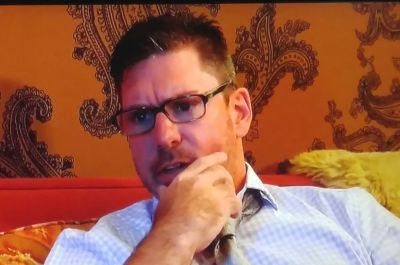 Chris tells Matt that he was "never awful at all." Well, to be fair, it's hard to be awful to someone you are never around.
Amber says that she's tired of people contacting the media and saying bad things about her and Matt…which, ironically, is exactly what Chris did just a few weeks ago. Chris decides to bring that interview up, stating that he didn't get any money for talking crap on Matt. Of course, he would have taken money, but he wasn't smart enough to negotiate that deal before he started spilling tea.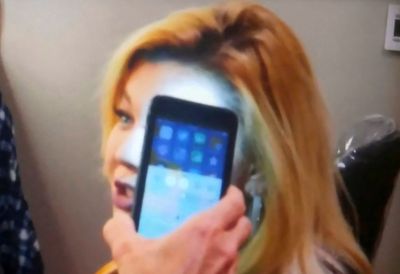 Amber is getting all glammed up when Dr. Drew comes in to chat. He uses his medical expertise to determine that Amber is NOT on drugs…and he does by shining his cell phone's flashlight into Amber's fake-eyelashed eye for about two seconds. So much science!
After Amber's sobriety has been confirmed via rock solid medical evidence, Dr. Drew meets up with Matt and Chris. Matt introduces Chris as his son, and Dr. Drew looks kind of confused. It's almost like he wants to say, "Weren't you just yelling at Gary that you only have two kids…and this dude wasn't one of them?"
Poor Dr. Drew. It's hard to keep the offspring of the 'Teen Mom' people straight, what with all the secret kids, half siblings, "blended families" and whatnot. His head probably spins just trying to figure it all out!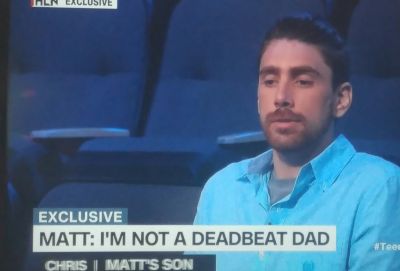 It's time for Matt and Amber to parade out on the stage. Chris is seated in the audience (which appears to be empty except for Chris and his manbun), and Dr. Drew wastes no time asking Chris why he called Matt a loser, among other things. Chris pleads he was "HIGH! HIGH!" the whole time, so his words shouldn't be held against him should any more free trips come up. This is all going on while a banner is moving across the screen that says, "MATT: I'M NOT A DEADBEAT DAD."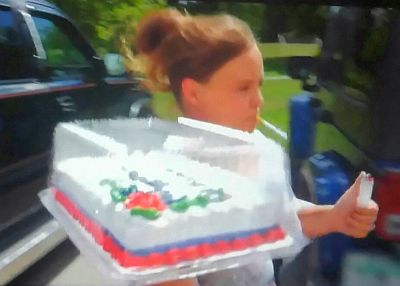 Meanwhile in Michigan, it's time for Butch's Prison Break Anniversary Party! Catelynn emerges from the car, ciggie in mouth and a half sheetcake of Safeway's finest confectionery in her hands. The cake has what may be the best inscription ever to be written in primary colored-icing.
"Happy One Year of Freedom," the cake proudly reads. (I'm sure that this isn't the first cake that ol' Tammy of the Safeway Bakery Team has decorated with that same inscription, to be honest.)
Cate and Ty are busy setting up a covered patio at the local park for Butch's Freedom Fiesta. In terms of decorations, don't expect too much effort because, well…it is Catelynn and Tyler, after all. Cate sets out some red Solo cups (which they certainly got from the recycle pile of Maci and Taylor's house), and Nova dumps some confetti crap on the ground, and it's time to party.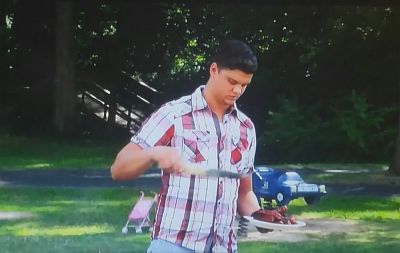 Tyler fires up the grill and starts cooking a nice selection of meat-like products as Jethro, Granny and the rest of the clan start trickling in. Shockingly, Cate has failed to haul her trusty couch to the park, so she'll have to sit upright for at least an hour, which is an achievement in itself…until she just straight-out lies down on the grass and takes a quick snooze. As you do.
Kim arrives, and soon an unsuspecting Butch strolls into the park. Butch finally starts to catch on that the party is for him to celebrate his sobriety/freedom. He's very excited for the party, and is proud of himself for staying out the clink and away from the dope.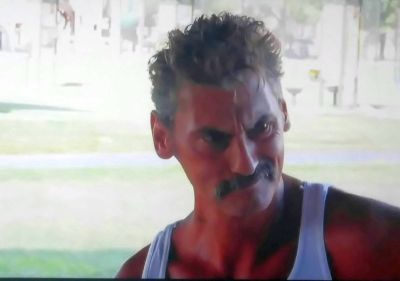 Kim brings up the fact that Tyler should also be celebrating, as this marks the first year that Tyler hasn't had a jailbird junkie for a father. It's also a big day for Tyler's sister, Amber, who was unable to make it to the Freedom Fiesta but still sent a heartwarming text to Butch to celebrate the day.
Butch reads the text aloud, everyone gets emotional. Kim wipes tears (and burger grease) from her eyes, Tyler gets choked up as well. Photos are taken and it's a great day for all involved.
That's all for this week of 'Teen Mom OG!'
To read The Ashley's recaps of previous 'Teen Mom OG' episodes, click here!
(Photos: MTV)