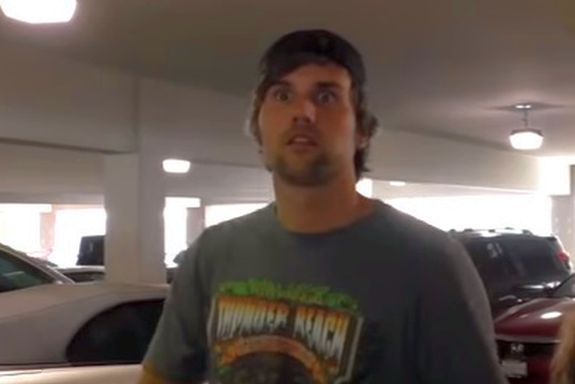 Ryan Edwards (and his eyes!) became the talk of the Teen Mom Internet Universe after he appeared on several episodes of the show looking… well, like a used dish rag. From his frighteningly huge, non-blinking eyes, to his slow and slurred speech, Ryan appeared to be on some sort of drug, in the opinions of many fans watching.
However, Ryan (who rarely uses his social media accounts) had not made any comment on those episodes…until now.
In a video captured by the paparazzi organization Hollywood to You, a disheveled-looking Ryan is shown walking through a parking lot in Los Angeles (presumably while he was in town filming the 'Teen Mom OG' Season 6 reunion special last month). Ryan, his girlfriend Mackenzie Standifer, his mom Jen Edwards and 'Teen Mom' producer Jaala Webster were ambushed by the pap, who asked Ryan about the episodes.
"People were saying you were high during 'Teen Mom'…." the pap asks a still-bug-eyed Ryan. "Did you see there were reports of that? Is that true?"
Ryan laughs at the statement, and says that he was not high.
"Well people were saying that your eyes were all blood-shot and bulging and stuff," the pap continues.
At that point, Producer Jaala jumps in to defend Ryan.
"Sometimes he's…tired," she says, as she steers Ryan & Co. away from the cameraman. "Can you leave him alone? We're just trying to get to the hotel."
"So you're just tired, Ryan?" the pap asks.
"Yup," Ryan says as he walks away.
Before asking the questions about the drugs, the pap wanted to know what Ryan's plans are when 'Teen Mom' finally ends. His response is hardly surprising.
"Nothing."
Someone give that man a nap!
Watch the full clip below:
(Photo & Video: Hollywood To You)