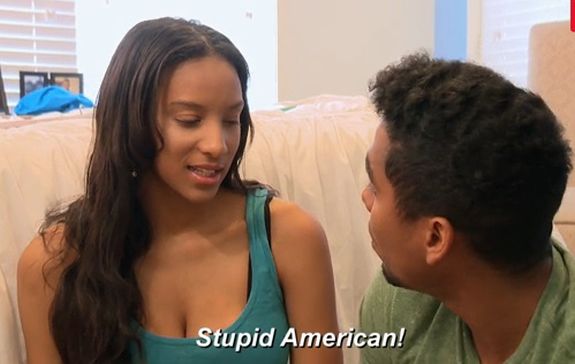 The 90 Day Fiancé finale is quickly approaching which means our gang of geographically challenged lovers will soon need to decide if they're going to get married or send their beloveds back to wherever they came from.
We start things off with Jorge and Anfisa, who are arguably the most interesting couple to gawk at this season. During past episodes, we've watched Anfisa get mad because Jorge didn't want to buy her a $20,000 wedding dress, or a $100,000 engagement ring.
You know, just the typical things engaged couples fight about…
Last week, Anfisa kicked Jorge out of their apartment and demanded to go back to Russia. Jorge is now spending all his time (and what's left of his money) trying to win Anfisa back…for some reason.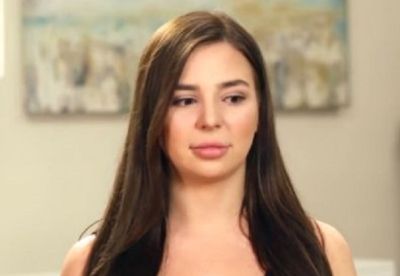 Even though she doesn't really like Jorge, Anfisa gets angry when he tells her he has to work all day.
"It makes me so mad when he leaves me alone all day," she says.
Um, hello? Someone has to make the money to pay for all of your crap! Those modeling photo shoots don't pay for themselves, girl!
It turns out, though, that Jorge actually isn't working. He lied so he could surprise her by buying her an engagement ring. Jorge picks out a ring that is $18,800, and is able to negotiate it down to a little over $11,000. The $7,800 he saved on the ring will just about cover his medical bills for after Anfisa finds out he bought her a "cheap" ring and she throws him off the apartment balcony…
While Jorge is negotiating with the jeweler, his iPhone keeps making an annoying dinging sound. Of course, it's Anfisa, looking for attention.
"She has me on find my iPhone so whenever she wants to get my attention, she'll just beep me," he says.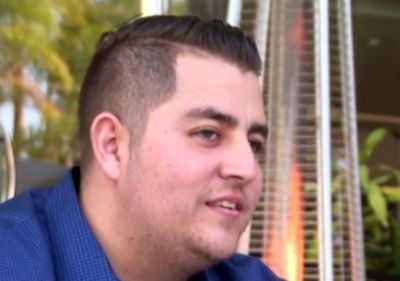 Um….what is this, 1998? She probably just beeps him $$$ SOS when she needs more of his money.
"Anfisa and I need to have a conversation about boundaries," he says.
Ya think!?!?
Later, Jorge meets up with his sisters to discuss Anfisa. Jorge's oldest sister is not down with this marriage at all.
"I think there are ulterior motives there," she says.
Jorge talks about how demanding Anfisa is and finally his sister just puts it all out there.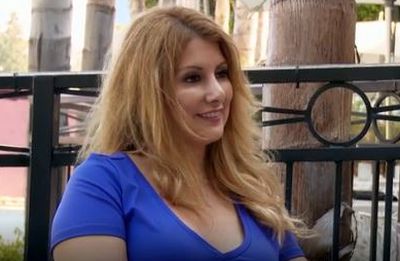 "That's what happens when you pay somebody to spread their legs," she says.
Oh, burnnnnnn.
Meanwhile, Nicole has finally made it back to the United States and is reuniting with her mother, sister and daughter. Of course, Nicole's mom and sis are eager to get the lowdown on what went on in Morroco. Nicole revealed to them that Azan isn't attracted to her because of her weight, and that Azan said some mean things to her when he got angry.
Nicole's sister, Ashley, is not happy.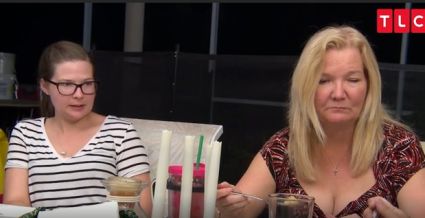 "If my husband would have said any of that, just once, we wouldn't' have gotten married," Ashley tells her before telling Nicole that she thinks Azan is using her.
Nicole's mother, who has the fantastic redneck name of Robbalee, is also unhappy about Nicole's relationship with Azan.
"I'm about as fed up with her as I always am," Robbalee tells us. "All I can do is guide her in the direction she needs to go."
Nicole is still adamant that she wants to work things out with Azan.
Over in Vietnam, Narkyia is finally arriving to see her catfisher-turned-fiance, Lowo. He is at the airport to greet her with flowers, and then takes her back to the hotel room, where has plastered selfies of Narkyia all over the walls…for some unknown reason.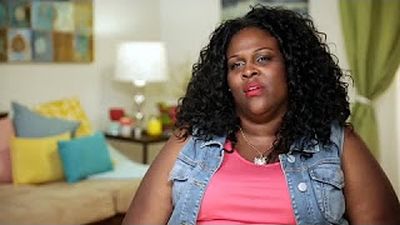 While Narkyia seems to enjoy looking at wallpaper made up of pictures of her mug, she is still having trouble trusting Lowo. He insists that—while he lied about his location, royalty status, baby mama and much more, that's no reason for Narkyia not to trust him!
"If I'm going to be your husband then you really have to trust me," he says. Narkyia says she wants to go see an immigration lawyer to get everything sorted out, but Lowo doesn't want to.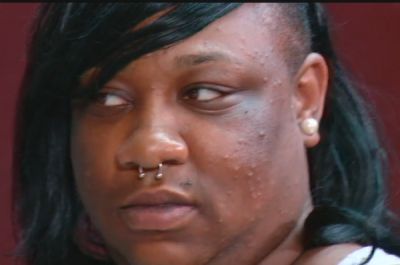 I wonder why???!
Where the hell is Narkyia's trusty gal pals who always deliver snarky comments and classic side-eye whenever Narkyia talks about Lowo?! She needs you guys right now!
Over in Kentucky, there are only 11 days left before Alla is due to get hitched to Matt. The couple heads out to have dinner with Matt's creepy friend, Patrick, who has made it no secret that he is not fond of Alla.
"Alla, you know, my concern is always on Matt," Patrick tells her. "I want to make sure that you're marrying him for the right reasons."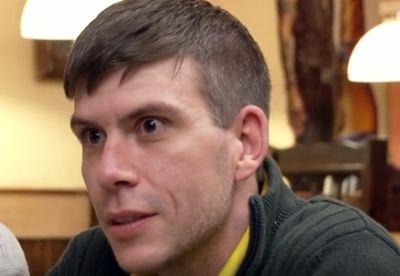 Dude. Your friend is like 45 years old. He can handle his own business, thanks. Let him choose his own future ex-wives!
Patrick asks Alla why she loves Matt, and is surprised by her answer.
"I've never told Matt that I love him," Alla says.
Patrick is perplexed by this.
"You're marrying him and you don't love him?" he asks Alla.
Alla looks uncomfortable, as does Patrick's girlfriend. She's probably thinking these TLC-paid-for-tacos aren't worth this drama!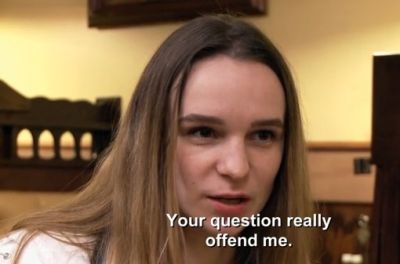 Luckily, Alla speaks up for herself (because, you know, her fiancé failed to). She tells Patrick that his question really offends her. Patrick's girlfriend also speaks up, telling Patrick that he's being rude and to shut his mouth. Patrick keeps on talking until Alla gets angry and tells Patrick that he shouldn't be trying to take control over his grown friend's life.
"You're getting hoodwinked!" Patrick tells Matt, right in front of Alla.
Later, Patrick tells us that he doesn't trust Alla.
"I think that she came over here because she needs a better life and not because she loves him," he says.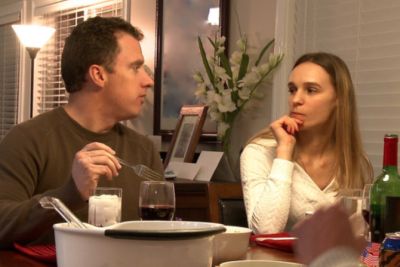 Later, Matt and Alla sit down to have a talk about their relationship. Alla says she doesn't know when she will be able to Matt that she loves him.
"I don't know if it is love, but I'm ready to marry you," Alla says.
Give her a break! She's willing to marry this dude in his living room with sand thrown on the floor. If that isn't love, then what is?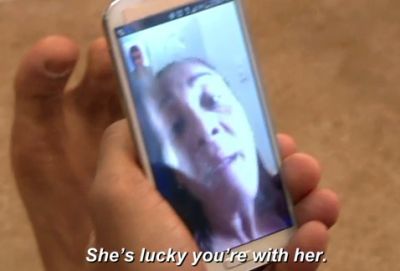 Meanwhile, Chantel's mother is still encouraging Chantel to get a pre-nup before marrying Pedro. However, Pedro's mom, who is being beamed in via Skype, is not happy at all when she hears this news.
"She's lucky you're with her! Stupid Americans!" she says. "They're not better than us. Don't sign a thing! They have mental problems. It's psychological!"
Whoa. Tell us how you really feel, lady!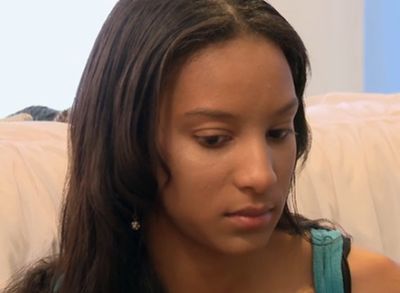 Chantel is worried by how upset Pedro's mom is getting over this. Against his mother's warning, Pedro agrees to sign the paper. They say that they are marrying for love so they'll never have to use it anyway.
Yeah, good luck with that.
Next week, Chantel and Pedro finally get married (allegedly), Nicole's family has more suspicions about Azan, Patrick threatens to cause a scene at Matt and Alla's wedding, and Narkyia finds out that Lowo was lying to her once again.
And…Anfisa keys Jorge's car. Naturally.
To read our recap of the previous episode of '90 Day Fiance,' click here!
(Photos: TLC)