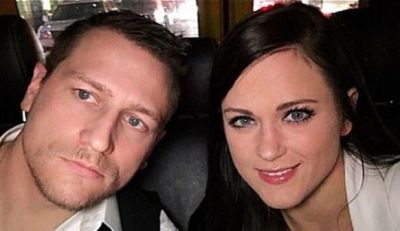 Ashleigh and Zac Baker struggled to keep their marriage together as each spent time in Indiana's Clark County Jail while filming A&E's 60 Days In, but it appears that the couple's family is stronger than ever– and bigger!
Zac and Ashleigh, who appeared on the show's first and second season, respectively, just welcomed their second child last week. The baby boy, whom they named Gavin Donal, joins the couple's other son, Ryker, who was born right before Zac went to jail to film Season 1. He was only four months old when Ashleigh left to film Season 2.
The couple posted photos of Baby Gavin to their social media accounts.
"Welcome to the world my sweet baby boy," Ashley captioned a collage of photos. "Gavin Donal Baker, 7 lbs. 15 oz., Born November 5, 2016 at 9:40 am!!!"
The final episode of '60 Days In' aired last week, and it appeared that Ashleigh and Zac's marriage was in crisis. During one part of the episode, Ashleigh confessed that she considered leaving Zac. During another scene, Ashleigh can be heard telling Zac that she hated him, after the couple got into an argument.
According to Ashleigh, though, the drama between her and Zac, as well as other dramatic moments of the season, were created by the network.
"Unfortunately, this season of the show was extremely edited toward dramatic effect," Ashleigh wrote on Instagram. "What looked like 1 phone call per episode was really MAYBE 2 phone calls chopped and edited so many times, it's sad. The network jumped on the opportunity to twist and manipulate SO many things that just weren't true, for ratings. And it seemed to work for some. BUT for those who see through the BS, it is YOU that matter the most."
In another post, Ashleigh made it clear that she and her husband of eight years are not splitting up.
"Despite our 'oh so dramatic' phone calls and name callings, I have zero hate for you and love you with ever fiber of my being," she wrote. "I am glad we have been able to share our true love with others. Thank you for blessing me with two beautiful boys. I am so happy to raise them with you, and I hope that someday they both become exactly the man of love, courage and honor that you are."
Ashleigh, who had been a model (and an addict) before becoming a mother and appearing on '60 Days In,' also hinted that she would be back in the public eye soon.
"You have only been shown a tiny edited-for-TV version of my story," she wrote. "I plan to do a LOT more, and share a lot more, very, very soon."
Ashleigh will also appear with the other Season 2 participants on Thursday's Season 2 Reunion show.
(Photos: Instagram)