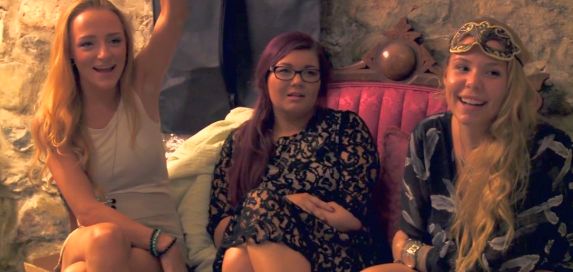 If you have ever dreamed of sipping Bud Lights on the beach with Maci Bookout, sitting on a couch with Amber Portwood, or dancing in the club with Kail Lowry, you're in luck! Your dreams are about to come true!
The Ashley can exclusively confirm that the three Teen Mom franchise stars will be hosting a five-day cruise for their fans in 2017! Maci, Amber and Kail (and possibly their beaus, to be determined) will set sail in July for the first-ever 'Teen Mom' Cruise!
No, seriously…
The three girls have officially signed on to give the show's fans a once-in-a-lifetime experience. The Ashley's source tells her that cruise-goers will be treated to roundtable discussions with the cast, Q&A sessions, and the opportunity to hang out with the girls.
The Ashley is told that the details are still being worked out but the cast may even watch a 'Teen Mom' episode with cruise-goers, and go on shore excursions with fans.
The cruise will set sail on July 31 from Miami and will travel to the Bahamas and Key West, Florida. The five-day cruise will return to Miami. While on the high seas, though, fans will get to interact with the girls.
"This isn't going to be them just sitting up on a stage talking to an audience, and then leaving," the source says. "The girls will be enjoying the cruise alongside their fans. There has never been anything like this."
While it's unlikely that the entire cruise ship will be devoted to 'Teen Mom' cruisers, fans must have a wristband to interact with the cast and join in on the 'Teen Mom' fun.
It is unknown at this point if any more cast members will join in on the cruise. From what The Ashley hears this is not an MTV-sponsored activity, though.
The Ashley will have more details very soon! Stay tuned!
Ready to book a spot on the cruise right now!? Click here!
(Photo: MTV)