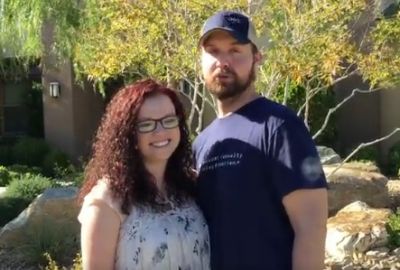 There's a new Brown Family baby on it's way– and for once, Kody Brown is not the father!
In a video released today via TLC, Kody and Janelle Brown's daughter, Maddie, announced that she and her new husband Caleb Brush are expecting their first child.
"We're having a baby!" Maddie exclaimed in the video before announcing her due date as May 23.
Maddie was the first of Kody Brown's 18 kids to get married when she and Caleb tied the knot in June. This baby will be the Brown family's first grandchild.
"I think it's a boy and so does Caleb but we don't know the sex yet," Maddie said in the video.
The 21-year-old told People that the baby will call Kody "Grandpa," but it's not yet been decided what he or she will call Janelle or Kody's other wives, Christine, Meri and Robyn.
"We think it would be super cute to have different names for all the grandmas but ultimately they get to choose what they are called," she told the magazine.
Maddie's child will be only about a year-and-a-half younger than Maddie's youngest sibling, Ariella. (Robyn gave birth to Ariella earlier this year.)
According to TLC, the upcoming season of 'Sister Wives' will cover Maddie and Caleb's wedding, as well as the pregnancy. It will also highlight the engagement of Mykelti Brown, who is due to get hitched next month.
The new season of 'Sister Wives' premieres November 27 on TLC.
Watch the baby announcement video below:
(Photo: TLC)