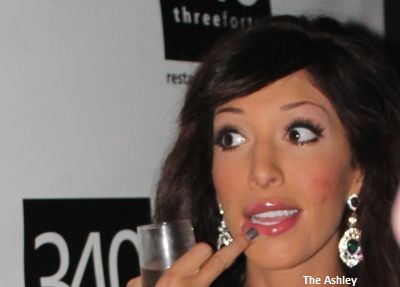 Last week, The Ashley broke the news that three girls from the Teen Mom franchise will be setting sail next spring for the first-ever Teen Mom Cruise! Maci Bookout, Amber Portwood and Kail Lowry are excited to be hitting the high seas with fans in June 2017, but one 'Teen Mom OG' star was less-than-thrilled when the news of the cruise broke.
Farrah Abraham, who TMZ later reported was specifically not invited due to the cruise organizers' desire to keep the event "family friendly," lashed out at the 'Teen Mom' girls who are going on the cruise. In true Farrah form, she announced to Radar Online that she didn't want to go on the cruise anyway. (So there!)
Not only did she insult the idea of a Teen Mom Cruise, but she also hurled verbal lashings at her co-stars, calling them bad moms.
"I'm laughing at how the extra 'Teen Moms' have to try to insult me to promote the wack cruise they're trying to sell," Farrah told the site. (You've got to love that Farrah is referring to Maci, Amber and Kail as "extras," insinuating that she is the true star of the franchise.)
"Unlike them I don't need to share with other girls to get a company to give me a free cruise and make others pay for it," she added.
Farrah then called her co-stars out for planning to party without their children.
"I took Sophia on the largest cruise ship by Disney that sits in the port that was really family-friendly," she said. "They're on a family-friendly cruise yet aren't bringing their kids. Have a fantastic 21-and-over time!"
She then aimed a verbal missile at Amber's fiance, Matt Baier, even though it's unknown if he will even participate in the event with Amber.
"[Fans don't want to] play beer pong all day with pedophile boyfriends," she said of Matt. (Farrah and her boyfriend, Simon Saran, have made it a point to call Matt a pedophile, despite the fact that nothing has ever come out about Matt being one. In fact, it was that false statement that started the infamous 'Teen Mom OG' Reunion brawl last month…)
Farrah told Radar that if the 'Teen Mom' girls won't let her go on their cruise, she'll just start her own cruise and it will be way better! (If Michael will be wearing the Froco Cocoboba costume, and Debra will be sporting Daisy Dukes and a halter top from 1997, all while dancing with fans in a Conga line, The Ashley is so there!)
"Maybe I'll host a huge yacht party with real entertainment," Farrah said, before speaking directly to her co-stars. "Have fun on your cruise. I wouldn't pay to go on that one, sorry. Bored of all their low-class antics."
As The Ashley previously reported, many of the cruise details are still being worked out, and it's still possible that other girls from the 'Teen Mom' franchise will be added as the cruise date approaches. However, Jenelle Evans has confirmed that she will not be attending, and it's highly unlikely that Chelsea Houska would get involved, in part because she's due to give birth to her second child just a few months before the cruise.
For more info on the Teen Mom Cruise, click here!